Help
Here are a few of the most common issues we hear about. If you still need help, contact us here.
Member Help
Check your spam/junk folder.
Your email is likely in your spam or junk folder, especially if you receive some Power Poll emails, but not all of them. To prevent this from happening in the future, flag it as "not junk" and/or whitelist the email address that it is coming from, which should be [yourarea]@powerpoll.com.
Check your subscription status.
If you have unsubscribed or had an email problem in the past, your account could simply be unsubscribed from Power Poll emails. To check this:
Sign into the Power Poll Dashboard: https://dashboard.powerpoll.com. If you have not done this before, click the "Set/Reset Password" button to set an initial password. If you do not receive that email, please check Solution 1 above.
Click "My Account"
Under "Poll Correspondence," ensure "Email" has been selected.
Under "Communication Status," ensure that it is set to "Subscribed."
Check your account status.
If you have not participated in a while (or your email has been going to spam and you haven't read it), your account could have been deactivated. To rectify this, do any of the following:
Sign into the Power Poll Dashboard: https://dashboard.powerpoll.com.
Read an email sent recently. By opening the email (as long as you can see the images), you will reactivate your account.
Click an article link from a recent email.
Check the URL
Many company email systems process URLs in emails. If yours is amongst these, the URL could be mangled so that it no longer works or could have been disabled entirely.
You can try cutting and pasting the URL that appears beneath the button, or you can type it in manually. Power Poll survey emails follow the same format:
https://survey.powerpoll.com/[some numbers]/[some letters and numbers]
If the URL in your email is different, then your email system has worked its magic on the URL.
You don't.
If you do not wish to leave a comment, don't. Your vote is counted either way. Regardless, we thank you for participating in Power Poll!
Send an Invitation
Members get invitations periodically which can be used to invite a new member to Power Poll. Sign into the dashboard, then click "Invite a Member" to get started.
Submit a Nomination
At any time, members can nominate someone else to become member to Power Poll. Sign into the dashboard, then click "Nominate a Member" to get started.
Correspondent Help
Power Poll contains contact information and other sensitive data for thousands of Members. Each Editor has complete access to this information for all of the Members in his/her Area(s). Power Poll has a responsibility to safeguard this information and, as a security precaution, we require Editor-level accounts and higher to utilize Multi-Factor Authentication (MFA). Power Poll utilizes the open standard Time-Based One-Time Password (TOTP) algorithm. You can learn more about it here, if you wish.
MFA comes into play after your password has been authenticated, where you will be asked to enter a six digit numeric code that changes every minute. We support two methods of obtaining that code:
Solution 1: Get a code texted to you.
Most people choose this method. During onboarding, your phone number is set in your profile and, upon signing in, you will be texted an MFA code.
Solution 2: Use an App like Google Authenticator.
There are many authentication apps, but we recommend Google Authenticator: a free app for Android, iOS, and BlackBerry OS devices. It's easy to use (because there aren't many options) and, if your device has a camera, you can even scan a QR code to complete setup, as opposed to typing in a large string. Upon first sign in, you will be prompted to set up your MFA device.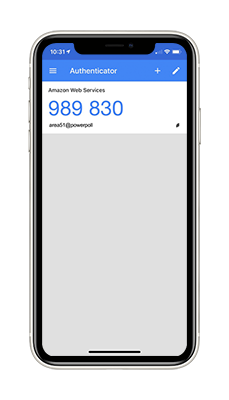 Once you have it set up, you'll simply launch the app to obtain a code whenever you sign in. In the example above, the code is 989830.
You can download Google Authenticator from your OS's App Store.


Switching Methods.
You can switch from text to device or vice-versa by editing your profile or contacting Power Poll Support.
Solution 1: Reset your password.
On the sign-in page, enter your email address, then tap the "Set or Reset Password" button. You will receive an email with a one-time use URL where you can reset your password.
Note that if you attempt a handful of bad passwords within a certain amount of time, you will be locked out from the dashboard for a few hours.
Solution 2: Reset your account.
If you have lost your MFA device or deleted it or if you can get past the password page, but your MFA authentication fails, you will need to have your account reset. Please contact support@powerpoll.com for help.