Majority of Power Poll respondents want a train to the plane
Rail link to Austin airport proves popular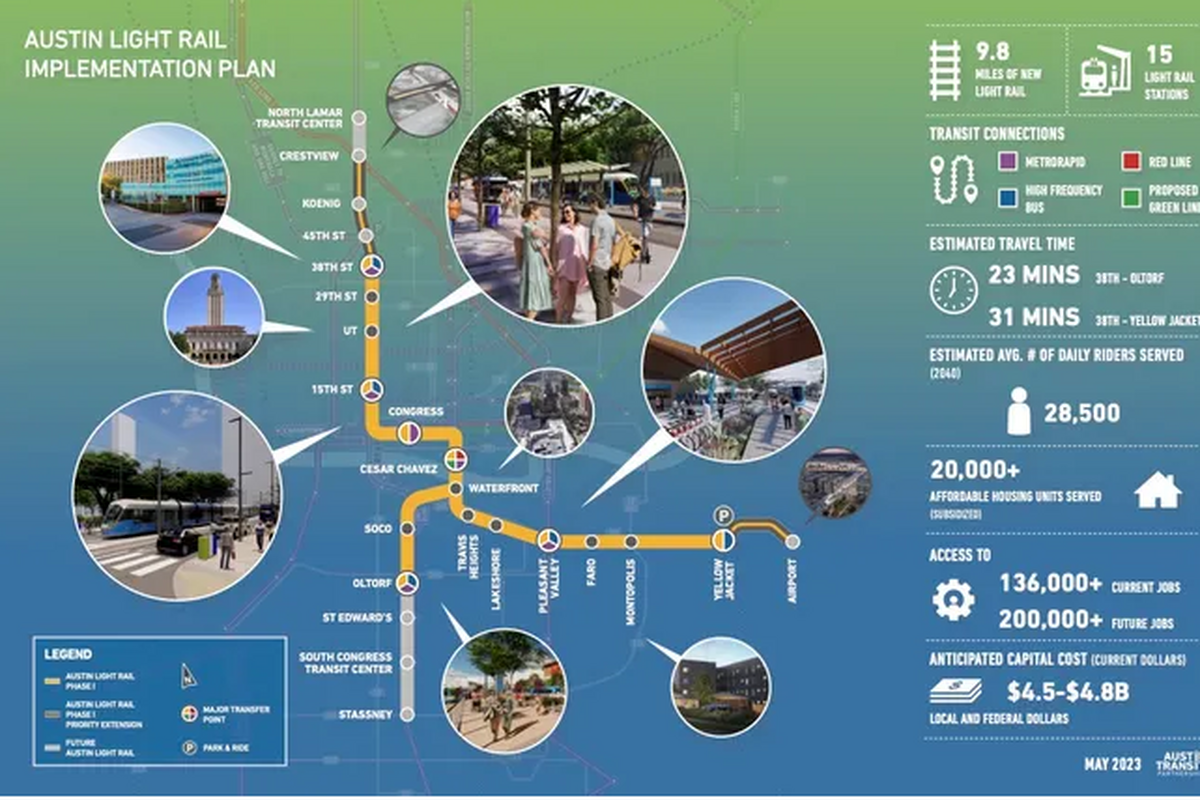 Austin-area Power Poll respondents are skeptical about the recently-approved property tax cut, divided about whether the Texas Senate will convict impeached Attorney General Ken Paxton and wary of annual legislative sessions.
But there's no doubt about the popularity of something that might or might not happen - a train to the plane.
A solid 63% of respondents said any expansion of the local rail system, currently a plan in progress, should include service to Austin-Bergstrom International Airport. The most recent plan, subject to revision and years from reality, does not include an airport stop.
Only 20% of respondents said an airplane stop should not be mandatory. And 16% said the rail plan should be abandoned.
The most recent iteration of the transit expansion plan - endorsed by the Austin City Council in June but far from final go-ahead - includes 9.8 new miles of light rail as part of a $7.1 billion transit plan under Project Connect.
Power Poll also asked local governmental, political, civic and business leaders about the property tax cut plan recently approved by the Texas Legislature in a summer special session. State leaders say the $18-billion plan, which includes increased homestead exemptions, will mean significant reductions for property owners, both residential and commercial.
Power Poll participants are not so sure. Nineteen percent said they expect the plan to lead to tax cuts for them. Thirty-six percent said they don't expect to see a lower property tax bill. And the largest group, 45%, checked the box that said "I'll believe it when I see it."
"I believe the tax change will help me in the medium term (2024), but nothing happens in a vacuum" said poll participant Terry Cole, founder of Street Youth Ministry of Austin. "What will be the unintended consequences of this tax cut? I suspect it will harm public schools even further, drive up other costs on ordinary people, and continue to give the rich and powerful and big business a way out of taxes. Lowering without reform is only part of the job."
Businessman Eric Bandholz, founder and CEO of Beardbrand, said "Property taxes in Texas are absurdly high. Any reduction is a good thing. Would love to see them dismantle public education all together and continue to lower taxes."
Brit Katz, interim vice president for student life at Southwestern University in Georgetown, echoed a concern voiced by some Democratic lawmakers during the proeprty tax debate.
"Property tax reductions can only benefit citizens who own property, correct?" he said. "An increasing number of citizens cannot afford property purchases."
Supporters of the tax-cut plan expressed confidence that some landlords would pass the tax savings on to their rent-paying tenants.
Eugene Sepuveda, CEO of Culturati, said, "The Legislature could have invested better funding public education, infrastructure maintenance & development, access to healthcare and homelessness."
The poll produced a split decision on whether the Texas Senate will convict Paxton, who was impeached earlier this year by the Texas House on a variety of accusations and has been under indictment since 2015. Both legislative chambers are GOP-controlled. Paxton is a Republican.
Fifty-one percent of respondents predicted Paxton, who is suspended from office pending the Senate trial, would be convicted and permanently removed from office. Forty-nine percent predicted the trial, scheduled to begin Sept. 4, would end in acquittal.
Gazing further into their political crystal balls, 48% of local Power Poll respondents predicted U.S. Rep. Colin Allred, D-Dallas, would wind up as the Democratic nominee to challenge U.S. Sen. Ted, Cruz, R-Texas, in 2024. Another 29% predicted the Democratic nomination would go to state Sen. Roland Gutierrez of San Antonio, the only other currently announced Democrat in the race. A not-insignificant 23% said it will be someone else.
So far, Allred and Gutierrez are the only major announced Democratic contenders for the uphill effort to unseat Cruz.
And in a not surprising result, 51% of respondents said they don't need any more Texas Legislature than we now have. That majority said the current schedule of regular sessions only in odd-numbered years remains fine with them. Thirty-four percent said they favor annual sessions. Fifteen percent said they'd be OK with annual sessions, but with even-year sessions convened only to write the state budget.
"Cities and counties, both big and small, are the economic engine that drive the Texas miracle," said Pflugerville City Council Member Rudy Metayer. "Until the state Legislature abandons its all-out assault on local government, I cannot see any good coming from having the Legislature convene annually."
Power Poll particant Rowena Houghton Dasch, executive director of the Neill-Cochran House Museum, recalled some cautionary words from a longtime legislative observer from years gone by.
"(Journalist) Molly Ivins once wrote: 'The Texas Legislature consists of 181 people who meet for 140 days once every two years. This catastrophe has now occurred 63 times.'
Counting this year's biennial regular session, it's now occurred 88 times.
"I can only imagine the disastrous result if the Legislature were to be constantly in session," Dasch said. "Our only protection is that they are on the clock."
Realtor Crystal Weigle comes at it from a more positive angle:
"But there is so much good and meaningful legislation that never gets brought to the floor because they're too busy with their pandering to PACs," she said. "Maybe if they met every year, smaller and more impactful bills that address other issues could have a chance?"
Key word there: maybe.
Power Poll Members: Do you have a friend or colleague who should be on Power Poll? Please invite them to join!
About Power Poll: Power Poll asks questions of the most powerful, influential people in U.S. cities. It is not a scientific survey. But because the people responding to the surveys comprise the leadership structure of their cities, the results afford a fascinating glimpse into the thoughts, opinions, and beliefs of those in a position to make change. Power Poll is distinctly nonpartisan.
Corporate Sponsor
We thank the following organizations for their support of Power Poll. Learn more about becoming a sponsor here.