The Future As We Know It Could Be Ugly
Meanwhile, local officials get high approvals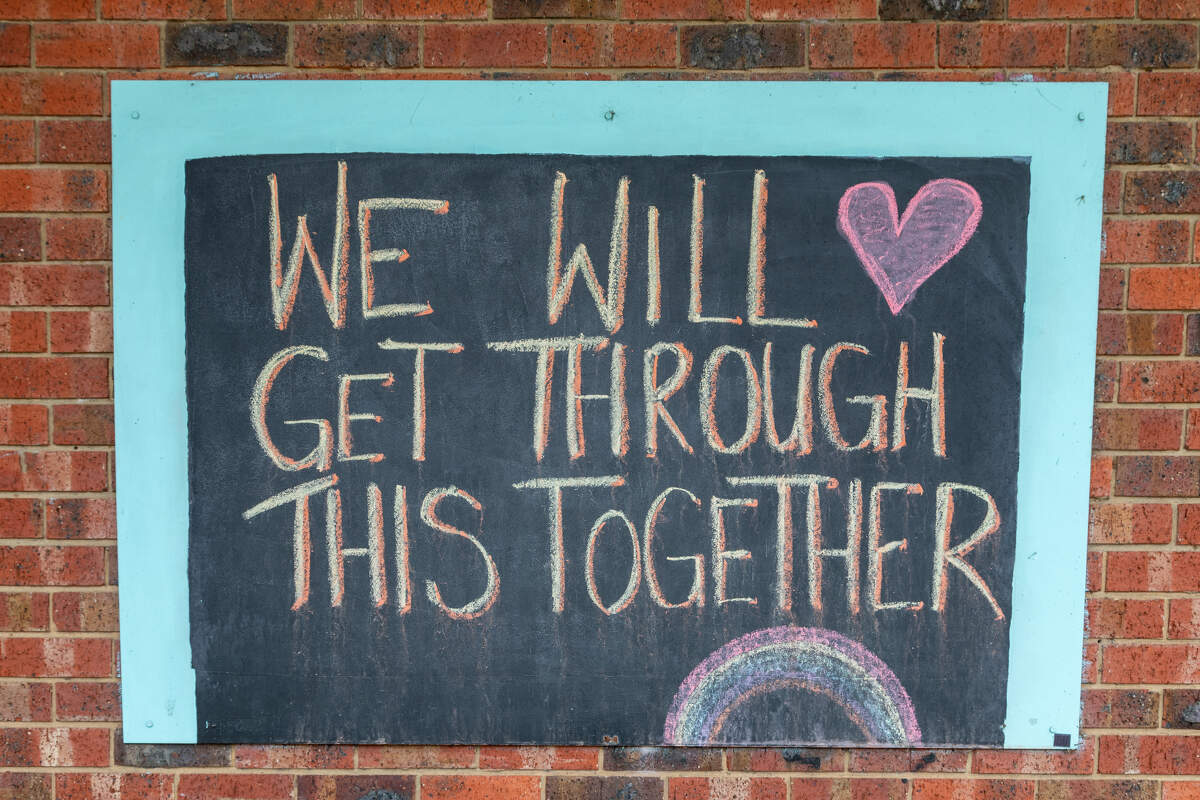 We have good news, and then bad news, from the latest Nashville Power Poll, as regards the COVID-19 pandemic.
Good news first: Power Poll members feel they are getting reliable information, from public officials and media. They have drastically altered their daily behavioral patterns to stop the virus' spread. And a majority think local government and health care providers are handling the emergency appropriately.
On the downside, and this is disturbing...
We asked people to characterize their current level of concern in response to this statement: "Some people think the coronavirus outbreak will result in untold deaths and economic devastation lasting a long while. Some think the outbreak will be brief and will only cause short-term economic problems, and still others see very few problems at all."
Presenting sponsor
We can all help limit the impact of COVID-19
By Dr. Andrea Willis
Senior Vice President, Chief Medical Officer
BlueCross BlueShield of Tennessee
As the 2019 novel coronavirus (COVID-19) continues to affect Tennesseans, it's important that we do our part to protect ourselves and especially those who are most vulnerable to the disease.
Social distancing, or limiting our exposure to others, is one of the best things we can do to slow the spread and impact of COVID-19. Here at BlueCross, we've transitioned virtually all of our employees across all locations to work from home. We're focused on continuing to serve our members while keeping our employees as safe and healthy as possible. And by distributing the majority of our workforce, we're reducing our collective risk exposure within our facilities, our BlueCross families and the communities we serve.
As community leaders, you can help promote social distancing for the benefit of our neighbors, so here are a few things to keep in mind.
Even if you feel healthy, you should avoid large gatherings or places where you could be exposed or accidentally expose others. Some people may not show any symptoms but can still potentially infect others.
Limit all travel and movement within your community. Experts recommend staying at home as much as you can, allowing few visitors into your home.
To prepare, consider getting a 2-week supply of your prescriptions and over-the-counter medications. BlueCross is allowing early refills for medications to help our members prepare as needed.
You can also take advantage of telehealth services for regular care needs.
You should also continue protective measures like:
washing your hands,
coughing or sneezing into your elbow,
keeping a distance of at least 6 feet from others to avoid spreading or catching the virus,
and disinfecting frequently touched surfaces every day.
As a reminder, if you have symptoms such as a fever, cough or trouble breathing, call your doctor or use a telehealth service first before visiting an office or an emergency room.
Your doctor can evaluate your symptoms and make a recommendation about whether testing is appropriate. If it is, BlueCross will cover all costs on FDA-aligned testing for COVID-19.
Our clinical teams remain in close communication with public health officials so we can continue supporting our communities and promoting safety for Tennesseans.
We know times like these are when our members need us the most — and what we've always been right here for. We're working hard every day to keep our employees safe and healthy so we can keep delivering on our mission to serve.
For more updates about our response to COVID-19, visit BCBSTupdates.com.
Over half characterized themselves as "very concerned." More than one-third were "somewhat concerned." About 7% were "not too concerned" or "not at all concerned."
It is troubling that a majority of Nashville's power structure is "very concerned"—which would indicate they are thinking this could involve "untold deaths and economic devastation lasting a long while." That ugly scenario is obviously on their minds.
The Specifics
Here are the specific results to all four questions, which were asked Monday by email, to the Nashville Power Poll membership:
A total of 847 Nashville Power Poll members were surveyed these questions. 392 responded, for a response rate of 46.28%. All results, as always, were anonymous.
The Power Poll is not a scientific poll. But if you want to know what the people who essentially run the city are thinking, and the people who influence the levers of power here believe, the Power Poll is a very accurate barometer.
Context
The city is taking on the look of a ghost town, with little traffic, empty restaurants, and downtown pedestrians few in number. Across from my office off West End Avenue, a music club is boarded up shut with big sheets of plywood—like it's expecting a hurricane. My nearby Three Brothers coffee shop is closed.
At press time, the COVID-19 strain of the Coronavirus had hit Davidson and Williamson counties harder, by far, than any other part of the state.
New numbers out today (Friday) from the Metro Public Health Department show a total of 110 confirmed cases in Davidson County, an increase of 50 cases in the last 24 hours. Meanwhile, the most recent numbers from the state show 30 cases in Williamson County. The next highest in the state numbers was in Shelby County with only four positive cases (although I've seen higher numbers for Shelby elsewhere). A complete breakdown by county can be found at the state website.
A barrage of initiatives at the local, state, and federal levels has taken place. On Wednesday, Nashville Mayor John Cooper issued an executive order declaring a state of emergency, allowing expedited powers at all levels of Metro Government in handling the emergency. A pretty decent Metro web page has sprung into existence related to the Nashville outbreak—covid19.nashville.gov. It includes a "case tracker," with the most recent number of cases confirmed here, along with age breakdowns. Daily press conferences are being held by the mayor's office. I won't belabor the bevy of announcements in recent days, but they are many—financial assistance to people unable to pay bills; restrictions on crowd gatherings and the closing of bars on Lower Broadway; public schools closed through April 3.
At the state level, the governor had also issued his own state of emergency, opening up the spigots for federal funding and allowing him to call on the National Guard if necessary. He can even evacuate people under this declaration. Most critically, he was trying to garner additional respirators, which are often required in treatment for individuals with the virus.
In the private sector, to be honest, it appears that service companies that involve people communing with one another have seemingly come to a halt. If the bar and restaurant industries were the first to cut back severely, retailers are now closing doors. The decision by Nissan to close its manufacturing facilities nationwide—including the factory in Smyrna—was symptomatic of what has been going on in small and medium-sized businesses as well.
Economically, it does not take a genius among us to understand that the hit here is going to be huge. With business virtually at a stop—hiring non-existent, layoffs underway, many paychecks in decline or ceasing, no investment dollars at work—the repercussions from this to the local economy are going to be significant. We're used to economic cycles that ebb and flow, and as these contractions take place businesses reduce their spending and activity as a result. But this was so sudden. The brakes were hit immediately. I don't think any of us can forecast what this looks like to our profit and loss statements in a month, three months, six months, a year.
So this is where we are:
If people are working, they are working from home. They are huddling with family, whether they like it or not. The faith community has been rendered somewhat neutral in steering us through the insanity—it can't gather people together to rally them through this. That's unfortunate.
We have become ever more reliant on our phones and laptops. I'm not sure if this is a blessing or a curse, but it helps keep us working and in touch.
We do not really know, at all, where this is headed, and the uncertainty leaves us in a vague state of suspended existence, neither sure nor unsure about how the horror film ends. History offers guidance. Google the Plague. If you're a doomsayer, that will buttress your outlook.
Confidence in our public officials is high—that's a positive, particularly with regard to Mayor Cooper. I say this because it's very likely that he may have to resort to even more draconian restrictions. Failing that, he may have to undertake big investments in health-care infrastructure to provide enough hospital beds here. For examples of that, look at what a town near Seattle has done—it's converted a soccer field into a facility for infected people. Importantly, it was a local government entity that undertook that project—not a state or federal entitity.
And so in conclusion, we are taking a hit. It's going to be big. We have no idea how big. Put one foot in front of the other. Check up on friends and family.
To quote the late, great Hunter S. Thompson, "When the going gets weird, the weird turn pro." Let's go pro people.
Power Poll Members: Do you have a friend or colleague who should be on Power Poll? Please invite them to join!
About Power Poll: Power Poll asks questions of the most powerful, influential people in U.S. cities. It is not a scientific survey. But because the people responding to the surveys comprise the leadership structure of their cities, the results afford a fascinating glimpse into the thoughts, opinions, and beliefs of those in a position to make change. Power Poll is distinctly nonpartisan.
Corporate Sponsors
We thank the following organizations for their support of Power Poll. Learn more about becoming a sponsor here.