December 25, 2020 10:00am
Power Poll: Nashville's Terrible, Horrible, No Good, Very Bad Year 2020 Comes to a Close
And we look ahead to 2021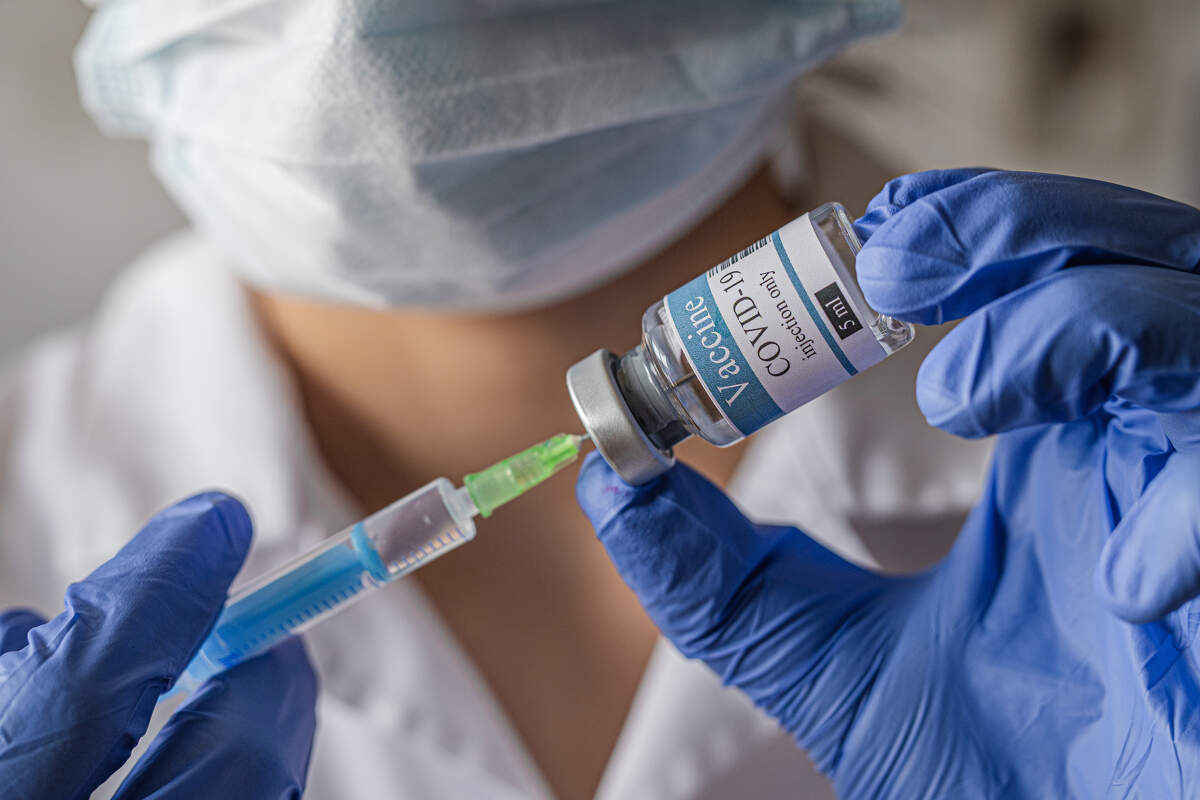 We can all hope.
For a better year ahead.
For a vaccine. For political stability. For racial reconciliation. For sitting in our homes, with friends, knocking back a cold one, and giving them a hug as they leave.
Hope is our stimulus package. Hope is fuel to our national engine. Hope is intrinsic, elemental, and basic to the human operating system. Hope and prayer are cousins—we conjure our hopes and pray they be made real. Power Poll asked about your hopes for 2021. What are you hopeful about for 2021?
In descending order, Power Poll members are mostly hopeful about the vaccine. That's looking good. Then comes your hope for more political stability. Well, at least change is coming. Those two hopes were followed, in short order, by a better economy, racial reconciliation, and the hope that things can't possibly get any worse.
Presenting sponsor
10 New BlueCross Healthy Place Projects Coming in 2021

By Scott Wilson
Vice President, Corporate Communications and Community Relations
BlueCross BlueShield of Tennessee
Throughout the year, we've been celebrating our company's 75th anniversary of serving Tennesseans. We realized another great way to do that would be giving Tennesseans more ways to enjoy outdoor spaces in their communities. As a result, the BlueCross BlueShield of Tennessee Foundation will create 10 new BlueCross Healthy Places across the state's three Grand Divisions.
Our foundation will invest $750,000 in each of the 10 spaces, bringing the statewide total to $7.5 million.
The project sites are spread across Tennessee in communities large and small:
Alamo:

Crockett County High School

Baxter:

Baxter Seminary Park

Chattanooga:

St. Elmo Park

Farragut:

Town Hall Park

Johnson City:

Kiwanis Park

Memphis:

Foote Park

Murfreesboro:

Barfield Crescent Park

Paris:

Eiffel Tower Park

Shelbyville:

H.V. Griffin Park

Woodlawn (Clarksville):

Woodlawn Park
Each site will receive one of the following project packages, based on the needs of the community:
Thrive and Play

– an inclusive, multi-generational space

Community Hub

– a pavilion surrounded by fitness and play elements

Family Fun

– a family space with playgrounds and adult fitness equipment

Fitness and Fun

– a space featuring play areas and fitness elements, including a fitness station and timed challenge course
Of course, these are just the latest BlueCross Healthy Places. Four have opened in Memphis, Huntland, Kingsport and at Henry Horton State Park in Chapel Hill.
In Nashville, work has begun on the BlueCross Healthy Place at Northwest Family YMCA. The $6.4 million investment will bring equitable health and wellness opportunities to a community with a significant need. The park's amenities will include inclusive play areas, basketball and pickleball courts, fitness equipment, a multi-purpose field and walking paths.
Two more BlueCross Healthy Places are underway in Chattanooga and Knoxville.
With the addition of the 10 new projects for 2021, the BlueCross Foundation has invested $31.7 million in community spaces across the state.
BlueCross Healthy Places are an important part of our mission to serve our neighbors, right here in Tennessee. We look forward to partnering with communities across the state to create more spaces and provide new amenities for all residents to enjoy.
Related Resources from BlueCross:
More information about BlueCross Healthy Places
Building Nashville's BlueCross Healthy Place

Regarding your greatest hope—the vaccine—you responded astoundingly as to whether you will take it. Only two Power Poll members out of 377 say they have no plans to take it. Nearly everyone else is on board. Nashville Power Pollers are trusting the medical/scientific community.
Finally, Power Poll members say they aren't going to celebrate the holidays normally. There will be no distant relatives handing you gift certificates to Target and neighbors dropping by with green and red cookies baked in the shapes of trees. The vast majority of you Power Pollers are limiting your holiday invite list to your individual households. It will be a reduced celebration.
Here are the specific questions and answers to our year-end, look-forward, Holiday Edition 2021 Nashville Power Power Poll.
768 Nashville Power Poll members were surveyed, and 377 responded, for a 49.09% response rate. The Power Poll is a non-partisan, non-scientific poll. By virtue of the fact that it only surveys important, powerful, influential players in Nashville, it's a quite interesting civic engagement platform giving cities the ability to make decisions and reach consensus. You Power Poll members run our city; we figure out what's in your collective heads.
CONTEXT
At times, in 2020, I have been reminded of Sunday school classes, as a young boy, when I would listen to the stories of Noah and the flood, and Job and his boils, and the killing of the firstborn of Egypt, and lots of people smiting lots of other people, and think to myself, "Man, I hope this stuff never happens to me."
History will record how bad we had it in the United States and on our planet in 2020, but judging by the predictions of talking historians on the news shows, 2020 is going down as a once-in-a-generation cluster. What could go wrong, did go wrong, and continues doing so.
And yet, with a few minutes to kill the other day, and because the past is never really past, I did a little digging into 1940, just as France was falling and Hitler was preparing to carpet-bomb England. Winston Churchill, standing before Parliament, addressed the situation both by being honest about the horror— "The whole fury and might of the enemy must very soon be turned on us"—while at the same time promising hope if England resisted. The abject evil, addressed transparently. But then the resolve, the action, the promise. And in some of the greater words ever spoken in English, he vowed that if England were successful, the world would "move forward into broad, sunlit uplands."
I think we all want a cozy little cabin in those broad, sunlit uplands right about now.
So much broke in our nation this year. And what seemed so frustrating in the fallen brokenness was the failure of our political institutions to rise to the occasion. The evil was never transparently and honestly addressed. The path forward—mankind on the upswing—was left unclear. Recrimination and anger, rather than common sacrifice and purpose, dominated. And we all engaged in it, to some level.
But you know, the other night as I watched the evening news, I was deeply moved as I watched the first American being vaccinated. NBC Evening News introduced me to an African-American nurse in Queens who had volunteered to be the first American to take the vaccine. Then there were clips of trucks rushing shipments of the vaccine in their sub-zero freezers, and more clips of laboratories at Pfizer where the vaccine had been created, and, for a moment, I got teary-eyed and said to my wife, "This is the greatness of the United States." All would agree that not since our manufacturing base was re-purposed for World War II has there been such a complicated mobilization of raw science, our healthcare network, our transportation and delivery infrastructure, and more. As The Wall Street Journal observed, "Every one of the many and complicated links of the chain has to hold."
I hope it holds. I bet it holds. It's us.
This makes me hopeful at a high level. And I'm also hopeful that while infection rates are still off the charts, I think 2021 will improve economically and politically also. Racial reconciliation will be hard—and it is so telling that Power Poll members themselves listed it as the last thing to hope for next year. We're dealing with centuries of injury here. Racial remedy will take a very long while. That arc in the moral universe will bend, but slowly.
CONCLUSION
We asked Power Poll members to submit their other hopes for 2021, which they wrote in to us. The top hope by far? To be with other human beings. People submitted "to eat out with others," "be with family and friends," "hugs and handshakes," "having a normal date," "traveling to see my kids and grandkids," "going to a concert with friends."
You want to go to church again. Titans games. Predators games. A whole helluva lot of you said you plan to travel. A couple of you said you are excited about taking off your pajamas and working out without a mask.
We are social animals, gifted by common language to express ourselves to one another, and endowed with an elemental yearning to gather round. Sharing. Communing. Relating. All of this got shattered in 2020. That is our great pain, our flood upon the land, and the boils on our flesh.
2021 will be as much about rebuilding and resurrecting human relationships as anything. Physically ill, politically ostracized, racially at-odds, we Nashvillians—we Americans—want to emerge on the other side of this long, dark tunnel in the bright presence of others. So as we crawl out of this awful year, let us do so by walking in kindness and with good heart, in empathy and of calm disposition. Let's go forth, the best we can.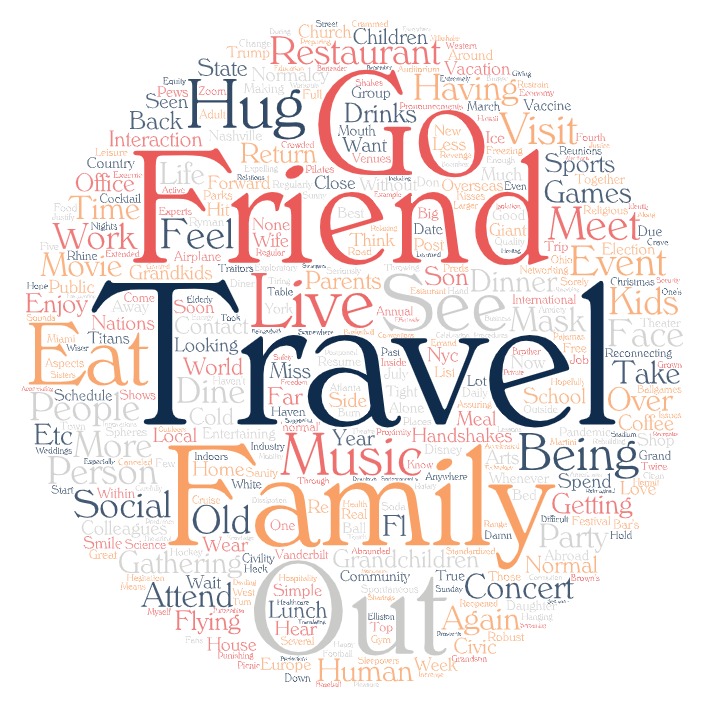 Power Poll Members: Do you have a friend or colleague who should be on Power Poll? Please invite them to join!
About Power Poll: Power Poll asks questions of the most powerful, influential people in U.S. cities. It is not a scientific survey. But because the people responding to the surveys comprise the leadership structure of their cities, the results afford a fascinating glimpse into the thoughts, opinions, and beliefs of those in a position to make change. Power Poll is distinctly nonpartisan.
Corporate Sponsors
We thank the following organizations for their support of Power Poll. Learn more about becoming a sponsor here.