Meet the New Mayor
It's Going To Be Cooper, Say Power Poll Members
John Cooper will be elected mayor a little less than three weeks from now. Or so Nashville Power Poll members are predicting.
Power Poll members were hardly bashful in their voting this week. Nearly four in five respondents said Cooper would win, making it one of the more lopsided predictions in Power Poll history. No doubt Cooper's high-margin victory in the mayoral general election, and incumbent mayor David Briley's shockingly weak showing, contributed to this Power Poll outcome.
In a related question, members were also asked who they were voting for. Results to that question went Briley's way. A little over half said they were supporting Briley; a little under half were going with Cooper. A healthy percentage of our city's leadership plans to vote for Briley but at the same time feels as if he will not win. One can only appreciate the candor of Power Poll members.
Presenting sponsor
BlueCross is Committed to our Communities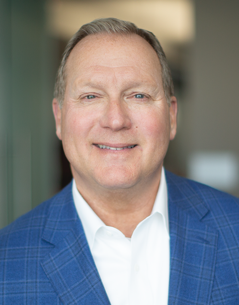 By Roy Vaughn
Senior Vice President, Chief Communications Officer
BlueCross BlueShield of Tennessee
Tennessee is our home, and it's important to give where we live. One of the most important ways we're giving back is through the creation of BlueCross Healthy Places. These spaces, designed with input from local residents, are free and open to the public for neighbors, families and friends to connect.
Here are a few examples of the spaces we are creating all across the state: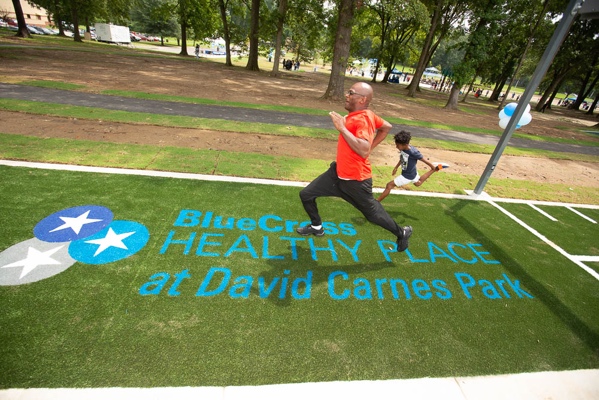 BlueCross Healthy Place at David Carnes Park
In the Memphis neighborhood of Whitehaven, residents have been enjoying David Carnes Park for years, but they knew it wasn't being used as well as it could be. They were asking for more resources, and we asked them what the park needed. We held community events where kids and adults told us how they envisioned the space working.
On August 10, we opened the transformed 9-acre park with playground areas, a multipurpose field, walking trails, fitness stations, a splash pad, a pavilion area with grills and picnic tables, and a blacksmith shop dedicated to the park's namesake, David Carnes. This was made possible by a $4.5 million investment from the BlueCross BlueShield of Tennessee Health Foundation. We've also secured the park's future through a $900,000 endownment for ongoing maintenance and beautification.
BlueCross Healthy Place at Huntland City Park
BlueCross Healthy Places aren't just for big cities. We're transforming another space in Huntland, a rural community north of the Tennessee-Alabama state line with a population of 800. When it opens in September, it will include a playground, a basketball court with bleachers, outdoor fitness equipment, an upgraded pavilion for community gatherings and a new walking track. Additional amenities will include parking, water fountains, picnic tables and grills.
BlueCross Healthy Place at Highland Park (Chattanooga)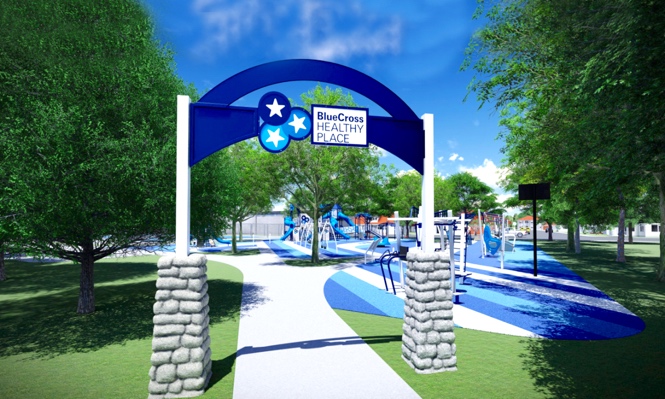 Announced this spring, the BlueCross Healthy Place at Highland Park will serve both students and residents in this growing neighborhood. Developed in partnership with Chattanooga Girls Leadership Academy and Chattanooga Preparatory School, it will provide a new outdoor space designed for connection and recreation. The $5 million project will feature a pavilion for gatherings, a multi-purpose field with bleachers, a walking track with outdoor fitness stations, a challenge course, a 40-yard dash, inclusive play areas, and sports courts. We're excited to be creating this space in our hometown of Chattanooga.
We're Committed to BlueCross Healthy Places
As a not-for-profit company with a mission to serve, we have a responsibility to be actively involved in building a better quality of life where we live. BlueCross Healthy Places can change lives, so our foundation is committing at least $7.5 million each year to projects we think will do just that.
Applications for 2020 Healthy Place funding opportunities are being accepted through the end of August 2019. You can also visit bluecrosshealthyplaces.com to keep up with all the ways we are living our mission of being right here for good.
HERE ARE THE SPECIFIC SURVEY QUESTIONS AND ANSWERS:
ABOUT THIS SURVEY: 823 Power Poll members were surveyed, and 404 responded, for a response rate of 49.09%. The Power Poll is not a scientific survey. But inasmuch as respondents are the people who run the city, it's an important barometer of the beliefs and opinions of Nashville's influencers, opinion leaders, and others with the wherewithal to make stuff happen. Click here to view the list, and if you have any suggestions for additions, let us know at memberupdates@powerpoll.com.
RELEVANT BACKGROUND: Clearly Cooper has made headway. In a mayoral Power Poll taken in May, 24% planned to vote for him. In July, that had moved to 27%. Now, he's at 44%. I guess he grows on you after a while. As for Briley, he moved from 56% (May) to 54% (July) and then back to 56% in this poll. In July, Power Poll members incorrectly predicted he would place first over Cooper in the general election and then head into a runoff against Cooper. Whoops.
ANALYSIS:
John Cooper is running a great campaign.
David Briley is not.
In very general terms, it has gone like this:
Cooper: "Nashville is really messed up right now."
Briley: "Well, it's not that bad."
Cooper has a message—and it is an artfully and precisely packaged message that ignited an upset in the general election and has left Briley reeling in response. With brilliant precision and perfect timing, Cooper saw a moment in which to seize upon Nashville's ambivalence and angst about its growth and direction. He pounced upon city resources being directed to downtown construction projects while the rest of the city's budget has suffered. Whatever you think about Cooper—and many in the city's business and leadership classes have their issues with him—credit goes to him for being attuned to what voters are thinking and how it is time for a man of his voting record to seize the day. What he is saying has resonated beautifully.
What a difference a few months make. Not that long ago, Cooper himself was wondering if he had a path to victory. In early February, he told reporters he would not run. Soon enough, he got back in. He was late. But it wasn't like he needed a lot of instruction on what to say. For nearly four years as Metro Councilman At-Large he has been obsessively investigating city finances and leaping on to the city's center stage as our chief antagonist and back bencher.
Occasionally negative, often oppositional, and sometimes verbose, Cooper's one-term tenure in Council has been lit up with positions that often run counter to the Briley administration and downtown business interests. There has been opposition to the transit referendum, opposition to the Cloud Hill development, and opposition in general to the use of tax dollars to encourage businesses to locate here. A lot of influential people have reason to oppose John Cooper because of his record.
But obviously, something in Nashville's water has changed. His negativity makes him a plus. He has clearly connected. Amid the cranes and prosperity, average voters are wondering why government is doing such a lousy job and not making ends meet. People are asking why the "It City" has morphed into something that isn't going so well, and Cooper has an answer. This passage, for instance, is from one of his position papers, and its general theme is what, for my money at least (and I read all of his papers for kicks) has caught fire:
"Metro's revenue grew by over 19% between 2013 and 2018, yet education, transportation and affordable housing are still underfunded. Payments on our rising debt have limited the investments that can be made in education and affordable housing. But that has not stopped Metro from awarding incentives to developers instead of investing services that benefit residents. Metro needs a reset of priorities and leadership. Shared prosperity begins with fiscal sanity and people-centric growth."
Those who have spent time around the Cooper campaign universe marvel at the fact that Cooper himself wrote all of the position papers you find at his website. Against conventional wisdom, his campaign staff numbered no more than a handful. "It has pretty much been John sitting at a cardtable," explained one campaign intimate. Make no mistake though—he has opened up his personal checkbook to get his message out to voters. I'm guessing $1.5 million?
Meanwhile, there's Briley, the candidate who has been for most of the race the person whom most people were betting on. At the outset, there was so much in his favor. He was the incumbent. He was a true progressive and could be counted on to pull in liberal votes from our increasingly blue city. As well, the city's leadership classes and business interests liked him because he took their calls. But so often during this campaign, Briley never seemed like he wanted it. He never could summon up the chest-thumping, podium-pounding, applause-generating part of the job description.
His public speaking seemed badly hit-and-miss as the months wore on. His fundraising report after the first quarter was eye-openingly low, and never really took off. In desperate need of some front-page attention, he has had a hard time making bold decisions to draw attention. Supporters seemed to be crying out for a break-out media moment from Briley (I would have had him throwing scooters in a dumpster or something similar), but such opportunies were squandered.
To some extent, Briley's campaign problems pre-dated his re-election campaign. When he assumed office after the resignation of Megan Barry, Briley opted for a soft introduction, telling voters that he hadn't asked for the job. What voters really wanted, though, was a strong hand at the wheel and a sense of gravitas to right the ship. Briley never could project that.
And so, while Cooper began to shine, Briley has seemed to fizzle out altogether. With Cooper clearly capturing the zeitgeist of the anti-downtown business community sentiment, Briley didn't know what to do or say. "Well, it's not that bad," he has been forced into saying.
No incumbent mayor in the history of Metro Government has ever not been reelected. But if Power Poll members are correct in their preditions, that could happen this election.
Power Poll Members: Do you have a friend or colleague who should be on Power Poll? Please invite them to join!
About Power Poll: Power Poll asks questions of the most powerful, influential people in U.S. cities. It is not a scientific survey. But because the people responding to the surveys comprise the leadership structure of their cities, the results afford a fascinating glimpse into the thoughts, opinions, and beliefs of those in a position to make change. Power Poll is distinctly nonpartisan.
Corporate Sponsors
We thank the following organizations for their support of Power Poll. Learn more about becoming a sponsor here.