Build It
We Want a Shining Stadium on a Hill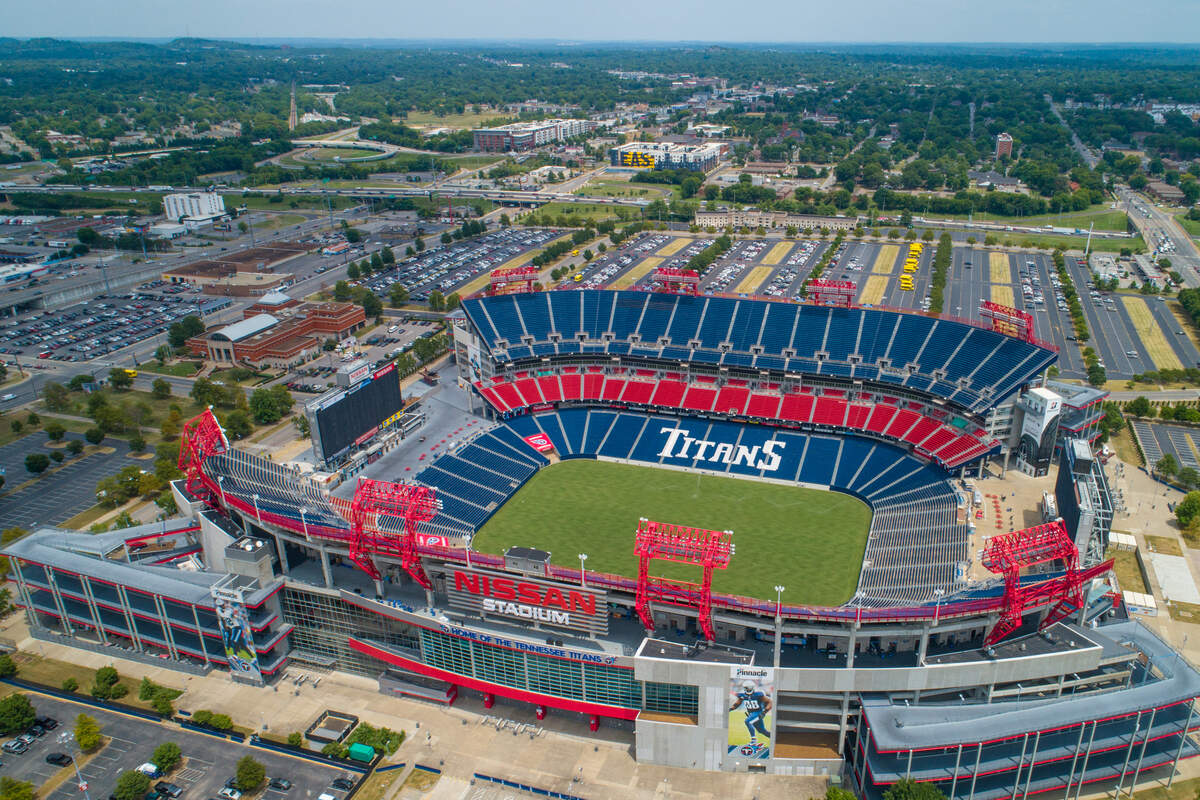 A crazy high percentage of Nashville Power Poll members support Nashville mayor John Cooper's plan to build the Tennessee Titans a brand spanking new $2.1 billion domed stadium.
Cooper finally revealed the specifics of his plan this week. The proposal is now headed to Metro Council, and to the Metro Sports Authority, where it will be voted up or down.
In other Power Poll questions, members are evenly split on whether the newly drawn 5th congressional district, which comprises a much smaller portion of the city than it once did, will be won by Republican Andy Ogles or Democrat Heidi Campbell.
Also on the election front, members say they think it would be "very bad" if, as many expect, both houses of the U.S. Congress fall into Republican hands. Few view this as a positive development for civilization.
Here are the specific questions and answers we asked. Scroll to the end of this story for details about this survey and Power Poll in general.
CONTEXT 1: THE STADIUM QUESTION
For the last half century, at least, Nashville has favored a "build-it, invest-in-the-city, here-we-go" kind of mentality, embarking on public infrastructure projects with gusto. From former mayor Richard Fulton's Riverfront Park on the Cumberland and his convention center at Lower Broadway and 5th, public investment in our built environment has continued unabated.
It is true that a $6 billion transit plan flopped not too long ago, but it could be argued that the transit plan's failure owed to a combination of the plan's eye-popping cost, indigestible proposals (underground downtown tunnel?), and Megan Barry's indiscretions. But transit is the only recent hiccup that comes to mind.
Now, in walks a new stadium proposal which in many ways is a problem in search of a solution. The current contract with the Titans, authored in the Bredesen years, requires the stadium be maintained as a "first-class" facility compared with other pro football stadia. Making the current facility "first class" would require nearly $2 billion in city spending (according to separate studies hired by Metro and the Titans) over the next 17 years.
Much needs fixing and upgrading. It would cost a ton. And that money would be coming out of the city's general fund, which the city uses for its basic operational costs.
Seen from this perspective, which most agree to be reality, why wouldn't a rational actor scrap the current Nissan Stadium if you're going to have to spend $2 billion to keep the stadium "first-class" anyway? And why not, especially when the state is going to help you build a new stadium by chipping in half a billion in bond financing (along with the requirement that the new stadium have an enclosed roof). Another source of revenue is the team and NFL, which are throwing in $840 million. Found money.
The city still needs to come up with $760 million. Under the plan, Metro will issue bonds backed by an increase in the local hotel occupancy tax and sales tax revenues from in and around the stadium.
Metro Council's progressives, who are in abundance, and don't look to be the type of people who down a cold sixer of Natural Lights on Sunday afternoons while cheering the homeboys, are in a bit of a quandary here. The progressives suggest that we should be spending money on affordable housing and transit options and public schools rather than subsidizing a billionaire family's business based out of Houston. Fine. Great. You can argue that all day long.
But that only gets the progressives so far. Because the problem of the current Titans contract and its "first class" language would still remain, and we would still be on the hook for the fix-the-place-up money.
So if one is of a mind NOT to support for the Titans deal, and spend money instead on other pressing needs, an observer must ask: What is a better option for dealing with the Titans contract? And how do you propose spending money on other projects, when there won't be any such money lying around because it's getting spent on keeping the stadium at a first-class level? This isn't a problem that will go away.
If there WERE another way to go about this, one would think it would have met the light of day. But so far, when you ask critics of the plan for options, the only other plan that I've heard goes like this: we refuse to fix up the stadium, we head to litigation over the contract, and we lose the team in the process. That would be a major black eye for the city.
One other detail that deserves monitoring: the new stadium will be located closer to Interstate 24, and will become the centerpiece of a massive East Bank redevelopment that will exceed 300 acres. The city is essentially leaping the river in a major way with this deal. It is possible that redevelopment might occur and begin producing city tax revenue even without a stadium or NFL team, but not for a while.
Thus, Power Poll members—possessed of a desire for proper stewardship of our city's assets and an understanding that litigation would be ugly, brutal, and damaging on many economic development fronts—overwhelmingly say this current Cooper/Titans proposal is pretty good.
(Something tells me Power Poll members just flat like their Titans also.)
CONTEXT 2: THE "ODLES VS. CAMPBELL" QUESTION
When the General Assembly drew new congressional maps for the state, Nashville was cut up into three slices of pizza, and those slices of pizza, mostly featuring Democratic toppings, were lumped in with neighboring pizzas with a lot more Republican toppings. (These pizzas are, respectively, congressional districts 5, 6, and 7.)
The 5th District, which has historically been the home district for Nashville, and used to include a lot of Dickson and Cheatham counties, is vastly different in 2022. The 5th now includes all, or parts of, Maury, Lewis, Marshall, Wilson, and Williamson counties, plus the pizza slice of southern Davidson County, which is generally conservative.
It is almost impossible for a Democrat to win this new district, although this race has gotten the most attention, and the Democrat, Heidi Campbell, has raised a fair amount of money. Campbell is a state senator and former mayor of Oak Hill. Some Democrats really think she has a shot.
Andy Ogles, the mayor of Maury County, is the Republican candidate. He crushed his opponents in the primary, including Nashville's own Beth Harwell, a moderate-seeming Republican who served as House speaker.
One would think if the race were competitive that Ogles would be running negative TV ads against Campbell. That would be a sign the race is close. But he doesn't seem to have run any TV ads. At all.
The Cook Political Report lists the district as "Likely Republican."
Why would the incumbent Democrat Jim Cooper, one of his party's most moderate/conservative members, not have run again if a Democrat could win it? Cooper saw he couldn't win it. And he is retiring.
How did Donald Trump do in this redrawn 5th district in 2020? He won it by 11%.
Before redistricting, the 5th was Democrat +10. It is now Republican +9.
Power Pollers voted that the race is neck-and-neck. My guess is they are showing their natural affinity for Democrats, since Nashville is largely a Democratic city. A Campbell win would be a national shocker.
CONTEXT 3: THE "WHAT IF BOTH HOUSES GO REPUBLICAN" QUESTION
A lot of political pros are expecting a Democratic shellacking, for an abundance of reasons. Midterms are always rough for the party that has the White House. Inflation is raging and people blame that on Washington. My personal belief is that the lefty wing of the Democratic Party got way out over its skis early into Biden's term. Average Americans bought into the notion that Biden and Pelosi and Bernie Sanders and AOC were running an experiment in socialism.
Indications are that if Republicans take the House and Senate, investigations will launch, impeachment hearings most certainly will commence, executive-branch confirmations will cease, and the like. If we thought civil discourse was rough now, it will only be rougher when/if the Republican team controls Congress and, effectively, the Supreme Court.
As David Brooks noted the other day, it's utterly strange that so many of the issues advocated by the Democratic Party are widely supported by most Americans, and yet Republicans just routinely run up the score at the ballot box. A partisan media environment bears blame here. Voter restriction laws do also. And finally, there's the utter inability of Democrats to connect culturally with average, everyday Americans who live between the coasts.
I think, as Power Poll members said, that it could get "very bad" if Republicans win. Then again, I kind of think it could get very bad regardless.
Power Poll Members: Do you have a friend or colleague who should be on Power Poll? Please invite them to join!
About Power Poll: Power Poll asks questions of the most powerful, influential people in U.S. cities. It is not a scientific survey. But because the people responding to the surveys comprise the leadership structure of their cities, the results afford a fascinating glimpse into the thoughts, opinions, and beliefs of those in a position to make change. Power Poll is distinctly nonpartisan.
Corporate Sponsors
We thank the following organizations for their support of Power Poll. Learn more about becoming a sponsor here.