Electric Scooters Not Loved in Tennessee Power Poll
Members favor restrictions or their outright elimination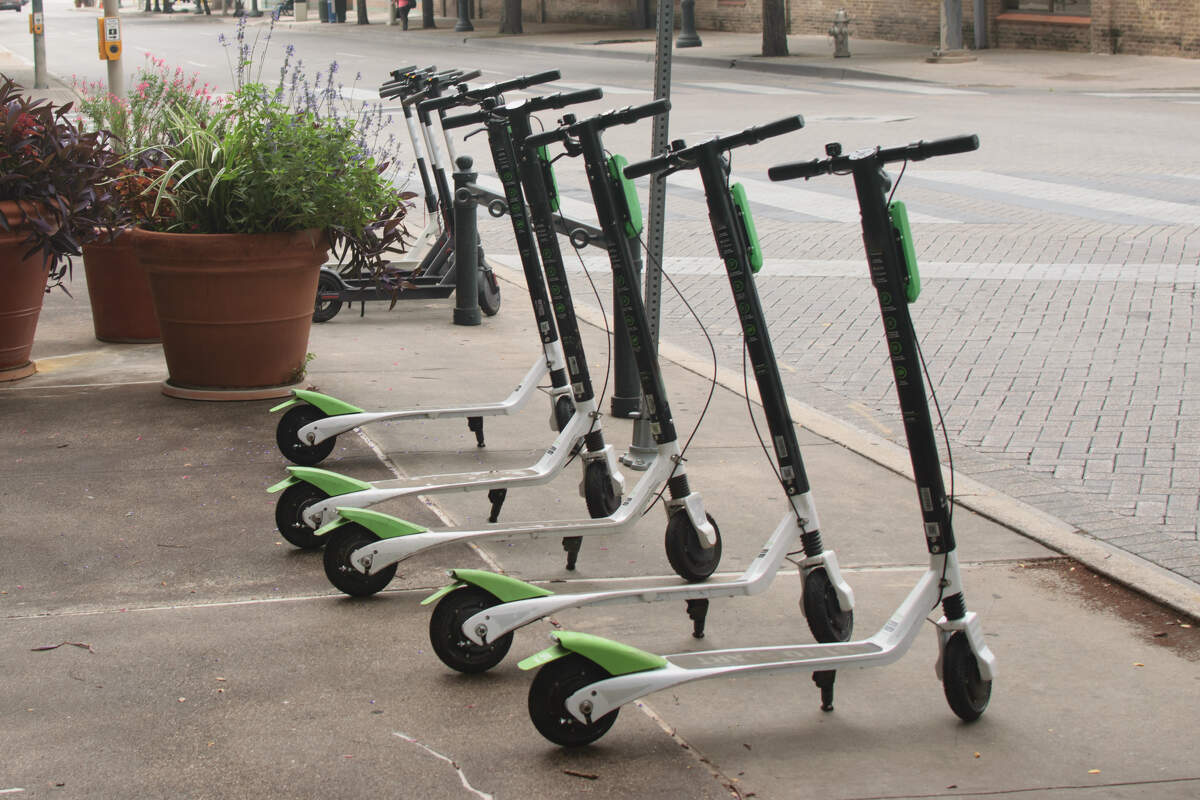 Scooters have a definite public relations problem here in Tennessee.
According to the latest statewide Power Poll taken in our four leading urban markets (Knoxville, Nashville, Memphis, and Chattanooga), the majority of participants favor imposing stricter regulations on their use. Slightly fewer members voted for their complete elimination, while a scant few supported their unlimited use.
(This interesting sidenote: Memphis leads the way in advocating for their unlimited use. Just let those scooters ride on, many Memphis Power Poll members seemed to be saying.)
FIRST THE SURVEY:
Here is the question we asked:
Electric scooters have been introduced in Knoxville, Memphis, and Nashville, and are under discussion for use in Chattanooga. Knowing what you know about them, or have experienced with them, do you:
Presenting sponsor
85 Cents of Every Premium Dollar Goes to Health Care Costs
By Roy Vaughn
Senior Vice President, Chief Communications Officer
BlueCross BlueShield of Tennessee
As a mission-driven, not-for-profit company, our first priority at BlueCross is to improve the health of the 3.5 million members we serve. That starts with providing affordable access to quality health care — which includes negotiating discounted rates for care — and paying our share of costs quickly.
We did that in 2018, paying out $15.2 billion — or 85 cents from every premium dollar — to pay for members' health care costs.
What did we pay out for different kinds of care?
26 cents: physician services
24 cents: inpatient care
21 cents: outpatient care
9 cents: prescription drugs
5 cents: other medical services
We worked hard to manage operating costs effectively to keep costs down for our customers:
Paying 4 cents in local, state and federal taxes
Using 7 cents to run our business, and
Retaining 4 cents as net income.
As in previous years, we paid more in taxes than we kept as net income.
Over the past 10 years, we've paid $3.8 billion in taxes, and
Over the past five, our average profit margin is 2.1%.
We managed our margins responsibly.
We earned more than expected on our Individual/Marketplace line of business, in part because certain risks we had to price in didn't play out as they could have. When we saw higher-than-expected margins developing, we lowered rates for 2019 by an average of 14.8%.
The long-term stability in the employer group market means we're able to manage operating costs even more efficiently, and we earned lower margins on those lines of business.
We are a tax-paying not-for-profit.
That allows us to earn lower margins but also gives us a responsibility maintain strong reserves as a safety net for customers. Any net income we earn goes into our reserves or gets invested to enhance our member service capabilities. So, our 2018 financial performance allows us to stay strong for our customers, as demonstrated by our A+ Stable rating from S&P.
We have $267 per member in total reserves, which would cover our members' claims for 88 days. Our required reserves would only cover claims for 60 days.
Why does being mission-driven matter?
Because we're focused on serving members not on maximizing profits, we are planning to earn less in net income for 2019 than we did in 2018. We have a responsibility to maintain financial strength so we can continue serving our customers, which means we have to price to earn a margin each year.
Ultimately, the biggest factor in our rates is what health care providers and drug makers charge for the treatments our members need. Our customers pay less because we aim for low operating costs and margins, and we will continue doing that on behalf of our neighbors in Tennessee in 2019 and beyond.
Favor their unlimited use;
Favor their use only with guidelines (such as usage only in certain areas of town, limits on their total number, required helmet use, or other such guidelines);
Do not favor them at all;
Here is how the four cities responded:
Unlimited use came in at 10 percent in Chattanooga, 4 percent in Knoxville, 21 percent in Memphis, and 3 percent in Nashville.
Guidelines came in at 51 percent in Chattanooga, 64 percent in Knoxville, 65 percent in Memphis, and 63 percent in Nashville.
Do not favor them at all came in at 40 percent in Chattanooga, 32 percent in Knoxville, 13 percent in Memphis, and 34 percent in Nashville.
In total—all four cities combined—the results looked this way:
Unlimited use: 6 percent.
Guidelines: 62 percent
Do not favor them at all: 32 percent
A total of 1,810 Power Poll members in Tennessee were surveyed, with 665 responding, for a participation rate of 37 percent.
As always, we should point out that the Power Poll is not a scientific survey. But the Power Poll surveys the people who either directly make, or tangentially influence, policy at the local, state and federal levels. It is composed of powerful influencers from a variety of professions, including non-profits, for-profits, government, media, sports, entertainment, and more. (To view the Chattanooga list click here, the Knoxville list here, the Memphis list here, and the Nashville list here.)
ANALYSIS:
As most of us know, scooters are those stripped-down, electric-motored variations of the toy which, back in the day, was pushed along by the feet of little children. At some point in time, someone had the bright idea to put a motor on the toy. Thus are big businesses made.
Scooters are growing to be an international presence. A quick scan of the headlines shows launches of them taking place around the globe.
The scooter story in Tennessee begins in May 2018, when Bird and Lime scooters appeared on the streets of Nashville out of nowhere. Mayhem ensued. Conversations commenced between the city and the two companies. In short order, they were removed from the streets.
Shortly thereafter, Nashville put in place a pilot program, which is supposed to last through April 2020. There is no limit on the number of companies that can introduce scooters in Nashville. Upon meeting a number of conditions, each scooter company can max out at 1,000 scooters each. The total number of scooters in Nashville currently is 4,150.
The introduction of scooters in Memphis came in June 2018, shortly after Nashville's inauspicious debut. Memphis now has 1,000 scooters flying about but forecasts another 2,000 hitting the streets in coming months. Knoxville initially launched scooters in March 2019, but that was then halted. They were then redeployed in May of this year with 100 scooters. Additional scooters were added on a weekly basis. Today, Knoxville has 405 scooters as part of a pilot program.
As for Chattanooga, its Council is currently embroiled in a heated debate over whether to adopt them. According to Chris Vass, our Power Poll correspondent in Chattanooga, "Scooters have been tabled by our city council until at least the end of July—too many questions have come up and the Nashville death has chilled the energy."
The death she refers to is the scooter-related fatality that took place in Nashville in April and gave scooter opponents plenty of ammunition to argue for their complete removal. (News stories reporting on the volume of trips to Nashville hospitals by injured scooter riders haven't helped either.) The situation in Nashville, to observers, does appear messier than the other cities, for a number of reasons.
Scooter riding in Nashville has reached levels far in excess of the other Tennessee cities. A comprehensive study published recently by Walk Bike Nashville, which encourages a more walk-able and bike-able city, found that from May 2018 to May 2019 a mind-boggling total of 1,862,000 scooter trips had been taken, totaling 1.95 million miles of riding.
"I think scooters can work but we can't continue doing what we're doing and expect a good result," said Walk Bike executive director Nora Kern.
Left to oversee Nashville's scooters is the Metro Transportation and Licensing Commission, under the direction of the well-respected Billy Fields. His office only has six total employees, who are clearly outgunned by the more than 10,000 scooter rides being taken in Nashville every day.
On a positive note in Nashville, and contrary to public perception, Fields says scooter usage in Nashville is not dominated by inebriated tourists darting dangerously about. "What we're seeing," Fields says, "is what we believe to be a growing number of local people who are using scooters to commute to work. On any given day you will see people riding them with backpacks, in suits and ties and dresses coming to their offices. This is all new, we're studying it, and we've got to figure it out."
Scott Barker, who is the market editor for the Power Poll in Knoxville, describes a situation in his city that is far from chaotic, compared to what he terms the "Wild West" of Nashville. "Knoxville is small enough so that the leaders here can see what's happening in bigger cities and get ahead of the curve. It helps that Knoxville's mayor is a city planner by education and encourages her administration to look at what other cities are doing," Barker says, "There are exceptions, of course, but Knoxvillians are being tidy when it comes to scooters."
As for Memphis, Power Poll editor Toby Sells says scooters were "an issue early on. I think people here have come to terms with them. But they didn't foist them upon us like they did in Nashville and other cities."
So where we are now is that the mayors and city councilmembers in Nashville and Chattanooga are debating whether to jettison the scooters on the one hand, or keep them and impose strong regulations on the other. To some degree, eliminating them, or not allowing them to begin with, would be easy to do. Laws would simply be passed that prevent them from operating in their cities.
However, the picture is complicated by the fact that the cat may be out of the bag. Eliminating them may be close to impossible. Long-term changes to not just Tennessee's—but the world's—movement away from automobiles and to various alternative modes of transit are strong forces to fight against. Thus, reality may dictate adopting regulation rather than elimination.
What would that regulation look like?
First, safety is a monumental issue. Online education could be required before scooters are used by first-time riders. Helmets could be made mandatory.
Other regulations? Cities could decide to allow scooters only in particular parts of town. This so-called "geo-fencing" is in use in some U.S. cities, including Knoxville and Nashville. What geo-fencing means is the scooter completely stops in parts of town in which scooters are not allowed. Or, the scooter's speed is forcibly reduced in parts of the city where caution is needed.
To look at what is coming down the pike in terms of transportation innovations is mind-boggling. It's not just scooters. We're talking personal and shared electric mopeds, the electric trike that has been developed by Gotcha, mini cars in Seattle that can be ordered up to-go, and seated scooters that are about to be introduced in Austin and Portland.
Chattanooga and Nashville may very well vote to eliminate scooters with the best of intentions. But the waves of new transportation technology underway may ultimately make adoption of these technologies irresistible. That means creating appropriate regulatory environments that make scooters work safely and efficiently.
Scooters fall into one of those areas of unanticipated public policy-making. We're having to manage this on the fly. Most Power Poll members favor regulation than elimination. One has a feeling that's where we'll end up, but probably not before a few more trips to the emergency room.
Power Poll Members: Do you have a friend or colleague who should be on Power Poll? Please invite them to join!
About Power Poll: Power Poll asks questions of the most powerful, influential people in U.S. cities. It is not a scientific survey. But because the people responding to the surveys comprise the leadership structure of their cities, the results afford a fascinating glimpse into the thoughts, opinions, and beliefs of those in a position to make change. Power Poll is distinctly nonpartisan.
Corporate Sponsors
We thank the following organizations for their support of Power Poll. Learn more about becoming a sponsor here.