The Tennessee Three
A majority of survey respondents said legislators shouldn't have been expelled and that racism played a role in the votes.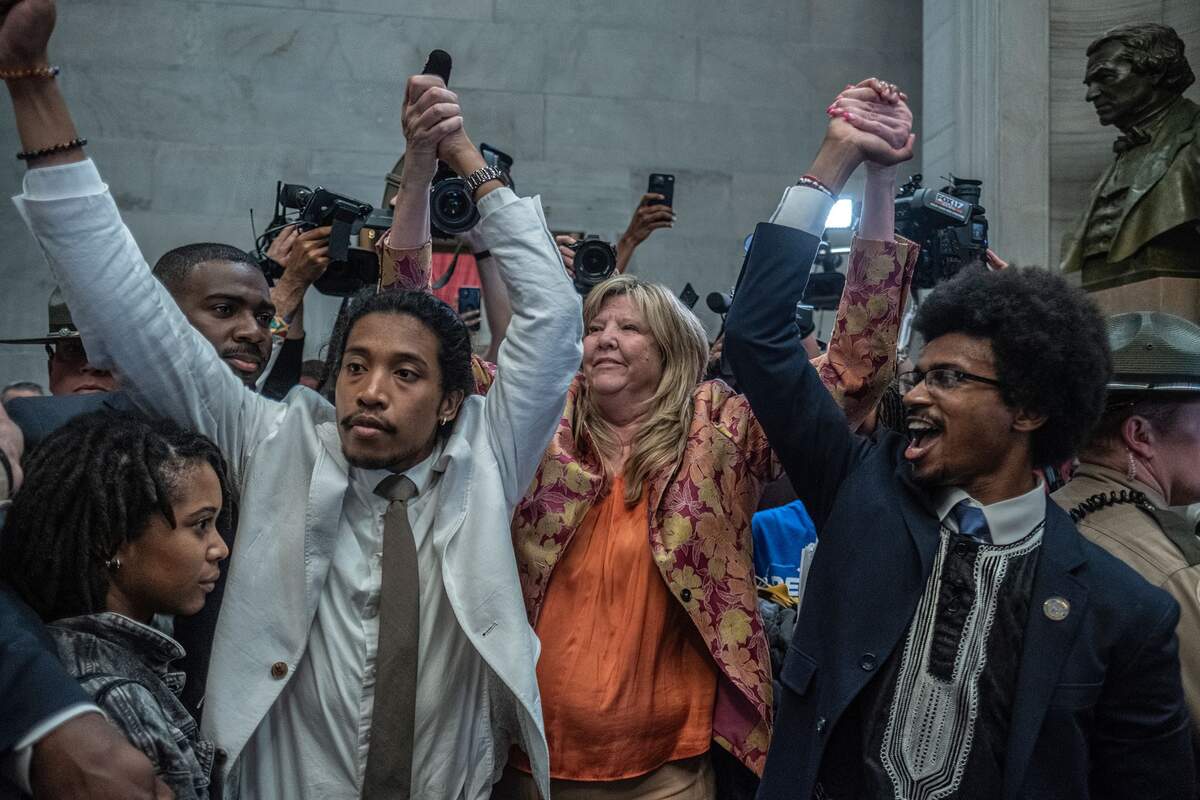 On March 30, three Democratic lawmakers strode to the well of the Tennessee House of Representatives without being recognized to speak. Reps. Gloria Johnson of Knoxville, Justin Jones of Nashville and Justin Pearson of Memphis proceeded to lead chants calling for gun law reform. Within a week, the Republican supermajority had expelled Jones and Pearson, an exceedingly rare punishment generally reserved for criminal or unethical activity, while failing to oust Johnson by a single vote.
Democrats quickly pointed out the obvious racial overtones — Jones and Pearson, both young Black men, were expelled, but Johnson, a white woman, was spared. GOP leaders contended the expulsions were warranted for causing a breach in House decorum. Both expelled lawmakers were quickly reappointed by their home counties' legislative bodies.
And the Tennessee Three, as they came to be called, would become the nation's best-known state legislators, appearing on network television shows, meeting with Vice President Kamala Harris and receiving an invitation to visit the White House.
We asked Knoxville Power Poll members about their thoughts on the developments, which stemmed from the massacre of three 9-year-old students and three educators at Nashville's Covenant School.
A majority of Knoxville Power Poll members — 62 percent — said that the three deserved some sort of disciplinary action, but that expulsion was too harsh. Twenty-nine percent said they shouldn't have been punished at all, and only 8 percent said expulsion was appropriate.
A narrow plurality of respondents said the actions of the Tennessee Three and the subsequent events have made it more likely that the Legislature could adopt stricter gun laws. Eleven percent said the episode has significantly improved the possibility of gun legislation passing, and 31 percent said prospects have improved somewhat.
Four in 10, however, said the Tennessee Three have had little impact on the issue and 17 percent said nothing has changed.
Power Poll members in other Tennessee cities largely agreed with Knoxville respondents on the appropriateness of expulsion as punishment for breaking House decorum rules. Respondents in Nashville expressed more confidence that the gun reform debate has been changed, with 15 percent saying the needle has moved significantly. Power Poll members in Memphis and Chattanooga, were less confident in the prospects for change. Only 6 percent of Memphis respondents and 8 percent of Chattanooga respondents said gun reform chances are significantly higher.
Last week, Gov. Bill Lee issued an executive order setting new deadlines for criminal justice information to be reported to the state's background check system for gun purchases. He also called on the state Legislature to pass a bill creating "extreme risk" orders of protection, which would allow a judge to temporarily restrict firearms access for people in mental health crisis found to be a risk to themselves or others.
Knoxville Mayor Indya Kincannon and the mayors of Metro Nashville, Shelby County and Chattanooga welcomed Lee's proposal and came up with a list of their own gun regulation requests in a letter to the governor and legislative leaders. House Speaker Cameron Sexton said the order-of-protection bill was a "non-starter," though, and the powerful Tennessee Firearms Association and the National Rifle Association quickly condemned Lee's proposal.
Knoxville Power Poll members overwhelmingly identified race as a factor in the expulsions of Jones and Pearson, and Johnson's narrow survival. Twenty-nine percent said race was the primary factor in the votes, while another 33 percent said it was a secondary factor. Thirty-one percent said race didn't play any role whatsoever.
Republican lawmakers were keenly aware of the perception of racism. In an audiotape of a private Tennessee House Republican Caucus meeting obtained and released by the progressive website Tennessee Holler, Farragut Rep. Jason Zachary and others complained that they were being characterized as racists, with some blaming Rep. Jody Barrett, R-Dickson, one of a handful of GOP representatives who did not vote to expel Johnson, for opening the party up to the allegations.
Looking forward, a slim plurality of Knoxville Power Poll members said the episode will help the Democratic Party in future elections. Every Republican in the Knox County delegation voted to expel the Tennessee Three, including Johnson. Four in 10 said the expulsion votes would not translate into the Democrats flipping a seat from the GOP majority, while 42 percent said it improved the Democrats' chances. Seventeen percent were unsure.
The Power Poll is not a scientific poll but a survey of the thoughts and priorities of local political, business and nonprofit leaders.
Image: State Reps. Justin Jones, Gloria Johnson and Justin Pearson arm-in-arm at the state Capitol on Thursday, April 6. Photo by John Partipilo/Tennessee Lookout.
Power Poll Members: Do you have a friend or colleague who should be on Power Poll? Please invite them to join!
About Power Poll: Power Poll asks questions of the most powerful, influential people in U.S. cities. It is not a scientific survey. But because the people responding to the surveys comprise the leadership structure of their cities, the results afford a fascinating glimpse into the thoughts, opinions, and beliefs of those in a position to make change. Power Poll is distinctly nonpartisan.
Corporate Sponsors
We thank the following organizations for their support of Power Poll. Learn more about becoming a sponsor here.