Setting Mayoral Priorities
Survey respondents say that of the unfinished projects the next mayor will inherit, the redevelopment of the St. Mary's site should top the priority list.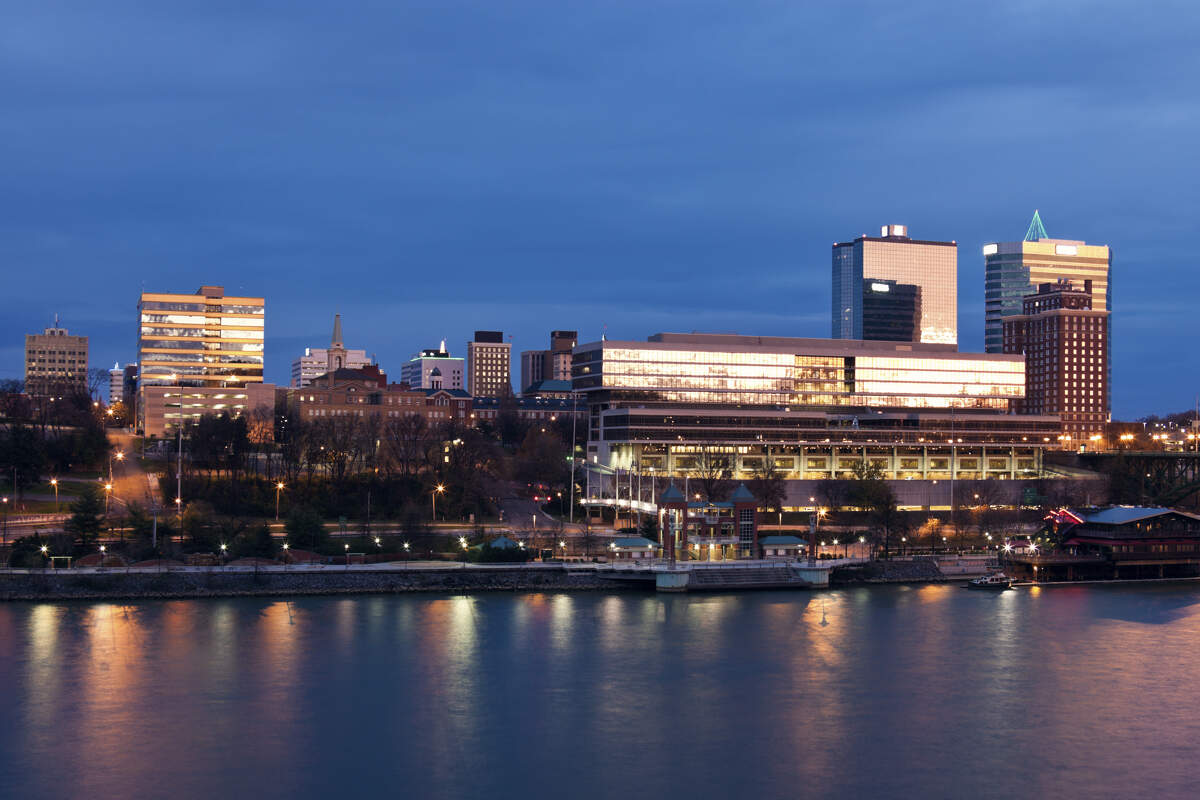 The next mayor of the City of Knoxville should make redevelopment of the former St. Mary's Hospital site in North Knoxville the top priority among projects already underway by Mayor Madeline Rogero's administration, according to Knoxville respondents to May's Power Poll.
Four in 10 say the work at St. Mary's, which includes a new public safety complex for half the property and preparation for private development on the other half, are far more important than two other projects.
Securing a minor league baseball park should top the next mayor's agenda for 26 percent of the respondents, while only 9 percent think a linear park linking East Knoxville to the Urban Wilderness should be the first priority. A quarter of respondents ranked "other" as their choice to top the to-do list.
Presenting sponsor
$7.5 Million to Fund BlueCross Healthy Places Each Year
By Roy Vaughn
Executive Director
BlueCross BlueShield of Tennessee Health Foundation
Tennessee is our home.
As a tax-paying not-for-profit with a mission to serve, BlueCross is committed to giving back to the people, families and communities we serve, right here in Tennessee.
We believe healthy spaces can change lives, so our foundation is giving more than $7 million each year to projects we think will do just that.
What are BlueCross Healthy Places?
BlueCross Healthy Places, funded by the BlueCross BlueShield of Tennessee Health Foundation, are spaces that are free and open to the public where neighbors, families and friends can connect.
Where will BlueCross Healthy Places be?
All across Tennessee. Memphis will open soon, and we have plans for Healthy Places in Chattanooga, Kingsport and Huntland, a small rural community just north of the Tennessee-Alabama state line.
Why Healthy Places?
Being mission-driven means we have a responsibility to be actively involved in building a better quality of life where we live — right here at home. That means building spaces where our neighbors can enjoy the activities they love and landmarks that our communities can be proud of.
What do BlueCross Healthy Places look like?
Every BlueCross Healthy Place looks different because we start by asking residents what their community needs and we customize our plans from there.
In Memphis, we're finishing work in the Whitehaven neighborhood, building the walking track, fitness area and splash pad residents requested. In Northeast Tennessee, Kingsport Miracle League Complex is on track to help youth with special needs enjoy the game of baseball in a first-of-its-kind facility. In southern Middle Tennessee, Huntland City Park is being revitalized, starting with the fenced playground and seating residents asked for, as well as a new basketball court, fitness equipment and recreation areas. In Chattanooga, The BlueCross Healthy Place at Highland Park is being completed in partnership with two local schools. It will serve the diverse, growing community with a multi-purpose field, walking track, 40-yard dash and of course, a pavilion to host community gatherings.
Let's build BlueCross Healthy Places together
Do you know a community that could use a reimagined public space? Please share this with them. We'll be accepting proposals for the next BlueCross Healthy Place projects starting in August 2019. If you'd like to get an email reminder, let us know.
In the meantime, visit bluecrosshealthyplaces.com to keep up with all the ways we are living our mission of being right here for good.
The Power Poll is not a scientific survey. But it is designed to offer insights into what community leaders think about current issues and events. Power Poll members are capable of steering a city's, or state's, discussion one way or another. Members come from a variety of fields, including politics and government, the private sector, nonprofits, the religious community, and more.
This month's Power Poll surveyed 320 people, with a response rate of 28.75 percent.
Rogero can't run for re-election because of term limits and only has 210 days left in office. Still, she and her staff are working on some big-ticket projects that her successor will inherit. The projects -- three high-profile ones were chosen for the survey -- are at varying stages of development, but all will be on the next mayor's menu.
The redevelopment of the former St. Mary's Hospital site, which of the three is the furthest along in development, should be the next mayor's top priority according to 40 percent of poll respondents.
Earlier this month, City Council voted to purchase the former hospital campus from Tennova Healthcare for $1 plus up to $16 million in tax incentives for new medical facilities the provider plans to build on property it owns on Middlebrook Pike.
The Rogero administration has plans for the city to renovate office buildings on the south side of the St. Mary's campus near Woodland Avenue for new headquarters for the police and fire departments, as well as offices for the Pension Board. Plans also call for the construction of a new building to house City Court.
The renovation and new construction is estimated to cost about $40 million, which already is budgeted for the project.
The north end of the campus would be prepared for redevelopment by the private sector. Much of the hospital building would be demolished, except for the original St. Mary's building that opened in 1930. Lincoln Memorial University has already expressed enthusiastic interest in moving its nursing school and other programs into the Magdalen Clark Tower, which is the tallest structure on the hilltop property.
City Council approved nearly $7 million for site work, primarily demolition costs, for the north end of the campus on Tuesday when signing off on Rogero's 2019-20 budget.
A minor league baseball park is only in the talking phase, but 26 percent of respondents want the next mayor to give it the highest level of attention. University of Tennessee interim President Randy Boyd, who owns the Tennessee Smokies, has assembled enough property adjacent to the Old City for a stadium.
City officials and Smokies representatives are in discussions about the possibility of the team's return to Knoxville. Rogero has said a deal won't be struck before she leaves office, but her successor could then take the mound in relief.
The Rogero Administration also has proposed an ambitious linear park to link Morningside Park in East Knoxville to the Urban Wilderness Gateway Park in South Knoxville, where development work will begin within weeks. Only 9 percent of respondents think it should be the No. 1 priority for Rogero's successor.
The linear park is ambitious, administration officials have conceded. Most of the park would be installed on the northbound right-of-way of James White Parkway. The parkway would be confined to the southbound right-of-say. Officials say the broad right-of-way can accommodate both the parkway and the park.
One in four Compass Knoxville Power Poll members, who are composed of influential residents in the Knoxville area, didn't think any of the three choices warranted topping the next mayor's agenda. The survey did not provide space for listing an alternative, so they could not offer specifics on other options.
Rogero and her staff are developing these projects, but it will be up to the mayor elected in November to bring them to fruition -- or allow them to wither on the vine.
Six candidates will be on the ballot for the Aug. 27 primary. The top two finishers will go on to the general election on Nov. 5. If one candidate gets more than 50 percent of the primary vote, however, he or she will be declared the winner at that point.
Councilman Marshall Stair, businessman Eddie Mannis and former school board chair Indya Kincannon have received the most attention and have a huge lead in fundraising over the other three hopefuls.
Fletcher Burkhardt has been visible on the campaign trail, participating in many forums, but has not raised a significant amount of money. Michael Andrews and Calvin Taylor Skinner picked up petitions and filed them with the Knox County Election Commission just before the May 16 deadline.
About Power Poll: Power Poll asks questions of the most powerful, influential people in U.S. cities. It is not a scientific survey. But because the people responding to the surveys comprise the leadership structure of their cities, the results afford a fascinating glimpse into the thoughts, opinions, and beliefs of those in a position to make change. Power Poll is distinctly nonpartisan.