Power Poll: Reopen With Caution
A majority of Knoxville community leaders say data, testing and treatment should drive decisions about pandemic restrictions.
Some businesses across Tennessee that have been closed by Gov. Bill Lee's "Stay at Home" order will be able to start reopening next week, with social distancing and other requirements yet to be spelled out by state and local officials.
In Knoxville, the latest Power Poll of community leaders across the county shows a preference for careful and gradual reopening, with decisions based on health benchmarks rather than economic ones. Lee's order expires April 30.
One question asked, "When should nonessential businesses that have been closed during the COVID-19 response begin reopening?" A 27 percent minority answered, "May 1, regardless of other circumstances."
Presenting sponsor
BlueCross Foundation Donates $500,000 to Second Harvest Food Bank of East Tennessee
Before COVID-19, the Second Harvest Food Bank of East Tennessee would supply emergency food boxes from their warehouse to 70 people a month. Since the outbreak, that number has increased more than 600 percent.
That's why the BlueCross BlueShield of Tennessee Foundation gave $3.25 million to support food banks around the state, including $500,000 to Second Harvest.
"We've now provided 450 emergency food boxes directly from our warehouse," says Rachael Ellis, Second Harvest director of development. "We are also building 500 to 1,000 emergency food boxes a day to send out to our agency partners for those in need."
Second Harvest partner agencies are seeing usage increases of 50 to 100 percent, especially by young families in need of assistance. That puts a strain on agency finances as more food needs to be purchased and more volunteers are needed to help pack boxes.
"Every day, families count on food banks for help, and that's especially true now," said JD Hickey, M.D., CEO of BlueCross and chairman of the BlueCross Foundation. "Tennesseans get through challenging times by coming together, and we're expanding our support of food banks statewide as another way to bring peace of mind to our neighbors."
Ellis and her team at Second Harvest are already hard at work putting the BlueCross Foundation funds to use.
"The incredibly generous $500,000 donation from BlueCross was the largest we have ever received specifically for food operations in our 37-year history," she says. "It is providing 1.5 million meals to our East Tennessee neighbors in need."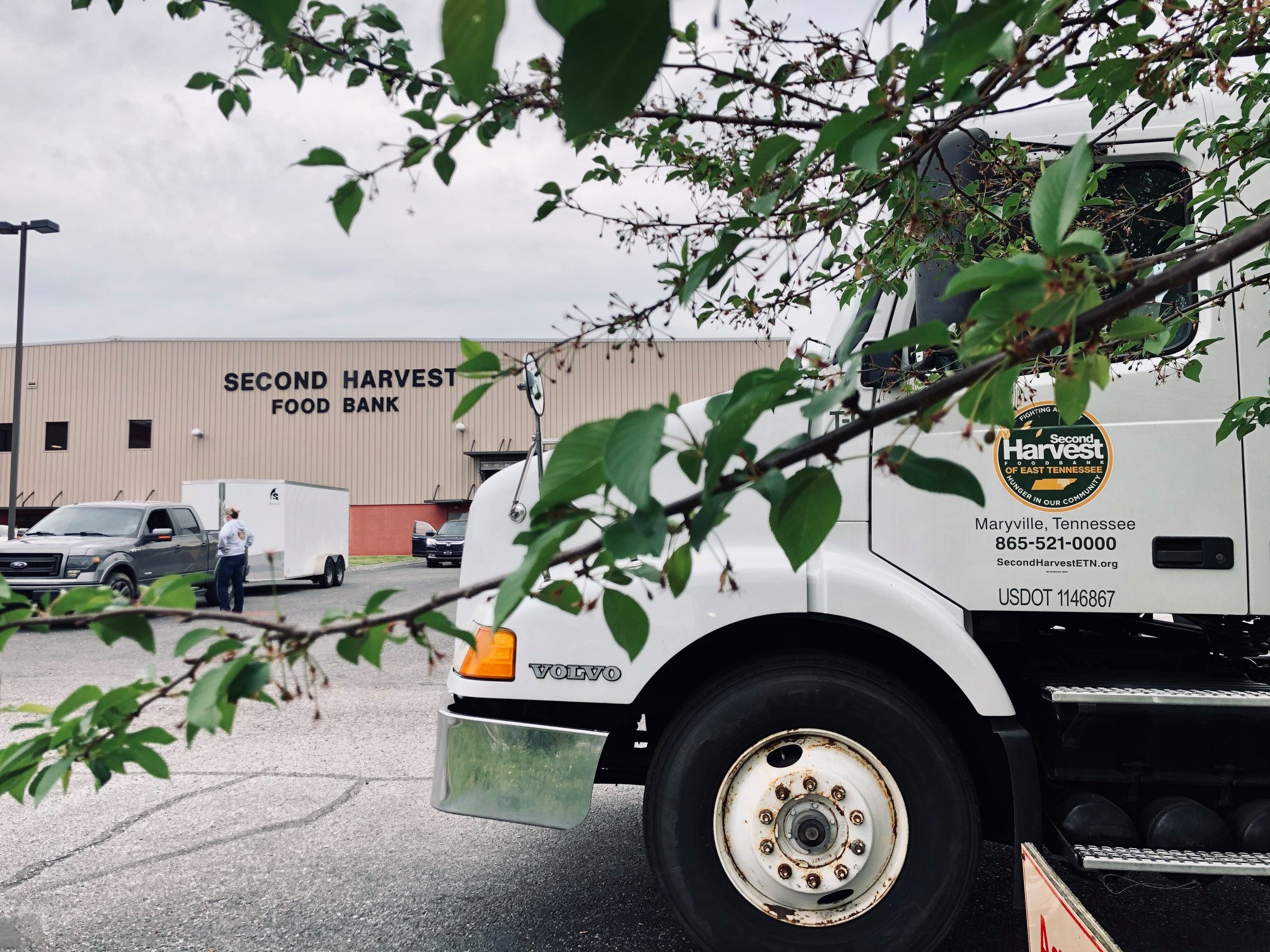 Food bank donations total $3.25 million statewide from BlueCross Foundation
The $500,000 Second Harvest relief effort is part of $3.25 million the BlueCross Foundation is donating to food banks across the state. Others receiving funds include:
Mid-South Food Bank (Memphis)
Second Harvest Food Bank of Middle Tennessee (Nashville)
Second Harvest Food Bank of Northeast Tennessee (Tri-Cities)
Chattanooga Area Food Bank
Regional Inter-Faith Association (Jackson)
BlueCross efforts to support local Tennessee food banks are nothing new, though these circumstances certainly are.
"We've supported food banks with employee donation drives and volunteering for years, and we knew they'd be able to maximize every dollar for communities in need," said Roy Vaughn, executive director of the BlueCross Foundation. "We are proud to be right here for the communities we serve through these donations."
Vaughn is quick to remind people, however, that the donations from the BlueCross Foundation don't eliminate the pressure Second Harvest Food Bank is facing.
"In this challenging time, all of our Tennessee food banks are affected," says Vaughn. "While we're all feeling the impact of COVID-19, we hope others will do what they can to help those in need."
To donate to the Second Harvest Food Bank, click here.
To learn more about BlueCross' response to COVID-19, visit BCBSTUpdates.com.
Another 30 percent responded, "Once the number of new COVID-19 cases drops to a daily average of one or fewer for two weeks," and 19 percent said, "Once a certain percentage of the population has been tested." Only 2 percent said, "Once a vaccine is available," a process that is expected to take a year or more.
Of the remainder, 12 percent answered, "Other," and 10 percent were unsure.
Regardless of their feelings on the reopening timeline, an overwhelming majority want to see social distancing requirements continue at least for the near future. Just 4 percent said they thought the requirements should end May 1, with 27 percent saying they should continue until new cases drop to one or fewer per day for two weeks, 26 percent wanting to wait until a certain percentage of the population has been tested, and 17 percent until a vaccine is available. Sixteen percent answered "Other," and 11 percent were unsure.
Two-thirds of respondents said they always practice social distancing when out and about, 33 percent said they do it most of the time, and 1 percent said they observe the rules some of the time.
They also gave their fellow Knox Countians relatively good marks — 71 percent said they see social distancing being practiced by others most of the time, and 29 percent said they see it some of the time.
Asked if they are comfortable in situations where social distancing is not being universally observed, just 24 percent said yes; 68 percent said no, and 8 percent were unsure.
The results are in line with national surveys. A Harris poll last week found that 84 percent of Americans were concerned about lifting restrictions too soon; 74 percent said there should not be a full return to work until new case numbers decline significantly; and 57 percent said a vaccine should be developed first.
They suggest that even once most businesses are allowed to reopen, proprietors and staff will have to take visible measures to make patrons feel safe.
About the Power Poll
The Power Poll is not a scientific poll. It is, instead, an email survey taken of the leading citizens and decision-makers in a variety of fields. It includes elected officials, business CEOs and other wealthy individuals, nonprofit leaders, media figures, university presidents, and entertainment and sports figures active in their communities.
A total of 317 people in the Knoxville area were queried about the law director's position, with 36 percent responding. To view the membership lists, go to www.powerpoll.com.
Power Poll Members: Do you have a friend or colleague who should be on Power Poll? Please invite them to join!
About Power Poll: Power Poll asks questions of the most powerful, influential people in U.S. cities. It is not a scientific survey. But because the people responding to the surveys comprise the leadership structure of their cities, the results afford a fascinating glimpse into the thoughts, opinions, and beliefs of those in a position to make change. Power Poll is distinctly nonpartisan.
Corporate Sponsors
We thank the following organizations for their support of Power Poll. Learn more about becoming a sponsor here.