Power Poll: Police Chief Search
A majority of respondents to this month's survey want a person with leadership experience at a larger agency to be KPD's next leader.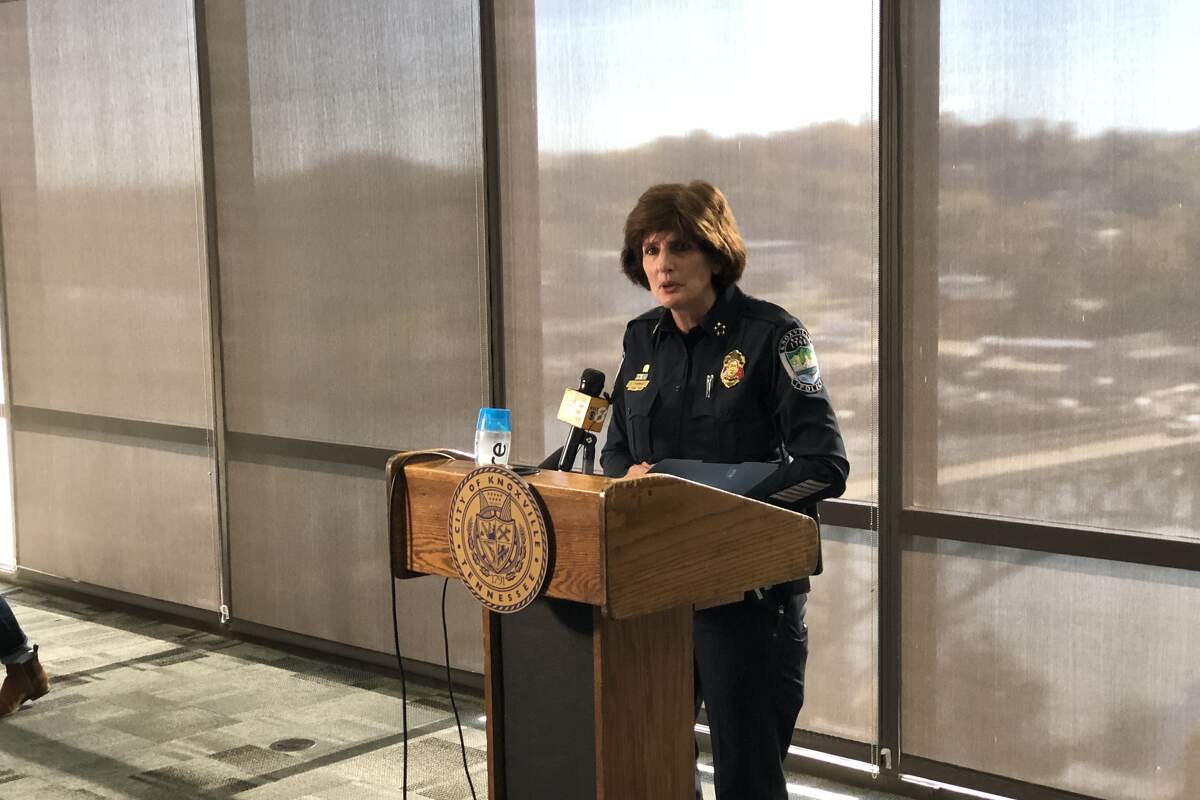 After Knoxville Police Chief Eve Thomas announced in November that she planned to retire this spring, Mayor Indya Kincannon promised the administration would conduct a nationwide search for a successor. She pledged to solicit input from police officers and the general public to inform the search. Earlier this month, the city held a series of public input sessions, asking residents what they would like to see in Knoxville's next police chief.
Kincannon and her team have met with officers and representatives of community organizations. City Council approved hiring the nonprofit Police Executive Research Forum to lead the search process.
Now, Power Poll members have weighed in.
A large majority of this month's Power Poll respondents say they want a police chief with command experience in a large law enforcement agency, to be drawn from a diverse pool of candidates. Members were split a little more when asked what the next chief's top priority should be, but a majority who expressed a preference want the focus to be on improving community relations.
The Knoxville Police Department has struggled to maintain trust with many in the African-American community and has faced questions from all corners about its efforts to stem the tide of violence that has included two consecutive years of record homicide numbers.
The department's recent low point in its relationship with the Black community came on April 12, 2021, when 17-year-old Anthony Thompson Jr., was shot by police during a struggle in a bathroom of Austin-East Magnet High School as they attempted to arrest him for assault. Knox County District Attorney General Charme Allen determined the police shooting was justified and no criminal charges resulted. The shooting sparked outrage, protests and arrests.
KPD is beset with internal issues as well, primarily allegations of racist and sexist behavior. Two deputy chiefs retired under a cloud, one after an Internal Affairs probe substantiated sexual misconduct allegations against him and another as he was under scutiny for allegedly providing cover for officers accused of misconduct. Low morale, which can be traced at least in part to chronic staffing shortages, is a persistent issue.
Nearly half of Power Poll members who responded to this month's survey — 49 percent — said that aside from effectively enforcing the law, improving community relations should be the next chief's top priority. Twenty-six percent would like to see the next chief focus on holding officers accountable, while 20 percent said raising morale among officers should take precedence.
Experience in a large law enforcement agency — KPD has 416 authorized officer positions, though dozens are unfilled — matters to Power Poll members. A solid majority, 62 percent, would like to see the city hire a person with command and administrative experience in a larger agency. Only 12 percent would like to see the city hire a chief from a smaller department. An internal hire also garnered the support of only 12 percent of respondents.
The city typically promotes its top leader from within. Thomas is a 30-year KPD veteran. Her immediate predecessor, David Rausch, also came up through the ranks. Sterling Owen IV, a former FBI agent and security consultant who served under former Mayor Bill Haslam, was an exception.
Power Poll members also said diversity in the pool of finalists was important. Thomas is the city's first female police chief; all her predecessors, dating back to Jacob Reed in 1802, when the office was titled Town Sergeant, have been white males. Survey respondents said a diverse group of finalists was very important (58 percent) or somewhat important (26 percent). Only 17 percent said diversity among finalists was of no concern.
Power Poll members were also asked about their interactions with KPD officers, since personal experiences can influence attitudes toward police — as they can regarding just about any other group of people. The vast majority of respondents reported no bad encounters with Knoxville officers. Nearly half, 47 percent, reported their interactions as professional, while 25 percent said they were cordial. Only 3 percent reported antagonistic encounters. Twenty-two percent said they have had no interactions with KPD officers.
Power Poll Members: Do you have a friend or colleague who should be on Power Poll? Please invite them to join!
About Power Poll: Power Poll asks questions of the most powerful, influential people in U.S. cities. It is not a scientific survey. But because the people responding to the surveys comprise the leadership structure of their cities, the results afford a fascinating glimpse into the thoughts, opinions, and beliefs of those in a position to make change. Power Poll is distinctly nonpartisan.
Corporate Sponsors
We thank the following organizations for their support of Power Poll. Learn more about becoming a sponsor here.