Power Poll: Of Bridges, Budgets and Masks
Respondents weigh in on a proposed pedestrian bridge, city pay, school system litigation, and their own views on masks.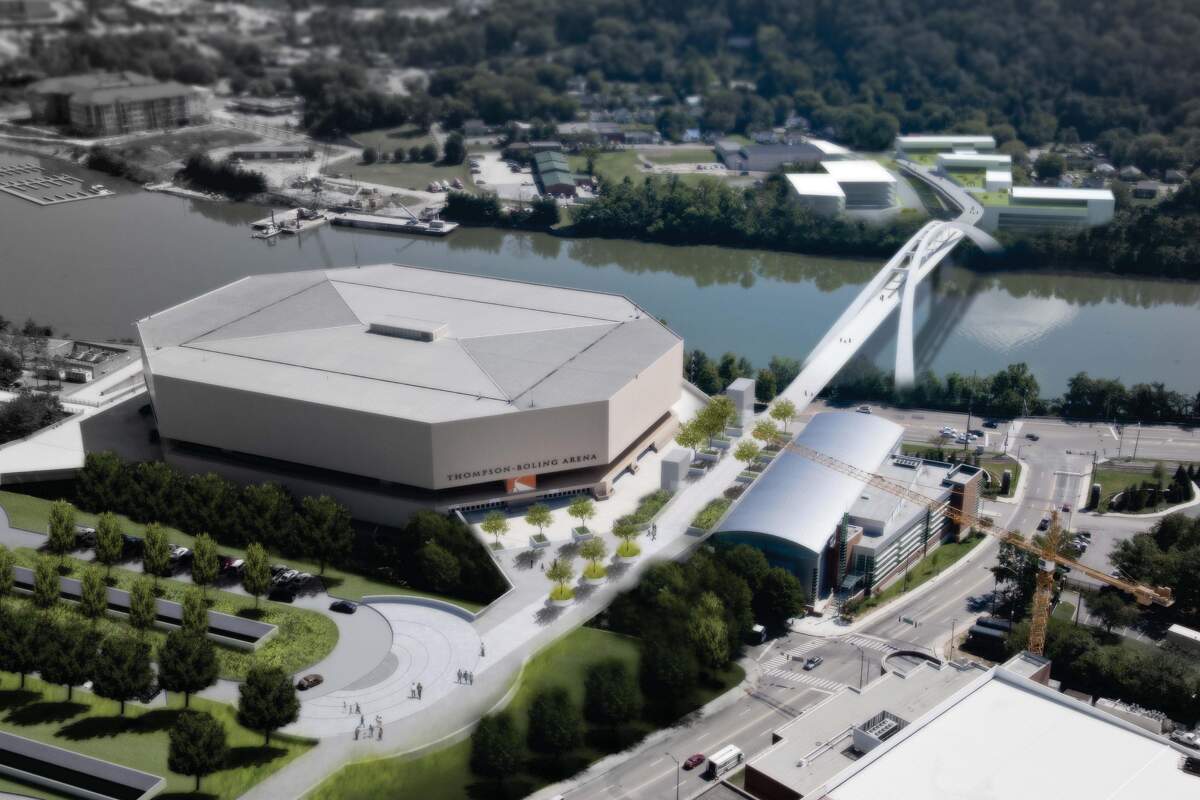 Despite not knowing the source or amount of needed funding, a solid majority of Knoxville-area community leaders think building a pedestrian bridge linking the University of Tennessee campus to the South Waterfront would be a worthwhile public investment.
That's one finding from this month's Power Poll, which surveyed members on a variety of topics during a relative lull prior to this year's election and the spring ritual of budget presentations. In addition to the proposed pedestrian bridge, Power Poll members were asked about the school system's intent to hire outside counsel in the federal lawsuit over wearing masks in schools, the city's proposed pay restructuring and their own views about wearing masks in the aftermath of the COVID-19 Omicron variant surge.
UT officials revived talk of a pedestrian bridge over the Tennessee River, which has long been a part of the city's South Waterfront development plan, when the Board of Trustees voted last month to include the Blount Avenue/Scottish Pike area across the water in its campus expansion footprint. Including the area, which is a mix of industrial and residential property, in the campus master plan doesn't guarantee expansion; it merely makes it possible for UT to consider buying property there. Trustees discussed the need for more student housing as a reason to consider the expansion.
The pedestrian bridge project has been on the city's back burner since a failed attempt to obtain federal grant funding for its construction in 2015. At the time, the cost estimate was about $30 million. While no official update has been made, the cost likely would now be tens of millions more. City and university officials have been discussing ways to share the cost, which could include general state government funds as well.
Sixty-three percent of this month's Power Poll respondents said the investment would be worthwhile, regardless of the funding source. One-third of responding members, on the other hand, don't think it would be worth the cost. Another 17 percent were unsure.
Support is also strong for Knoxville Mayor Indya Kincannon's proposal to overhaul the city's pay structure, which would, if fully implemented, increase pay for virtually all employees at a cost to taxpayers of more than $11 million in ongoing annual expenditures.
About two-thirds of Power Poll respondents backed the idea, with 28 percent strongly supporting the restructuring and 37 percent somewhat in support. A solid 31 percent opposed the proposal.
A report conducted on the city's behalf by Management Advisory Group International found that Knoxville underpays its employees by an average of about 10 percent — and 40 percent or more for some positions — compared to other cities, counties and government agencies.
Kincannon has said the pay disparity has made the city less attractive as an employer. As of early February, it had 149 vacant positions — 42 of them sworn officer positions in the chronically understaffed Knoxville Police Department — and 80 employees who have signaled their intent to retire. Filling those positions is a top priority for the administration.
The plan would put more pressure on an already tight city budget, however. Rising expenses, including higher contributions to the employee retirement system, are threatening to deplete cash reserves to a point that a property tax increase is a distinct possibility.
Details of how Kincannon intends to incorporate the new pay structure into next year's budget have not been released. The mayor is holding three days of budget hearings with department directors next week, and will unveil her fiscal year 2022-23 budget at the State of the City address on April 22.
A majority of respondents also thought hiring outside counsel for the school system's legal battle over masks would be a mistake. Fifty-three percent strongly or somewhat disagreed with bringing in a private attorney to work with the Knox County Law Department. The 40 percent in favor of the decision were split evenly between those who strongly supported it and those who somewhat agreed.
Last fall, four disabled students and their families filed a lawsuit against the Board of Education, arguing that the school system's lack of a mask mandate failed to accommodate their needs in violation of the Americans with Disabilities Act. U.S. District Judge J. Ronnie Greer imposed a mask mandate on Sept. 27, 2021. Earlier this month, after a battle among school board members, County Commission authorized hiring outside counsel to help with the case.
On Monday of this week, after COVID-19 case counts dropped dramatically and the Centers for Disease Control and Prevention changed its mitigation guidance, Greer temporarily lifted the mask mandate for up to 60 days while the plaintiffs and the school board pursue court-ordered mediation.
With the mask mandate temporarily suspended and mediation making a settlement a real possibility, it's unclear how much of a role outside counsel will have in the litigation.
The drop in new COVID-19 cases in recent weeks has made Power Poll members more comfortable going without masks when indoors. The CDC's revised guidance is that mask wearing should be optional in areas of medium and low transmission. Half of the Power Poll respondents said they are now comfortable going maskless in most situations, and 37 percent are fine without masks in all situations.
While the COVID-19 disease burden has lessened in Knox County, the coronavirus is still spreading in the community and public health officials are concerned that a rise in cases in Europe could presage a new surge in the United States. Eleven percent of respondents said they are still not comfortable in indoor public spaces without a mask.
The questions and responses, rounded to the nearest whole percentage point, were:
About Power Poll: Power Poll asks questions of the most powerful, influential people in U.S. cities. It is not a scientific survey. But because the people responding to the surveys comprise the leadership structure of their cities, the results afford a fascinating glimpse into the thoughts, opinions, and beliefs of those in a position to make change. Power Poll is distinctly nonpartisan.