September 27, 2021 6:00am
Knoxville Power Poll: Partisan Local Elections
The vast majority of area decision-makers prefer keeping nonpartisan city and school board elections.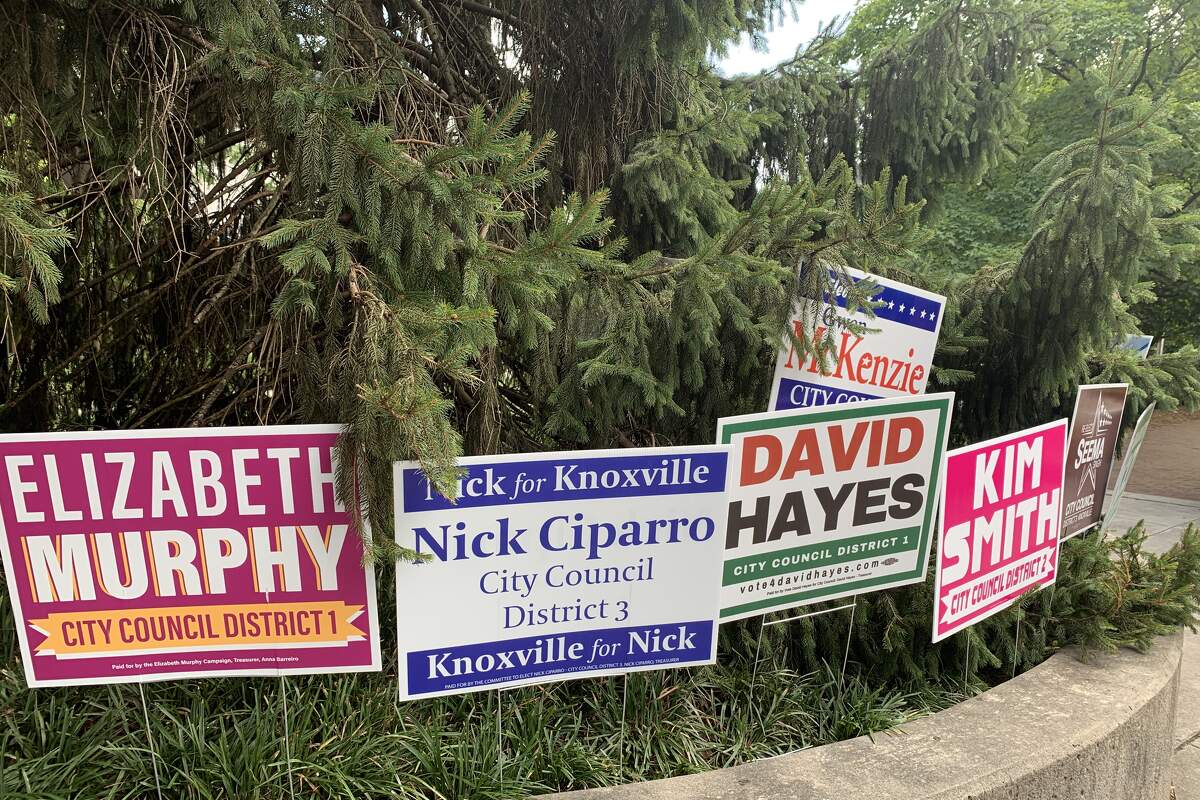 This year's Knoxville City Council contest is the most partisan-driven city election in memory.
The Knox County Republican Party is attempting to frame the five contests collectively as a choice between GOP challengers and Democratic incumbents. While the Knox County Democratic Party hasn't endorsed any candidate, it has roundly criticized the Republican Party's methods and its candidates.
Respondents to this month's Power Poll, however, overwhelmingly reject the idea of doing away with nonpartisan city and school board elections, though a slim plurality say knowing a candidate's party affiliation can help them decide how to vote.
Presenting sponsor

Power of We Workforce Diversity Conference Offers Perspectives to Strengthen Your Business
Free, Virtual Event Features Thought Leaders From Across the State
The fourth annual BlueCross Power of We Workforce Diversity Conference will be held from 9 a.m. to 1 p.m. ET on Oct. 4 and 5.
BlueCross provides this free, virtual program with thought-leaders from across the state to discuss workforce diversity topics that can help you build a more successful business. This year's virtual conference is an opportunity to discuss critical issues with dynamic speakers and impactful interactions with peers.
Spots fill quickly, so secure your place by registering now.
Keynote speakers include:
Raven Solomon

, global diversity, equity and inclusion (DEI) thought leader and author of the book, Leading Your Parents: 25 Rules to Effective Multigenerational Leadership and Gen Z.

Derek Young

, DEI strategist and author of more than 80 Culture Strategy Leadership programs and author of the book, Make My Hindsight your 20/20. Young's professional career includes executive leadership development and diversity and community affairs roles at Dollar General and Cracker Barrel Old Country Store.
Additional speakers include representatives from a variety of leading Tennessee companies, including: Pilot Travel Centers, Ernst & Young, Fedex, Shelby County Schools and BlueCross, including BlueCross CEO JD Hickey, M.D.
Presentations and panels will cover:
Generations + Racial Equity

CEO Perspectives featuring JD Hickey, M.D.

Building a Stronger IT Pipeline

Disability Diversity in the Workplace

Supporting Female Leaders

Creating Champions for Diversity, Equity and Inclusion
The values of diversity and inclusion  are central to how BlueCross serves members and how it recruits and retains top talent. BlueCross started the conference as an opportunity to gather, discuss best practices, engage in collaborative conversations, and find ways to strengthen its commitment to promote diversity and inclusion in the workplace.
The Power of We conference is open to leaders in your organization striving to create a stronger and more inclusive culture of engaged employees.
Register today to join The Power of We!
More BlueCross and Diversity
BlueCross again recognized as one of country's best employers for diversity
Six Tennessee Students Each Receive $10,000 BlueCross Power of We Scholarships
BlueCross Named a 2021 Forbes Best Employer for Women
5 Ways BlueCross Supports LGBTQ Members and Employees
Municipal and school board elections are nonpartisan under state law, though a city can hold partisan elections if allowed by its charter. In nonpartisan elections, a candidate's party affiliation, assuming he or she identifies with a particular political party, isn't noted on the ballot.
In Knoxville, the parties have always played a behind-the-scenes role in city elections, and many astute observers know the political allegiances of the candidates without having to be reminded by an "R" or a "D" beside their names on the ballot. Overt partisanship, however, is not the norm.
Party affiliation can be a factor, even in a nonpartisan election. This month's Power Poll results show nearly 49 percent of the respondents said they find knowing a candidate's party affiliation to be helpful when going to the polls. On the other hand, 45 percent said party labels had no effect on their choices.
Newly elected Knox County Republican Party Chair Daniel Herrera has made gaining a majority on City Council a priority. The local GOP recruited and backed challengers in each of the five Council races in the primary, and all five made the general election runoff by finishing second.
One of the goals of the GOP effort this year is certainly to let voters know the candidates' leanings. One Republican consultant is managing or advising all five challengers' campaigns, while another is polling voters — a rarity in city politics — on their preferences.
The primary election night party for the challengers — Elizabeth Murphy (1st District), Kim Smith (2nd), Nick Ciparro (3rd), Jim Klonaris (4th) and Garrett Holt (6th) — was billed as a GOP event.
The incumbents — Tommy Smith (1st District), Andrew Roberto (2nd), Seema Singh (3rd), Lauren Rider (4th) and Gwen McKenzie (6th) — are indeed Democrats.
Roberto served as a Democratic representative on the Knox County Election Commission and McKenzie's husband, Sam McKenzie, is a Democratic representative in the Tennessee state House. Rider and Smith have been active in the local party, and Singh can fairly be described as a pragmatic progressive.
While Power Poll respondents were fairly evenly split on the value of knowing a candidate's party allegiance, a large majority want to keep nonpartisan elections.
Seventy-five percent of respondents don't want either party to play a more visible and active role in nonpartisan elections. Only 17.8 percent prefer more party activism.
When asked specifically whether they would support legislation that would allow partisan municipal and school board elections (former GOP Rep. Eddie Smith pushed such a bill in 2017), the Power Poll respondents reacted negatively — 72.9 percent opposed that option for city elections, while 77.5 percent rejected it for school board elections.
The Power Poll is not a scientific poll but a survey of views and attitudes among community leaders from government, business and nonprofit arenas. It should be noted that this particular survey includes many Power Poll members who live outside of Knoxville and cannot vote in city elections.
This month's Power Poll surveyed 425 people. One hundred twenty-nine responded, for a response rate of 30.35 percent. Here are the questions and the results:
Does knowing the party affiliation of a candidate in a nonpartisan local election affect your vote?
Yes: 63 (48.8 percent)
No: 58 (45 percent)
Unsure: 8 (6.2 percent)
Are you in favor of political parties taking a more visible and active role in nonpartisan local elections?
Yes: 23 (17.8 percent)
No: 97 (75.2 percent)
Unsure: 9 (7 percent)
Should state law or the city charter be changed to allow partisan elections in the City of Knoxville?
Yes: 20 (15.5 percent)
No: 94 (72.9 percent)
Unsure: 15 (11.6 percent)
Should state law be changed to allow partisan school board elections?
Yes: 20 (15.5 percent)
No: 100 (77.5 percent)
Unsure: 9 (7 percent)
Power Poll Members: Do you have a friend or colleague who should be on Power Poll? Please invite them to join!
About Power Poll: Power Poll asks questions of the most powerful, influential people in U.S. cities. It is not a scientific survey. But because the people responding to the surveys comprise the leadership structure of their cities, the results afford a fascinating glimpse into the thoughts, opinions, and beliefs of those in a position to make change. Power Poll is distinctly nonpartisan.
Corporate Sponsors
We thank the following organizations for their support of Power Poll. Learn more about becoming a sponsor here.