Chamber Changes
Respondents to the latest Knoxville Power Poll want the next Knoxville Chamber CEO to focus on recruiting businesses to the region.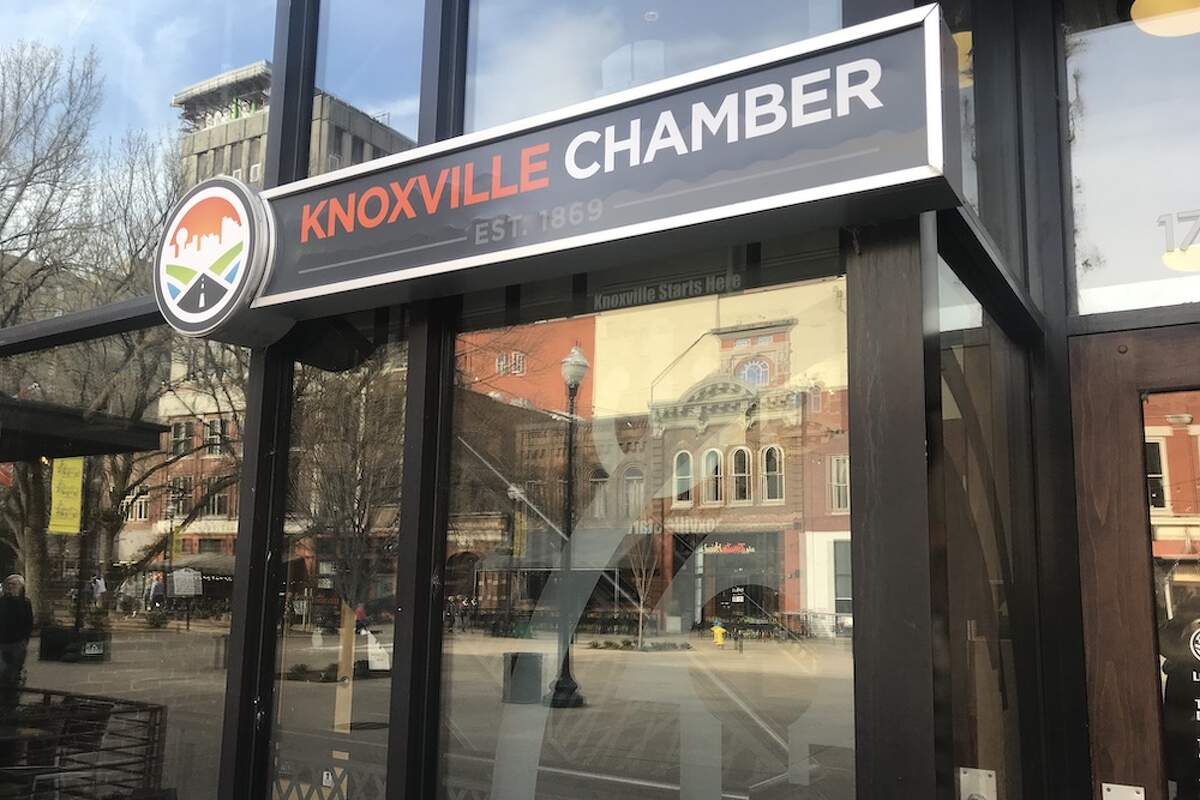 The person who follows Mike Edwards as CEO of the Knoxville Chamber should focus most of his or her energies on business recruitment, according to nearly two-thirds of the respondents to the most recent Knoxville Power Poll.
The next Knoxville Chamber chief doesn't need to be from East Tennessee, either, suggesting respondents value results over regional familiarity.
The results of the poll taken this week come as the Knoxville Chamber Board of Directors is in the midst of a search to replace Edwards, who announced his retirement after 16 years at the helm in October. Edwards initially planned to leave at the end of January, but he's still on the job as the board continues its search.
Here are the specific results from the latest Knoxville Power Poll, underwritten by BlueCross BlueShield of Tennessee:
What should be the next Knoxville Chamber CEO's top priority?
Business recruitment: 63 percent
Member services: 8 percent
Workforce development: 28 percent
Other: 1 percent
Should the next Knoxville Chamber CEO be from East Tennessee?
Yes: 35 percent
No: 6 percent
Doesn't matter: 59 percent
About this Power Poll
The Power Poll is an interactive survey targeted to powerful, influential people in Tennessee's major cities. Members included in this poll are capable of steering the discussion about Knoxville and Knox County's future one way or another. The poll is not scientific, but it offers insight into what many community leaders think about current issues and events. This poll surveyed 321 people, with a response rate of 32.09 percent.
In Knoxville as well as the other Tennessee cities, Power Poll members are drawn from a variety of fields, including government, business, media, entertainment, academia, nonprofit organizations, and more. A complete member list, broken out by city, can be viewed here: https://www.powerpoll.com. Compass is Power Poll's media partner in Knoxville.
Chamber Leadership
The head of the Knoxville Chamber -- which with nearly 3,300 members is the state's largest, according to Edwards -- has to juggle many priorities.
Attracting new businesses is the top priority for Power Poll respondents. Business recruitment efforts on Edwards' watch have resulted in several top employers bringing in an announced 3,427 jobs, led by Fresenius USA Manufacturing with 665 added in 2014. Other top recruits have been Lifetime Products, AdvancePCS, and Green Mountain Coffee. Some of those companies have since added workers.
Edwards has been a champion of education and workforce development, the second highest priority among poll respondents.
A majority of Power Poll respondents don't care whether the next Knoxville Chamber CEO is from East Tennessee. Edwards is a local guy. He graduated from Bearden High School and the University of Tennessee before entering the business world in Knoxville. He's never left East Tennessee.
Edwards does have some words of advice for his successor, whoever they are and wherever they're from and whatever their priorities might be:
"This is not an ego job," told Compass in an interview after he announced his retirement. "This job has got to be about working with a whole lot of diverse constituents. … You're there to serve. And if you take it from a position of self-importance, you're going to fail miserably."
Power Poll Members: Do you have a friend or colleague who should be on Power Poll? Please invite them to join!
About Power Poll: Power Poll asks questions of the most powerful, influential people in U.S. cities. It is not a scientific survey. But because the people responding to the surveys comprise the leadership structure of their cities, the results afford a fascinating glimpse into the thoughts, opinions, and beliefs of those in a position to make change. Power Poll is distinctly nonpartisan.
Corporate Sponsors
We thank the following organizations for their support of Power Poll. Learn more about becoming a sponsor here.