February 21, 2020 11:00am
Power Poll: Who would Chattanooga back in the coming primaries?
If the 2020 presidential primary election were held today, Chattanooga's leaders would choose former New York mayor Michael Bloomberg over all other candidates, according to a new Power Poll released Thursday.
If the 2020 presidential primary election were held today, Chattanooga's leaders would choose former New York mayor Michael Bloomberg over all other candidates, according to a new Power Poll released Thursday.
More than 35% of respondents said they favored Bloomberg over President Donald Trump or any other candidate. Trump placed second with 28% of respondents, and Minnesota Sen. Amy Klobuchar finished third with nearly 6%. Nearly 20% of respondents said they did not know who they would vote for or would do a write-in ballot.
Bloomberg visited Chattanooga last week for a rally in a series of campaign events in the South while other Democratic candidates were stumping for the early-voting states that Bloomberg's campaign elected to skip. The former New York mayor positioned himself firmly against the current president and spoke little of the other candidates, something Bloomberg has since strayed from after a heated Democratic debate, his first, on Wednesday night.
Presenting sponsor
BlueCross Monitoring Novel Coronavirus Developments
BlueCross BlueShield of Tennessee is actively monitoring developments related to the 2019 novel coronavirus (COVID-19), a new virus that has been identified as a global emergency by the World Health Organization (WHO).
The number of confirmed cases of novel coronavirus in the U.S. is currently extremely low. But as a health insurer serving 3.5 million members in Tennessee, BlueCross has a responsibility to prepare for the unlikely event of a community-level threat from COVID-19.
"Our clinical teams are constantly monitoring news and guidance from the WHO, Centers for Disease Control and Prevention (CDC), and state and local health departments," said Dr. Andrea D. Willis, chief medical officer for BlueCross. "And we're following our established protocols to be ready to meet the needs of our members and neighbors in Tennessee."
What it is and how it spreads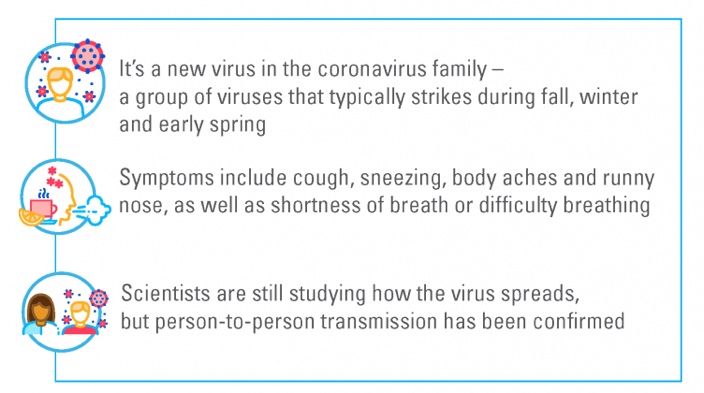 COVID-19 is a new virus that causes respiratory illness in people and can spread from person to person, although it's unclear how easily this happens.
"We understand investigations on exactly how it spreads are ongoing, but person-to-person spread has been confirmed," said Dr. Willis. "But we do believe that standard hygiene protocols – like washing hands, covering the mouth and nose when coughing and sneezing — can help limit exposure."
The CDC also believes the risk of becoming sick after coming in casual contact with someone who is infected is low. They expect more Americans will be infected by the virus, which is contagious before symptoms appear, usually in as few as 2 days or as long as 14 after exposure.
What to do for treatment
There is currently no specific antiviral treatment or vaccine for COVID-19, but people with 2019-nCov can seek medical care to help relieve and treat their symptoms.
People who are suspected of having COVID-19 should wear a face mask when in the same room with others. As with other viruses, the mouth and nose should be covered during coughing and sneezing and care should be taken to avoid touching the eyes, nose, and mouth with unwashed hands.
"The best way to prevent infection is to avoid being exposed," explained Dr. Willis. "The CDC recommends washing hands often and thoroughly with soap and water for at least 20 seconds and avoid coming in contact with someone who is infected."
Where to get more information
For more from BlueCross, check out this interview with medical director Dr. Suzanne Corrington.
Go directly to these organization's websites for the most up-to-date information:
Among Chattanooga's leaders, the moderate former Vice President Joe Biden polled behind three other moderate candidates, including Bloomberg, Klobuchar and Pete Buttigieg, the former mayor of South Bend, Indiana. Bloomberg was heavily favored in a match-up with only other Democratic candidates, winning more than 60% of the vote.
Statewide, Bloomberg is again favored, receiving nearly 35% of votes. Trump finished second with nearly 24% of the votes. However, any Democrat will struggle to carry Tennessee, a state that voted overwhelmingly for President Donald Trump in 2016 and has not gone to a Democrat since Bill Clinton in 1996.
The Power Poll is not a scientific survey. It includes responses from business, government and nonprofit leaders who influence and help shape the local community. It was conducted over the past week.
Contact Wyatt Massey at wmassey@timesfreepress.com or 423-757-6249. Follow him on Twitter @news4mass.
About Power Poll: Power Poll asks questions of the most powerful, influential people in U.S. cities. It is not a scientific survey. But because the people responding to the surveys comprise the leadership structure of their cities, the results afford a fascinating glimpse into the thoughts, opinions, and beliefs of those in a position to make change. Power Poll is distinctly nonpartisan.