Local Leaders say Public Education is Improving
The Howard School principal LeAndrea Ware, Hamilton County Schools Principal of the Year, right, unveils Hamilton County Schools student achievement scores during an Aug. 14, 2019, celebration ceremony on the Tennessee Aquarium plaza.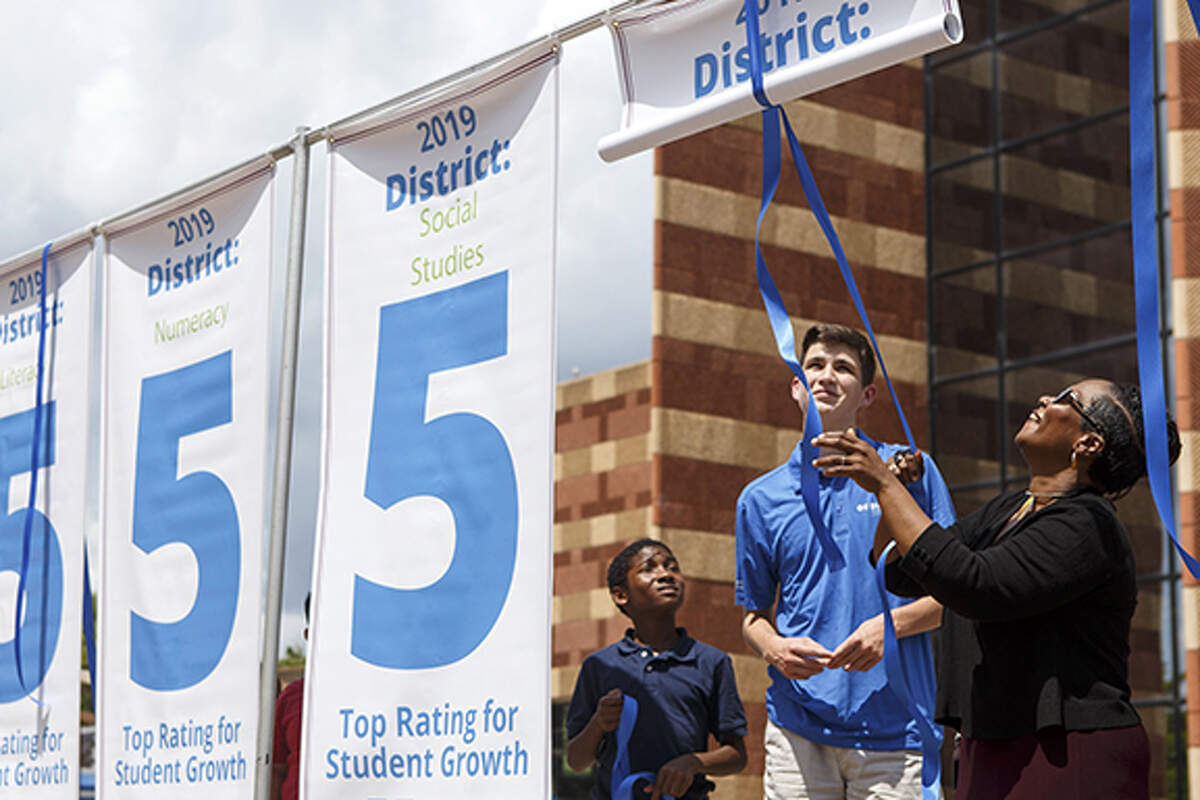 Less than a week after Hamilton County Schools officials announced that the district had received the top designation for student growth in the state — a Level 5 TVAAS score — local leaders responding to a new Chattanooga Power Poll said they think public schools here are improving.
Out of the 82 business, civic and government leaders who responded, 78% said schools are getting better, and 82% said the Tennessee Value-Added Assessment Scores (TVAAS) indicate schools are making improvements.
Since Superintendent Bryan Johnson took the helm of the district in July 2017, he has said he wants Hamilton County "to be the fastest-improving district in the state of Tennessee." Last week, Johnson and his team announced what some called "historic" and "unprecedented" student academic growth and achievement.
Presenting sponsor
BlueCross is Committed to our Communities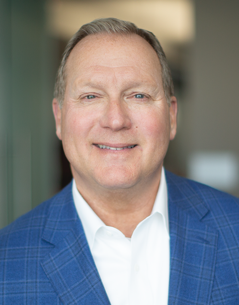 By Roy Vaughn
Senior Vice President, Chief Communications Officer
BlueCross BlueShield of Tennessee
Tennessee is our home, and it's important to give where we live. One of the most important ways we're giving back is through the creation of BlueCross Healthy Places. These spaces, designed with input from local residents, are free and open to the public for neighbors, families and friends to connect.
Here are a few examples of the spaces we are creating all across the state: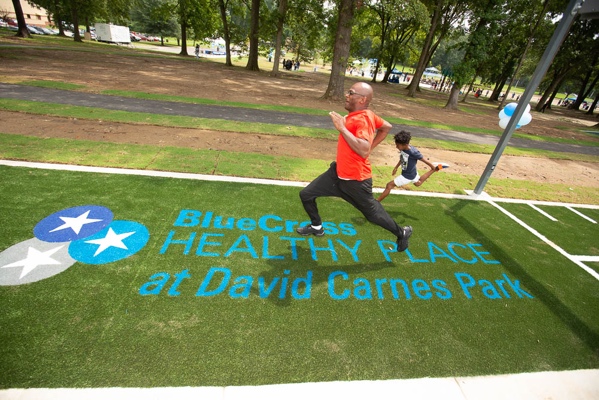 BlueCross Healthy Place at David Carnes Park
In the Memphis neighborhood of Whitehaven, residents have been enjoying David Carnes Park for years, but they knew it wasn't being used as well as it could be. They were asking for more resources, and we asked them what the park needed. We held community events where kids and adults told us how they envisioned the space working.
On August 10, we opened the transformed 9-acre park with playground areas, a multipurpose field, walking trails, fitness stations, a splash pad, a pavilion area with grills and picnic tables, and a blacksmith shop dedicated to the park's namesake, David Carnes. This was made possible by a $4.5 million investment from the BlueCross BlueShield of Tennessee Health Foundation. We've also secured the park's future through a $900,000 endownment for ongoing maintenance and beautification.
BlueCross Healthy Place at Huntland City Park
BlueCross Healthy Places aren't just for big cities. We're transforming another space in Huntland, a rural community north of the Tennessee-Alabama state line with a population of 800. When it opens in September, it will include a playground, a basketball court with bleachers, outdoor fitness equipment, an upgraded pavilion for community gatherings and a new walking track. Additional amenities will include parking, water fountains, picnic tables and grills.
BlueCross Healthy Place at Highland Park (Chattanooga)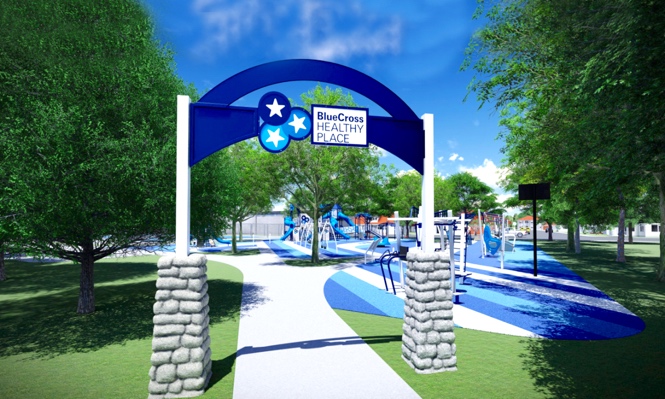 Announced this spring, the BlueCross Healthy Place at Highland Park will serve both students and residents in this growing neighborhood. Developed in partnership with Chattanooga Girls Leadership Academy and Chattanooga Preparatory School, it will provide a new outdoor space designed for connection and recreation. The $5 million project will feature a pavilion for gatherings, a multi-purpose field with bleachers, a walking track with outdoor fitness stations, a challenge course, a 40-yard dash, inclusive play areas, and sports courts. We're excited to be creating this space in our hometown of Chattanooga.
We're Committed to BlueCross Healthy Places
As a not-for-profit company with a mission to serve, we have a responsibility to be actively involved in building a better quality of life where we live. BlueCross Healthy Places can change lives, so our foundation is committing at least $7.5 million each year to projects we think will do just that.
Applications for 2020 Healthy Place funding opportunities are being accepted through the end of August 2019. You can also visit bluecrosshealthyplaces.com to keep up with all the ways we are living our mission of being right here for good.
Based on this year's TNReady results and TVAAS scores, 32 schools in Hamilton County were named reward schools, which are among the top 20% in the state. The district received the highest level of academic growth across all measurement areas: literacy, numeracy, literacy and numeracy, social studies and overall — and 21 schools also individually earned Level 5 scores across the board.
Just over half — or 57% — of poll respondents rated the overall quality of public schools as fair, though, with only 31% rating school overall quality as good or excellent and 11% rating them as poor.
In comparison, 52% of respondents rated the overall quality of local private schools as excellent and another 44% rated private schools as good.
Hamilton County residents have long lamented the quality of local public schools, with almost one-third of families sending their children to private schools.
Scott Wilson, headmaster of Baylor School, wasn't surprised by that perception. He said great independent schools are part of Chattanooga's heritage.
"You're talking about schools that have been around for more than a century and have educated a great number of people in Chattanooga. And they, in turn, have had their sons and daughters educated at these schools," he said. "There's been a great deal of support for them. …. We're blessed to have some really remarkable schools."
But Hamilton County Board of Education member Jenny Hill, of District 6, said there isn't a true apples-to-apples comparison of the local public school system and private schools.
"It's difficult for families to make an apples-to-apples comparison of the quality of a public education to a private education because public schools are charged with meeting rigorous academic standards and publish those unvarnished to the community, as they should, whereas private schools set their own standards and can choose to publish certain data sets that speak best for their mission and vision," Hill said.
Wilson and Hill agreed on the theory that "the rising tide lifts all boats," as Wilson put it.
They are among many local leaders who were in support of the proposed 34-cent tax increase to benefit public schools that was shot down by the Hamilton County Commission at the end of this year's budget cycle.
A May Power Poll found that 73% of some of the same local leaders were in favor of a tax increase, and in recent months dozens of local leaders and business have spoken out in support of public schools.
Hill said the school district needs that support.
"I am glad that people recognize that our schools are improving, and it encourages me that they know that because it's real," she said. "Because we are going to need the ongoing support and encouragement of our community to continue to improve, because it is in the best interest of Hamilton County's long-term future for our public schools to improve."
The Power Poll is not a scientific survey. It includes responses from business, government and nonprofit leaders who influence and help shape the local community.
Contact Meghan Mangrum at mmangrum@timesfreepress.com or 423-757-6592. Follow her on Twitter @memangrum.
Power Poll Members: Do you have a friend or colleague who should be on Power Poll? Please invite them to join!
About Power Poll: Power Poll asks questions of the most powerful, influential people in U.S. cities. It is not a scientific survey. But because the people responding to the surveys comprise the leadership structure of their cities, the results afford a fascinating glimpse into the thoughts, opinions, and beliefs of those in a position to make change. Power Poll is distinctly nonpartisan.
Corporate Sponsors
We thank the following organizations for their support of Power Poll. Learn more about becoming a sponsor here.