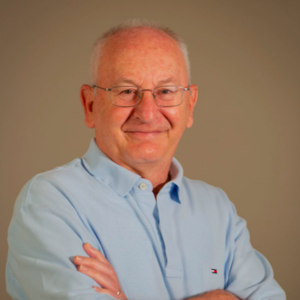 Ken Garfield
Freelance writer/editor Ken Garfield spent 31 years in newspapers, including 21-plus with The Charlotte Observer. He was inspired to go into journalism by Woodward and Bernstein. The summer he was a Congressional intern in Washington, D.C., he read "All The President's Men" while on the sofa of the Congressman he worked for. He has authored several books and also written for Duke Divinity School, The New York Times, The Christian Century, Religion News Service and other publications.

Having covered religion for The Observer, he was on a first-name basis with Charlotte-born evangelist Billy Graham. When Mother Teresa came to Charlotte, she had a private moment with Ken and put some prayer coins in his hands. He still has them. For two summers while at The Observer, he reviewed country music concerts, including Garth Brooks, Vince Gill, George Strait and Reba. Once upon a time, he covered (and met) his musical; hero, Merle Haggard.

He has played slow-pitch softball for 30-plus years and coached The Observer softball team for 20. Some of his players now work for The New York Times and Wall Street Journal. His "office" is in the back of his wife's furniture store, beside the bathrooms. It is lined with eight softball trophies.

He grew up outside New York City, his wife grew up on a farm in Statesville. The first time her dad met Ken, he pronounced, "He isn't going to be worth a darn on the farm."