New Orleans, Jefferson Parish leaders get high marks for managing coronavirus pandemic
As COVID-19 infections rise again, few blame LaToya Cantrell, Cynthia Lee Sheng
Few people who shape the region's agenda blame New Orleans Mayor LaToya Cantrell or Jefferson Parish President Cynthia Lee Sheng for rebounding COVID-19 cases beginning in June. In fact, more than three quarters of New Orleans Power Poll members say Cantrell and Lee Sheng are managing the pandemic "very well" or "well."
The two administrators have struck different tones in trying to corrall the coronavirus, with Cantrell cracking down early, often and forcefully. Lee Sheng took a more measured approach, and didn't order masking in public until well after Jefferson Parish's COVID-19 cases surpassed New Orleans' count on May 9. Yet their negative grades for pandemic management were similarly low: 23 percent of survey respondents say Cantrell is performing "poorly" or "very poorly;" 18 percent said the same of Lee Sheng.
Presenting sponsor
Find Optimism Through Change with Our New Orleans Business Resources
As a leading New Orleans digital marketing & design agency, Online Optimism is committed to helping our clients in Louisiana and the country with their marketing. At the core of our business, that's what we do—we help others—and an Optimistic attitude during challenging times allows us to do just that.
Resources that the Power Poll Respondents Need
As part of our duty to help see our community thrive, we have created a number of different resources for New Orleans businesses facing COVID-19. We have made it a priority to provide those who read the Power Poll results—business owners, our clients, government stakeholders, and more—with the information they need to succeed. Here are just a few resources we've compiled and made available on our website:
1. New Orleans Tourism Barometer
As our economy enters Phase 2 of re-opening, stakeholders like yourself are asking the same question: "When will everything go back to normal?" Your newly reopened business won't stay open long if customers don't walk through your doors. Our Tourism Barometer answers that question based on Google Trends data. We look at five main areas of tourism and identify where searches are compared to the previous year's data, as well as what's rising and falling.
2. New Orleans Restaurant & Bar Zoom Backgrounds
Not everyone is ready to go back to restaurants. For those staying home, it doesn't mean you can't video conference from familiar local settings. We had our designers illustrate some of our favorites, including Dooky Chase, the Carousel Bar, Galatoire's, The Elysian Bar, The Rusty Nail, Commander's Palace, and more. Download your favorite New Orleans restaurant's Zoom background here.
3. Interviews with NOLA Business Owners Leading the Way
As Louisiana moves through the phases of reopening, we've spoken with some local business leaders within New Orleans about how they believe quarantine has gone and what they have learned. Read their COVID-19 stories here.
4. How Restaurants Can Use Instagram's New Delivery Stickers
From restaurants to retailers, social media has become a vital part of bringing in business while social distancing during the COVID-19 pandemic. Luckily, Instagram has come out with new and easy features for small businesses!
5. Virtual Networking Calendar
In New Orleans, knowing the right people can get you where you want to go. Stay connected while social distancing with our Virtual Networking Calendar, updated every week with the latest webinars and online classes.
Need a Resource for Your Business?
The reality of the past few months is something no one alive could have predicted. It's why our second value, Be Exceptionally Helpful, has become the most important one these past couple of months.
If you're looking for any assistance with digital marketing or design in New Orleans, we're here for you. We're excited to do what we can to help other organizations become more Optimistic and successful as the reopening continues.
Want to contact Online Optimism? You can reach us at info@onlineoptimism.com or 504-324-0073.
The vast majority of Power Poll members, 89 percent, said they themselves wear a mask in public, a percentage sure to comfort government leaders and public health officials who urge masking, social distancing and handwashing to avoid infection.
Conducted online Monday through Thursday, the Power Poll survey is not a scientific inquiry. But because it asks questions of the New Orleans area's top influencers in business, politics, arts, media, non-profits and community affairs, it does afford a fascinating and non-partisan insight into the thoughts and opinions of those who steer the region. Of 428 New Orleans Power Poll members surveyed this month, 85 responded for a rate of 20 percent.
Jefferson has recorded more COVID-19 cases than any other Louisiana parish, easily eclipsing No. 2 Orleans Parish. That wasn't always the case: New Orleans suffered early, and its infection rate didn't slow appreciably until mid-April as Jefferson's numbers began rising faster.
That might explain the different approaches of Cantrell and Lee Sheng. The New Orleans mayor jumped on the issue in March, condemning large gatherings, extraneous trips outside the home and unmasked activity in public. At times she has ordered greater restrictions for New Orleans than Louisiana Gov. John Bel Edwards counseled for the state as a whole.
"Don't look for ways for the rules to not apply to you," Cantrell said March 20. "Do not look for ways to be an exception. Stay at home."
Lee Sheng's first sought to assess and protect her own administration's workforce, to stand up testing sites for the public and to help businesses stay afloat. She waited to July 1 to mandate masks for anyone entering a business.
"There's something different going on now," she said June 29. "I will aggresively pursue businesses that just are not going to abide by this order."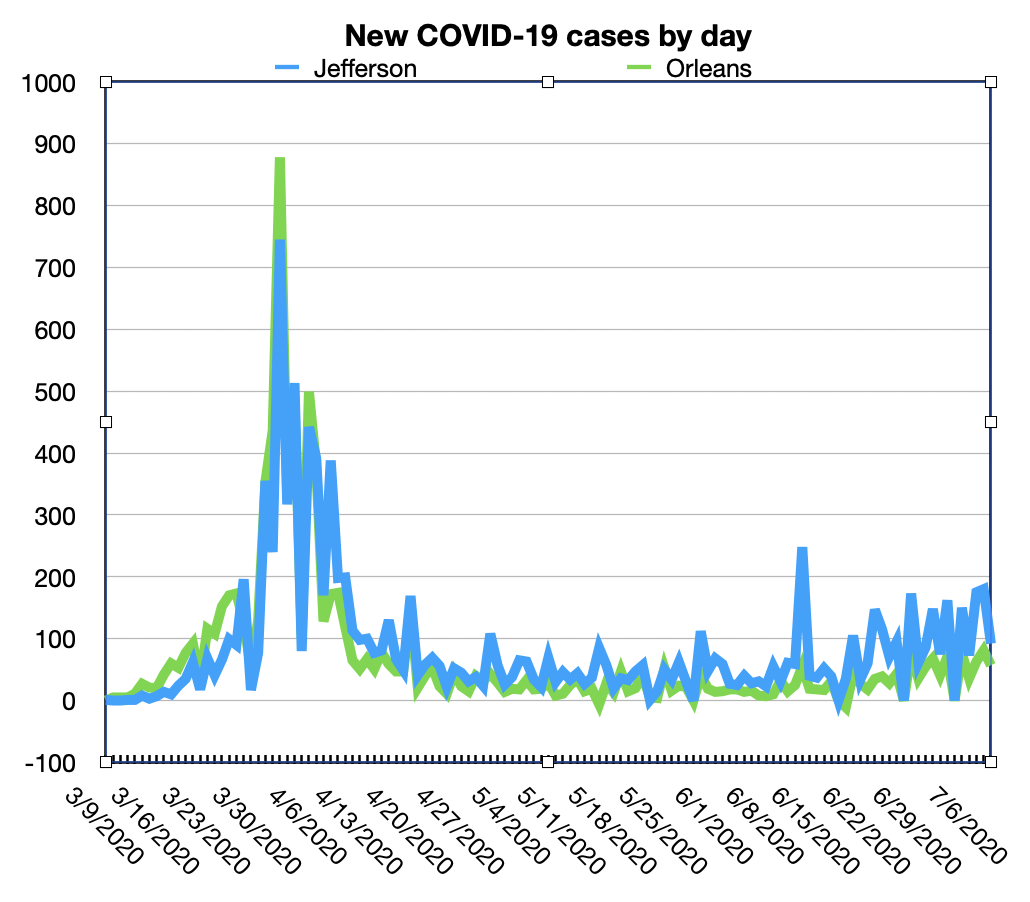 About Power Poll: Power Poll asks questions of the most powerful, influential people in U.S. cities. It is not a scientific survey. But because the people responding to the surveys comprise the leadership structure of their cities, the results afford a fascinating glimpse into the thoughts, opinions, and beliefs of those in a position to make change. Power Poll is distinctly nonpartisan.