Here's where Louisiana's energy future lies
Wind power, solar power are top choices in The Times-Picayune Power Poll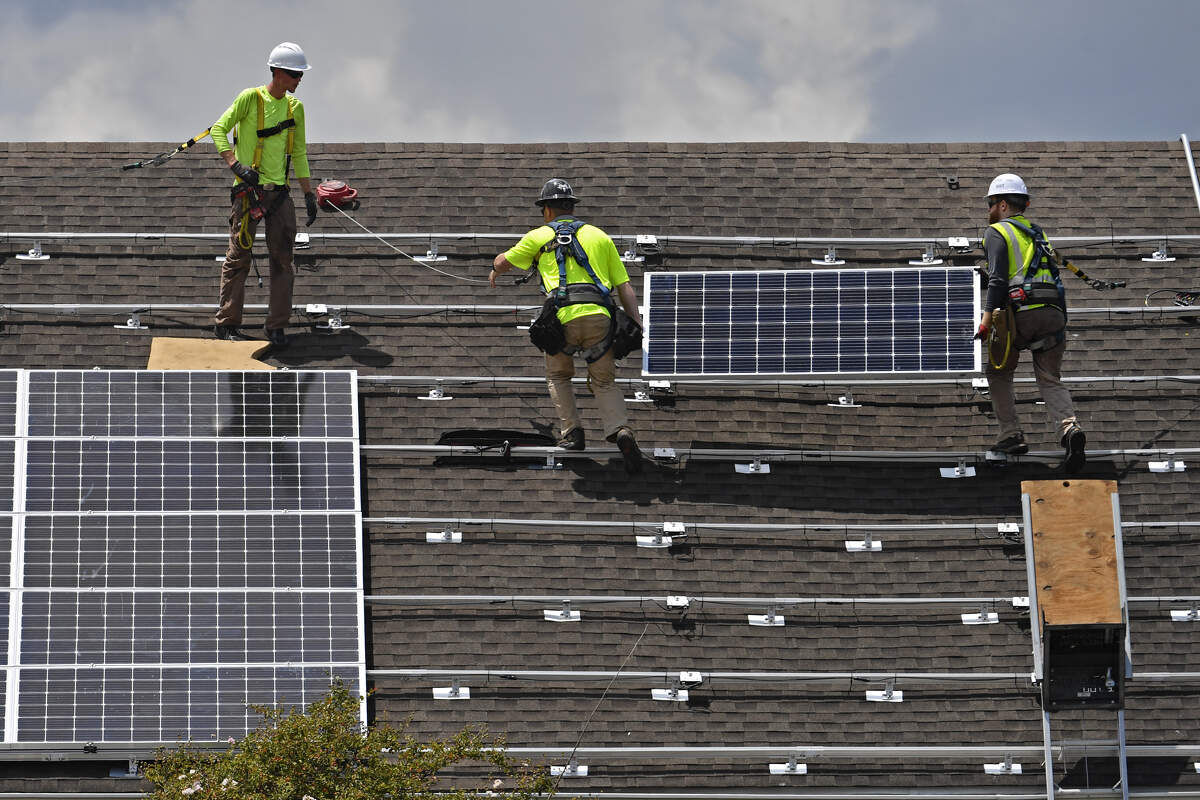 As the world tries to rein in greenhouse gases and avoid catastrophic heat, Louisiana should increase its investment in solar and wind power, according to The Times-Picayune Power Poll.
Those were the top choices in this month's survey, with solar No. 1 and wind No. 2. The third-ranked option was capturing and storing carbon emissions from the burning of oil and gas products.
"More dependence on solar is critical," said Sandy Rosenthal, founder and president of levees.org.
"And it's great for hurricane events. At my home, there's solar panels connected to a Tesla Powerwall - 2 batteries which each store about 13 KWH. There's an instant switchover when the grid goes out. During extended power outages, there's enough power for lights, fridge, freezer and a hyper-efficient AC unit that covers two bedrooms. During normal times, the solar generates about 45 to 50 KWH on a sunny, which is used to power the house and top off batteries. Batteries supply at night and on rainy days."
Presenting sponsor
The Great Resignation
by Betsie Gambel
While we all recognized that the pandemic would bring countless hardships, from loss of business to childcare to health and safety and more, businesses, for the most part, felt somewhat confident about workforce retention. Afterall, with masses of workers losing their jobs because of the pandemic, those who had jobs were in an enviable position. The outcome, however, is playing out in an unexpected way. Employees are leaving their jobs in droves, exchanging security for freedom. The Great Resignation, also known as the Big Quit, refers to the trend of employees voluntarily leaving their jobs during the pandemic. In August 2021, 4.3 million Americans left full time positions, and women are leaving at twice the rate of men. The result is record breaking labor shortages as employers struggle to fill vacancies and become creative in enticing people back to work.
Anthony Klotz, a Texas A&M University professor, coined the term. He reflected, "We were all able to take a step back in the last year and spend more time doing other things and really question the value of what we are doing at work."  The resounding response? "I need to make a change."
The pandemic gave employees a sense of freedom, allowing many to identify adjustable hours and remote work as priorities. Women are facing the added burdens of childcare, schooling, and their own professions. For many, mental health became more important than a successful career.
Change became inevitable as workers experienced a new life, with more flexibility than a 9:00-5:00 workday. Some takeaways from "pandemic life" are that employees:
Enjoyed working from home

Recaptured commute time

Schooled (or Zoom-schooled) their children in a safe environment

Saved money they typically would have spent on entertainment, dining, and clothes

Experienced loss and grief, especially as COVID hit close to home

Relished immediate family bonding

Missed extended family and friend time to comply with COVID restrictions

Learned new skills via online classes and reading

Steered clear from harsh managers and unpleasant colleagues

Contemplated their futures

Appreciated joy from the simpler things in life

Set priorities
Any one of these could make one re-think his or her job and begs questions such as Do I enjoy my work? Can I make a go of a career change financially?  How can I spend more time with my family? What makes me happy?
But Klotz cautions us. While the pandemic may have demanded a change, many employees were reluctant to give up work benefits such as health insurance and 401k's. Now that we see the light at the end of the pandemic tunnel, these people feel empowered to make a move, contributing even more significantly to the Great Resignation. Regrettably, we have not seen the end of the exodus.
The writing is on the wall. We face unprecedented resignations, causing serious job shortages. How can we, as business leaders, avert the consequences of the Big Quit? While you may already be implementing many of the following strategies, now is the time to uber execute them.
1.         Go on a listening tour among your employees.
2.         Be flexible with work arrangements.
3.          Establish safety protocols in the workplace.
4.          Be kind, respectful, and supportive with employees, customers, clients, and vendors; getting things accomplished is simply more difficult.
5.         Have a plan for each person on staff; discuss with them.
6.          Listen to employees' dreams and allay their fears; be empathetic.
7.          Develop a pipeline of potential hires; use the opportunity to "hire up."
8.         Incorporate joy into the workplace; have fun.
The Chinese word for crisis is opportunity. Let the Great Resignation work for you.  Tell your business story. Immerse yourself in your office culture. Evaluate your employee benefits. Become (or remain) an "employer of choice."  Remember you are not alone. No business is exempt from turnover. Some staff may leave to hang their own shingles; others to try a different industry or take on a new challenge; and others may just need a time out, a pause.  Take the high road, as you never know when, where or why you may reconnect.  These individuals may, indeed, become your best advocates or even recruiters.
References
Geisler, Jill, "The Great Resignation: Reality or Myth," Healthcare Financial Management Association September 16, 2021.
Kahn, Michael, "Is the Great Resignation a golden opportunity or a siren song?" The Chicago Tribune, October 25, 2021.
Advocates hail solar's environmental benefits as well as its potential to reduce a property owner's power bill. But solar panels are expensive to buy, and they don't power a house when commercial electricity fails unless, like Rosenthal, one buys the batteries, too.
Wind energy is another growing source of power, moreso in Europe than in the United States. But some Louisiana contractors with deep experience in oil and gas are making the transition to serving the wind sector.
Carbon capture and storage is being promoted by the oil and gas industry, and others such as Gov. John Bel Edwards, who says no state is more at risk of climate change than Louisiana. This option reduces greenhouse gas emissions, to be sure, by pumping carbon dioxide underground. But some environment advocates assert it's an unproven technology that, regardless, does not wean the state from fossil fuels.
Economists might say that the way to wean Louisiana fossil fuels is to tax carbon emissions. That's under consideration in Washington, and almost half of the Power Poll respondents favor a federal tax.
"It will be interesting to see how and which political leaders step up to move Louisiana's oil-driven economy to embrace more alternative energy," said Keith Esparros, WWL television's news director. "It's a very heavy lift to make that change and will be unpopular among a lot of people. Finding the best path to more environmentally friendly energy production will be key but will not be without pain."
The tech economy
If oil and gas represent the old economy, tech might be the new economy. New Orleans cheered big news this fall when two of its homegrown tech companies were sold, Levelset for $500 million and Lucid for $1.05 billion, making Lucid the state's first "unicorn."
What can be done to grow the tech sector? One third of Power Poll respondents want more tax incentives for startups, and almost as many want more public money spent on colleges and universities.
"Investment in higher ed will be critical," said Allison Plyer, chief demographer at The Data Center. "Human capital is the best predictor of regional economic growth. Research has shown that labor flocks to places that have high-quality labor and educated cities grow faster (oftentimes despite lack of amenities).
"In the U.S., states have historically been the primary force behind funding public higher education. More than incentives or incubators, affordable, high-quality, higher education is the greatest predictor of economic growth. That's what California invested in, and that's why they are so far in front on tech."
Conducted online Monday through Thursday, The Times-Picayune Power Poll survey is not a scientific inquiry. But because it asks questions of the top Jefferson and Orleans parish influencers in business, politics, arts, media, nonprofits and community affairs, it does afford fascinating and non-partisan insight into the thoughts and opinions of those who steer the region. Of 356 Power Poll members surveyed this week, 62 voted, for a participation rate of 16.5%.
Power Poll Members: Do you have a friend or colleague who should be on Power Poll? Please invite them to join!
About Power Poll: Power Poll asks questions of the most powerful, influential people in U.S. cities. It is not a scientific survey. But because the people responding to the surveys comprise the leadership structure of their cities, the results afford a fascinating glimpse into the thoughts, opinions, and beliefs of those in a position to make change. Power Poll is distinctly nonpartisan.