Yes to new BR bridge, no to Confederate monument in St. Landry
More than half – 53% — said Edwards should keep fighting for the bridge.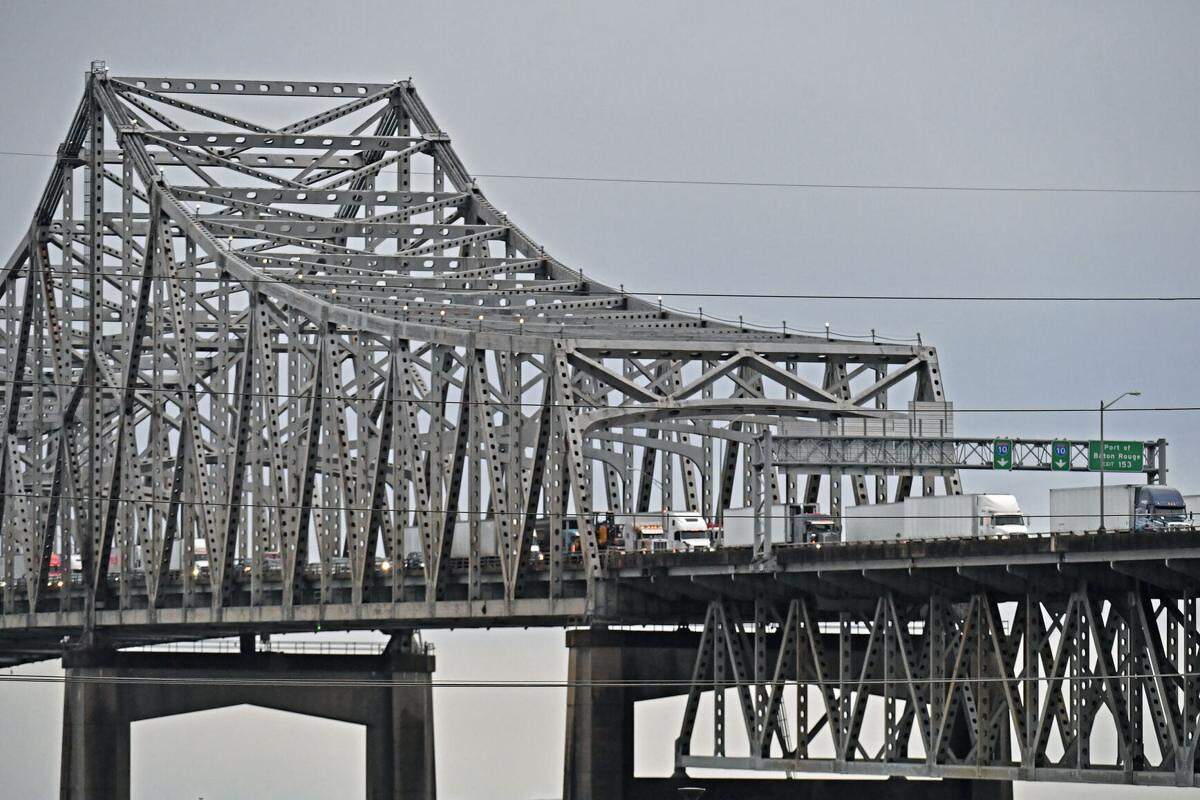 Power Poll respondents were loud and clear in the March poll questions: yes on a second Mississippi River bridge in Baton Rouge and no to the Confederate monument that has stood for decades near the St. Landry Parish Courthouse.
After that, the answers get interesting. And more on that in a moment.
The idea of a second bridge is getting a heavy push from Gov. John Bel Edwards during the current legislative session. Edwards, a term-limited Democrat, is pushing for lawmakers to allocate $500 million as basically a down payment for a new bridge, which would help address some of the chronic traffic issues motorists face daily in Baton Rouge.
Edwards says the state has a historic opportunity to set aside money for the project, thanks to the brightest financial outlook the state has had in years. The state has $2.9 billion from better-than-expected state revenues and federal aid from the coronavirus pandemic.
The idea is hitting some pushback in the legislature, with one lawmaker lamenting that stocking away that much money on a project that is at least five years away is not a fiscally responsible move.
But Power Poll respondents? Yeah, most side with Edwards. More than half – 53% — said Edwards should keep fighting for the bridge. Others were not as fervent in their responses, including 18% who replied that lawmakers should pump the brakes on the idea since a location has not been determined.
Past efforts for a second bridge could not overcome the site selection of the process. Everybody wanted a new bridge but just not in their backyard. This time state officials have 15 possible sites and hope to have it narrowed down to about three by the summer.
The same amount of respondents – 18% — also advised a slower approach in favor of other needs that are more pressing. Another 10% said they had no opinion on it.
But respondents in Acadiana are an optimistic bunch. Only 1% said the idea will not happen, and here's their reasoning: if it has not happened by now, it will never happen.
And as a piggyback on the bridge question, we posed a simple question: Is Baton Rouge traffic actually worse than Lafayette traffic? The responses were somewhat mixed but mostly sided with Baton Rouge as the worst.
Responses were:
Baton Rouge is worse, but Johnston Street at 5 p.m. on a Friday can feel a lot like I am in Baton Rouge: 26%.
Baton Rouge is way worse. The two cities are not even in the same ball park: 24%
It's about the same. Lafayette is really bad, but I will still take a bad day in Lafayette over sitting still on I-10 in Baton Rouge any day: 18%
No opinion: 5%
Lafayette traffic is the worst: 1%.
St. Landry Parish Confederate monument
Respondents were nearly as loud on the topic of the Confederate monument in St. Landry Parish with 47% answering that the monument should be removed from the public grounds and given to a museum.
Parish council members there seemed poised during a March 16 meeting to remove the monument erected in February 1920 — almost 55 years after the Civil War ended — by the United Daughters of the Confederacy's Louisiana division.
But they instead postponed the vote for another 30 days after members couldn't reach a consensus on whether to sell the statue after its removal or to donate it to a parish museum.
The monument, and others like it installed during a same era following the end of Reconstruction and the height of the Jim Crow era, is offensive to African-Americans, said Abram Freeman, pastor of Acts of Love Christian Fellowship in Lafayette.
"The truth is the truth all day long," he wrote. "It doesn't matter if you want to rewrite to what you think. In order for us as a country to get past this horrible stalemate, we are going to have to learn about one another. We have to agree that there is one race, the human race."
Other respondents had different ideas: 16% said the council should leave the monument alone, 15% recommended further studying the matter, 11% had no opinion and 11% said the monuments should be removed and destroyed.
In another piggyback move, respondents were asked if their opinion of Confederate monuments has changed any in recent years. The topic has been a near-constant in the news cycle around the country in recent years, including the long and fiery debate over the monument of Robert E. Lee in New Orleans.
The results were mixed:
28% said their opinion has not changed. The monuments were built as a tribute to White supremacy and should be removed.
27% said their opinion has changed. They now consider the monuments a tribute to White supremacy after earlier considering them historic.
26% said their opinion has not changed. The monuments are historic and should be left alone.
14% had no opinion.
3% said their opinion has changed. They now consider the monuments historic and should be left alone after earlier considering them a tribute to White supremacy.
Power Poll Members: Do you have a friend or colleague who should be on Power Poll? Please invite them to join!
About Power Poll: Power Poll asks questions of the most powerful, influential people in U.S. cities. It is not a scientific survey. But because the people responding to the surveys comprise the leadership structure of their cities, the results afford a fascinating glimpse into the thoughts, opinions, and beliefs of those in a position to make change. Power Poll is distinctly nonpartisan.