Will the I-49 Connector further divide Lafayette along racial lines? About half of Power Poll voters disagree
Most say either move forward with the design or make slight recommendations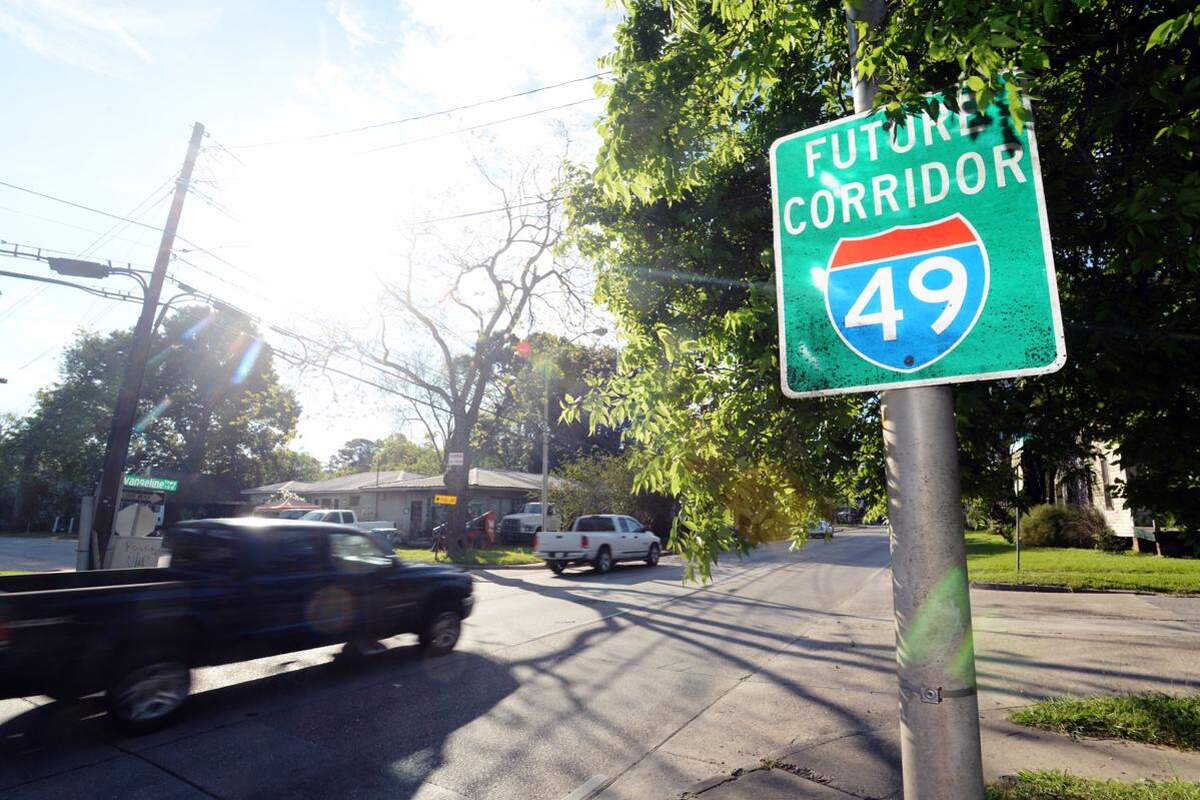 The words to describe the current state of the Evangeline Thruway in Lafayette in this month's Lafayette Power Poll were all too honest: Unacceptable. Unsafe. An embarrassment.
Here's one for you: An open wound.
The major highway through on the edge of the north side of Lafayette has been a topic of discussion in recent weeks after the Federal Highway Administration's Office of Civil Rights confirmed its was investigating a complaint of racial discrimination regarding the highway's planned upgrades.
The I-49 Connector, the stretch of highway that would replace the current Thruway to extend Interstate 49 to New Orleans, would "etch in stone an economic and racial divide that exists in this city," former Lafayette resident Ann Burruss wrote in her complaint.
While many agreed that city ordinances that determined where Whites and Blacks could live set the tone for housing patterns that exist today, about half of respondents were not in support of the claim the highway would further divide the city.
Oh, and they also said the project needs to get started ASAP.
"It needs repairs, is unsafe and is not a great solution for hurricane evacuation," wrote Steven Hebert, CEO of Billeaud Companies of Broussard. "But if you want a permanent fix, you need to be for the Connector. The state and federal government want to spend $1 billion, probably $2 billion by now, to connect and revitalize the area of our city that needs it the most.
"The time for other options and further delays is over. Let's get smart and push hard for the new record of decision, funding and construction."
When asked if they agreed with the complaint, 30% said they strongly disagree and another 20% indicated they somewhat disagree. Only a third agreed, including 17% who strongly agreed and 16% who somewhat agreed. Another 16% were unsure.
The decision got strong condemnation from two people heavily involved in the project: Congressman Clay Higgins and former Department of Transportation and Development Secretary Shawn Wilson, who is also a Lafayette native.
Wilson, who is expected to announce a run for governor, said in a recent report by The Current that the claim "is not only disingenuous, but it is a complete snub to the local, state, federal and community investments towards this project." He added that "doing nothing is an unacceptable alternative."
A solution has yet to emerge, wrote Barry Ancelet, founder of Festivals Acadien et Creole. Options would be to keep it as is or come up with a plan B to the east of the city, which would lead to environmental issues.
"And even if the highway does go around the city somehow," Ancelet wrote, "the problem of the Thruway will remain until that is directly addressed. The Thruway is symbol of the deep cultural, social and ethnic divides that exist in our community, and fixing that will take longer and will require more subtle solutions than fixing a road."
Most respondents favor little changes or dismissing the claim. When asked what the Federal Highway Administration's Office of Civil Rights should do with the investigation, 41% thought it should study it and make slight recommendations and 28% thought it should dismiss it and move forward. Only 15% favored sending local leaders back to the drawing board.
"We can't pretend that building an elevated interstate through the middle of our city and down historically racist lines is the only solution," wrote Matthew Holland, research associate, Kathleen Blanco Public Policy Center. "We need to examine other options that don't prioritize high-speed traffic through the core of our city."
Renderings currently show the elevated section of I-49 would follow mostly the current path but would veer west slightly along the edge of downtown. The Thruway would remain on ground level but be converted into the grand boulevard design with roundabouts and access ramps.
That's an awfully futuristic discussion, but it could not get here fast enough. More studies could delay a project that's been talked about since the 1990s. Here's how Power Poll residents voted on the Thruway's current state:
"I think it's the bumpiest road in Lafayette, but I still use it." 41%.
"I'd rather eat dirt than drive on the Thruway." 22%
"The highway itself isn't bad. It's just the section between the railroad tracks and the airport that's terrible." 19%
"It's not great, but I'm used to it." 17%
"Not really sure. I don't drive it much." 1%
"The status quo of the Evangeline Thruway is unacceptable," wrote Andre Breaux, vice president of policy initiatives and governmental affairs with One Acadiana. "Completing the I-49 Lafayette Connector is a critical priority for the future of the Acadiana region. This is a tremendous opportunity for Lafayette to repair and enhance our urban fabric, to strengthen neighborhood cohesion and vitality, to provide a revitalized gateway into our community and to catalyze reinvestment in the heart of our city."
How we got to this point is not really a dispute. Much like other cities across the south, Lafayette was originally set up to divide Black and White residents through a city ordinance in 1923, and that separation exists mostly to this day. Say the word "Northside," and people often think "Black." Say "Southside," and people often think "White."
When asked if city ordinances from 100 years ago the key reason for the racial housing divide are today, 63% it's had a significant effect with another 17% indicating it has had a slight effect.
"Neighborhood settlement patterns are not something that simply changes overnight," wrote Katrena King, executive director of the Leadership Institute of Acadiana. "The neighborhood covenants from yesteryear have made a generational impact and created divisions that can be challenging to come back from. While I'd rather eat dirt than drive on the Thruway, I also believe that it's critical to take into consideration the impact that our decisions today will make on future generations and where and how they live."
Power Poll Members: Do you have a friend or colleague who should be on Power Poll? Please invite them to join!
About Power Poll: Power Poll asks questions of the most powerful, influential people in U.S. cities. It is not a scientific survey. But because the people responding to the surveys comprise the leadership structure of their cities, the results afford a fascinating glimpse into the thoughts, opinions, and beliefs of those in a position to make change. Power Poll is distinctly nonpartisan.
Corporate Sponsor
We thank the following organizations for their support of Power Poll. Learn more about becoming a sponsor here.