Who do Power Poll Lafayette voters like for governor? It's kind of hard to say
Given the list of the seven candidates and option of "not sure," the "not sure" votes led the way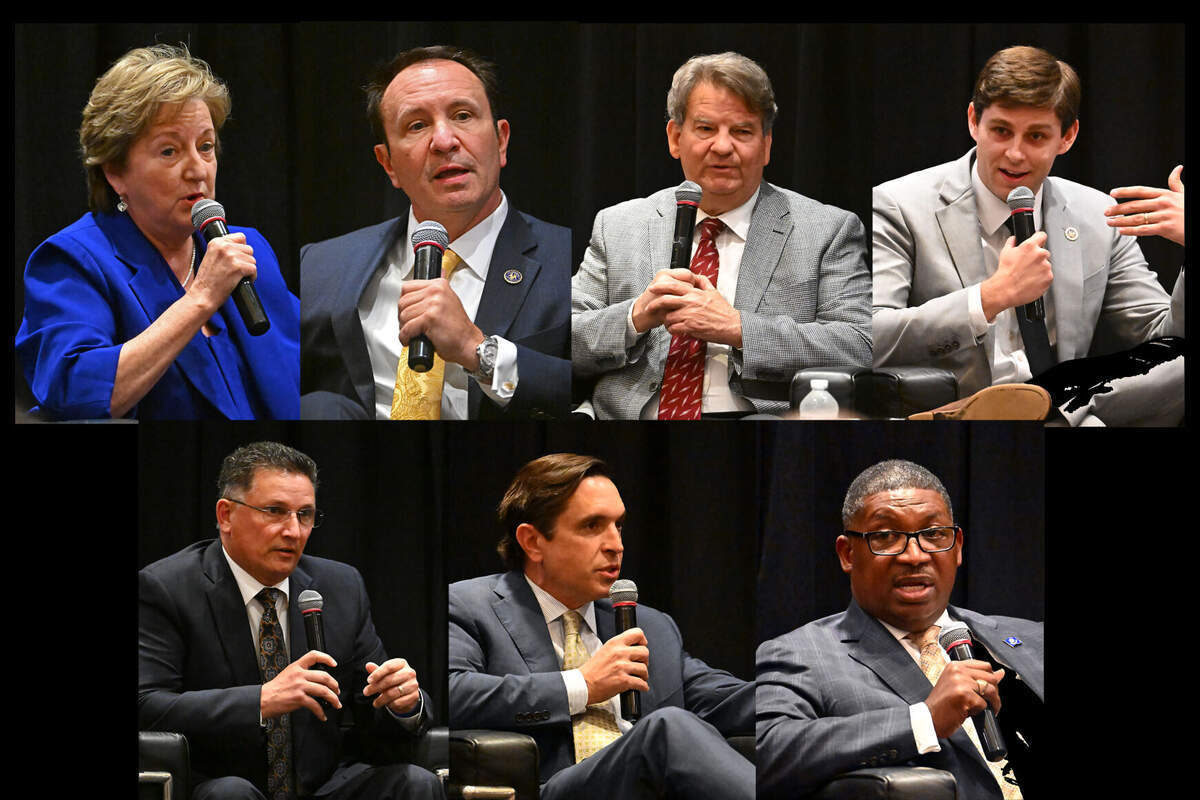 Voters are still several months away from deciding who will be the next governor of Louisiana, and that's a good thing for a large portion of the Acadiana Power Poll voters.
Who got the most support in this month's poll? Well, no one.
Given the seven announced candidates to choose from along with the "have not decided" option, a third of respondents chose that option. But most of the remaining voters have their minds made up. At least for now, but more on that in a moment.
The primary is not until Oct. 14.
Shawn Wilson, the only Democrat in the race and the former Department of Transportation and Development secretary, got the most support from voters with 28%, and former Louisiana Association and Business and Industry CEO Stephen Waguespack garnered 21%. Attorney General Jeff Landry got 13%.
The remaining candidates — state Sen. Sharon Hewitt, longtime attorney Hunter Lundy, state Rep. Richard Nelson and Treasurer John Schroder — split the remaining 5%.
But all those numbers seem a bit squishy when you look at the results of the next question: Are you satisfied with the seven candidates in the race? Speculation was rampant that some big names would get in the race, including U.S. Sens. Bill Cassidy and John Kennedy as well as Congressman Garret Graves, but they passed.
But here we are six months away, and 39% of respondents said they were "somewhat satisfied" with the slate. The rest were pretty even: 22% said they were "somewhat dissatisfied," 20% said they were "not satisfied" and wish someone else would run.
Only 19% said they were "very satisfied" and that their candidate was in the race.
Headlines and forums connected with the race have been only slightly noteworthy. In a forum this week hosted by the Public Affairs Research Council, none of the seven candidates indicated they would end Medicaid expansion, which was the result of an executive order issued by Gov. John Bel Edwards soon after taking office.
On other state topics — which could theoretically be for the next governor and along with the crop of legislators sworn in early next year — respondents also had their say on things. Increasing teacher pay is a big priority. Culture wars being waged in other states are not. They also tend to agree with Edwards' plea at the start of the current session to rethink capital punishment in Louisiana.
And there should be some momentum behind Nelson's idea of scrapping the personal income tax.
"Why do we need to participate in the culture wars every other state is having?" wrote James Colvin, product analyst with First Horizon Bank. "We need to focus on Louisiana and what makes Louisiana a place to live, and it isn't by following the antagonistic trend of other states. Let's get back to forging our own path instead of copying others."
When asked to prioritize issues in the state at the current legislative session, voters gave a thumbs-down to the big culture war item in statehouses across the country — banning gender-affirming care for transgender youth. It drew the lowest support among the six topics.
Teacher pay increases got the most support, followed by eliminating personal income tax, raising minimum wage, adding exemptions to the state's abortion ban followed by ending the death penalty.
"I would love to see someone come up with a bill that would mandate American history and Louisiana history to be inclusive of all shades of people," wrote Abram Freeman, pastor of Acts of Love Christian Fellowship. "Because we don't know each other we don't trust each other. I believe that when we start to trust each other, we will make better laws, more inclusive regulations. We will see a downturn in criminals and homelessness and an up turning in education and elevation."
When asked about Edwards' plea to view the death penalty "in Louisiana in 2023 with fresh eyes and an open mind," a large portion of respondents — 42% — said they would strongly support ending it and another 13% said they would somewhat support ending it.
About a third voted in favor of keeping it, including 15% that chose the "don't mess with it" option. Another 13% indicated they were not sure.
On the personal income tax issue, Nelson's efforts may have fizzled, but well over half of respondents threw some kind of support behind the idea, including 37% who chose the "Let's get it done" option.
Another 23% said they were unsure about the idea, and 14% gave the concept a hard no.
Power Poll Members: Do you have a friend or colleague who should be on Power Poll? Please invite them to join!
About Power Poll: Power Poll asks questions of the most powerful, influential people in U.S. cities. It is not a scientific survey. But because the people responding to the surveys comprise the leadership structure of their cities, the results afford a fascinating glimpse into the thoughts, opinions, and beliefs of those in a position to make change. Power Poll is distinctly nonpartisan.