Traffic could blow up once the area next to Costco is built up. Power Poll respondents say they'll avoid it at peak times
Traffic is often a sore subject in Lafayette, and things could get frustrating for motorists once construction is done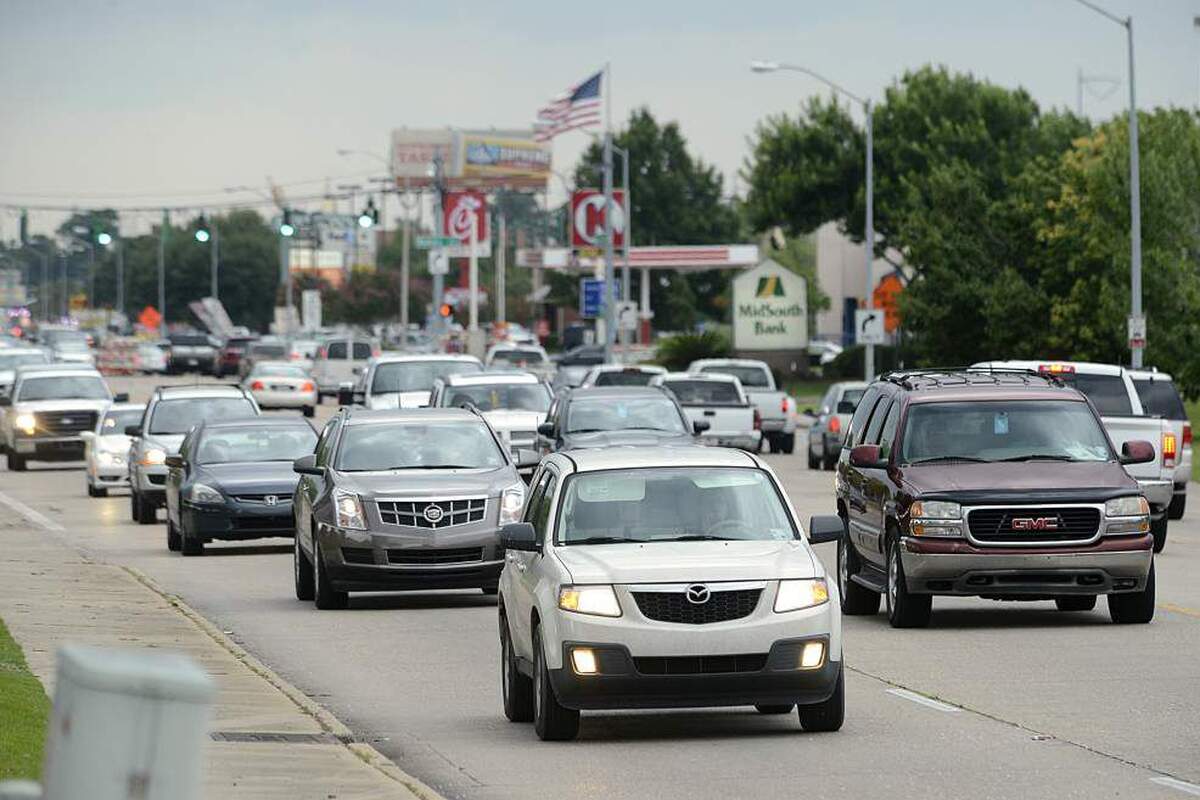 So people are excited about the businesses so far coming to the large open area next to Costco.
But here's how dial back a lot of that enthusiasm for lots of folks: There's going to be a lot more traffic on that stretch of Ambassador Caffery Parkway.
It's a necessary evil, right? That comes with the territory of having nice things, the optimist might say. But not in Lafayette, a place where you mention the word traffic to a group of 10 people and eight of them will moan.
This month's Power Poll revisited the topic of traffic and roads in Lafayette Parish with the retail mega-corridor that could surface in the area between the Ambassador Town Center — which Costco anchors — and Our Lady of Lourdes Regional Medical Center.
Two restaurants, a popular coffee shop and a luxury high-density residential development among what is known to be built as part of the shopping center's second phase. Dave & Busters could open a location there but has yet to make their plans official. Developers are hoping to lure a large hotel there as well.
Other developments are only rumors at this point but have people talking. And across Ambassador from Lourdes is 27.5-acre lot listed for $20 million that is under contract to be sold.
Power Poll respondents were asked about that stretch of Ambassador Caffery Parkway and how much traffic will increase in that area. Most took the middle road: 43% said they are not looking forward to it and will avoid that area during peak hours.
Others were more optimistic: 27% indicated it's going to be bad but would still travel that way, while 22% said traffic is going to be OK in that area. Only 7% thought it's a disaster waiting to happen.
The question was an entry point into the discussion about the road system in the parish and what can be done to improve it. So the next question went straight to the point: Would a 1-cent sales tax dedicated to highway construction be a good idea?
More than half said it was: 37% would strongly support it, while 19% thought it was a good idea. About 24% were not sure, but only 20% said either they didn't think it was a good idea or would strongly oppose it.
"I would love to see a plan to maintain the roads we have now, a fix for the issues that citizens see daily," wrote Pablo Estrada, president of the Asociación Cultural Latino-Acadiana. "We are constantly being told that we need expansion/upgrades, and I understand that in order to keep up with the larger cities we need a large scale plan. But I have personally experienced damaged tires on city roads, we can't continue to blame everything on the draining issues our city has without fixing things now.
"The Evangeline Thruway is a reminder of what happens when the ball of blame gets passed around, a long term plan with no solution today while we suffer the consequences of a horrible road that someone is supposed to fix at some point in time."
In St. Landry Parish, leaders there managed to repair and repave every road with a dedicated and well-executed plan over a few years, wrote Anne Falgout, director of strategic communications at South Louisiana Community College. The pitfalls come when local leaders take responsibility for state roads in exchange for a quicker construction process or prioritization.
But leaders should evaluate the ability to serve the current roads and build new ones with new income generated by any tax revenue, she said.
"Creating less strain on our state roads and eliminating the competition for limited state funds could be part of the pathway to improved transportation in Lafayette," Falgout wrote. "I imagine it's going to have to be a combination of Interstate road improvement (I-49 connector), collaboration on state road priorities and increased taxes and/or tolling to build modern infrastructure that really provides long-term solutions."
Planning, or lack thereof, is one thing many respondents pointed to as the reason Lafayette got into the shape it's in. Much like Baton Rouge, as the population swelled and brought more vehicles on the roads, the infrastructure did not expand with it.
How can that be improved? Is there something leaders can start working on now that would alleviate problems in, say, 10 years?
Most respondents favored two options: 34% supported accelerating construction of the I-49 Connector through Lafayette to get traffic off the surface-based Evangeline Thruway, while 29% supported building a loop around Lafayette. Another 13% backed building more bridges over the Vermilion River.
"Before adding or widening roads, Lafayette should create and implement a plan to maintain the current roads it has," wrote Holly Howat, executive director of Beacon Community Connections. "Too many roads are ignored to an unsafe condition while a few like Camellia and Ambassador Caffery are seemingly always being fixed."
The same goes for sections of Johnston Street. Boyer Derise, founder of Bayou Carlin Oyster Co., lamented the updates along Johnston Street near Maurice and the J-turns installed along that stretch.
That's a crucial stretch of road since the population in the area jumped in the last 10 years and is becoming one of the hottest areas of the parish for home construction.
"I travel Johnston Street daily," Derise wrote, "and would like to understand the decision/reasoning behind this massive J-turn project underway. The integrity of that stretch of highly traveled roadway is compromised and becoming increasingly more dangerous simply based on the surface condition and lack of lighting on the roadway. The J-turn project is two years in and seems to be a misuse of funds which could have actually improved that roadway."
Lamenting the Saints: Now at 3-7 with struggles at quarterback, the New Orleans Saints are off to their worst start since the disastrous Hurricane Katrina season in 2005. What should they do in the offseason to fare better in 2023?
Many respondents did not know or had no opinion. Of those who had an idea, 23% favored keeping Dennis Allen as head coach but picking a quarterback in the first round of the draft next spring, and 19% favored cutting ties with Allen and signing a free agent at quarterback.
Another 15% favored a rebuild with a new coach and rookie quarterback. Only 4% favored Jameis Winston sticking around as quarterback.
Power Poll Members: Do you have a friend or colleague who should be on Power Poll? Please invite them to join!
About Power Poll: Power Poll asks questions of the most powerful, influential people in U.S. cities. It is not a scientific survey. But because the people responding to the surveys comprise the leadership structure of their cities, the results afford a fascinating glimpse into the thoughts, opinions, and beliefs of those in a position to make change. Power Poll is distinctly nonpartisan.
Corporate Sponsor
We thank the following organizations for their support of Power Poll. Learn more about becoming a sponsor here.