Who — if anyone — should get 'essential worker' bonuses with federal money?
And what about changing zoning laws to allow "accessory dwelling units" on single-family home properties?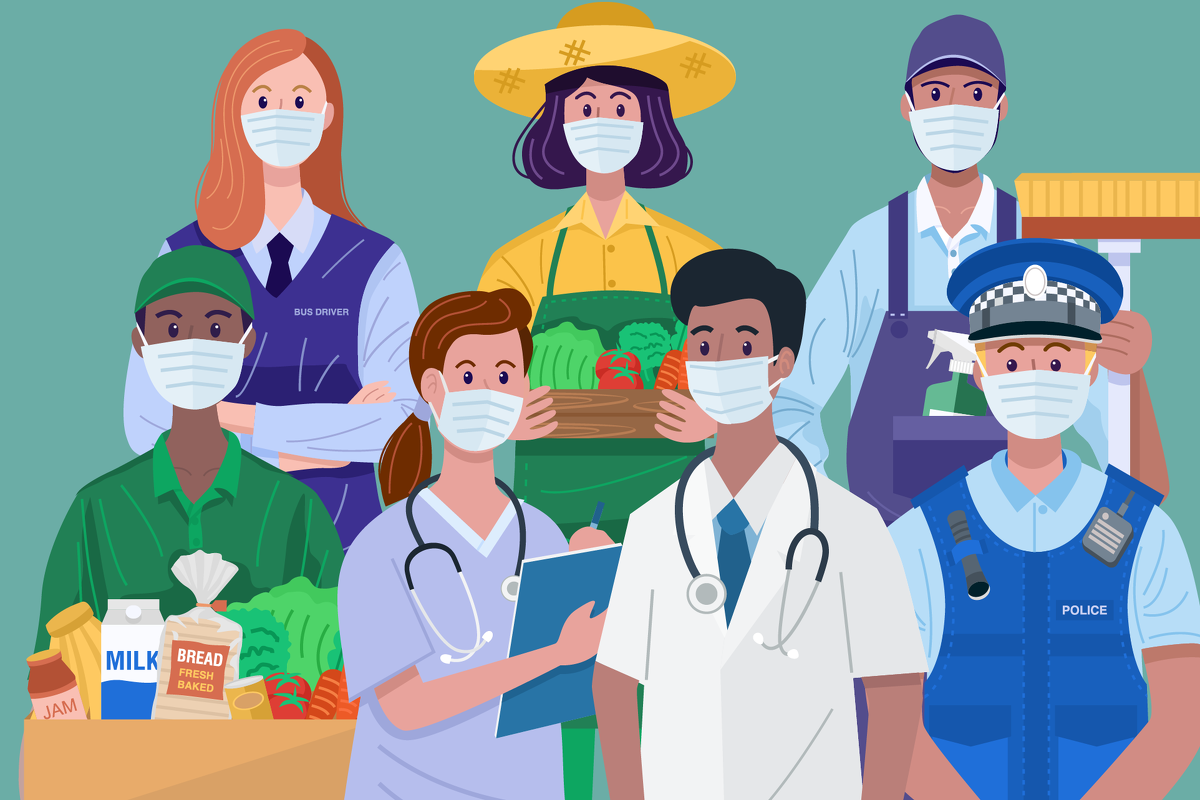 More than three-fourths of Lexington Power Poll members think "essential workers" who have been laboring through the coronavirus pandemic should get bonuses with some of the millions in recovery money Kentucky will receive from the federal government.
Most poll members also think that "essential workers" should be defined broadly.
On another issue, most poll members are in favor of a proposal now before Lexington's Urban County Council to allow single-family homeowners to add "accessory dwelling units" on their property, with restrictions.
Power Poll is not a scientific poll. But because it asks questions about current affairs to a large group of public officials, business executives and community leaders, it offers interesting insights into the thoughts and opinions of some of Central Kentucky's most influential people.
This month, 99 of the Lexington Power Poll's 176 active members, or 56 percent, voted. Poll members must vote regularly to stay active, and active members who vote get to see each poll's results a week before anyone else.
Gov. Andy Beshear has proposed using $400 million in federal aid to the state for essential worker bonuses next year. He has asked legislative leaders to form a work group with officials of his administration to come up with a bipartisan plan for doing that.
Seventy-eight Power Poll members (78.8 percent) said they favor this type of bonus, while 19 members (19.2 percent) said they do not. Two members (2 percent) had no opinion.
The devil is always in the details. That is likely to be the case here with the Democratic governor and a Republican-controlled General Assembly, who will have different points of view and different concerns about how this money should be used and who should get the credit.
One issue is sure to be who will be included under the umbrella of "essential" workers. Should it be a very strict definition, which would include only front-line medical workers and emergency-first responders? Fifteen Power Poll members (15.2 percent) thought so. Another fifteen thought elementary and secondary school teachers also should be included. The largest group of poll members — 53 (53.5 percent) — thought it should include all of those people, plus grocery and restaurant workers who have labored through the pandemic. Sixteen members (16.2 percent) — an unusually high number for a Power Poll survey — had no opinion.
Several poll members commented that the "essential" category should be viewed broadly, suggesting other workers who should qualify for the bonuses – including workers in the organizations they run.
"Essential workers who faced the early dangers of the COVID-19 pandemic should be compensated," said Sharon Price, executive director of Lexington's Community Action Council. "In this group, some of the unsung heroes at the Community Action Agencies all across the state who stepped in and provided bulk food distribution, continued to provide energy assistance without interruption."
Rufus Friday, executive director of The Hope Center, the city's largest homeless shelter, agreed.
"We also should look at an organization as the Hope Center, which NEVER closed their doors during the pandemic, staying open 24/7 to the Homeless men and women and those dealing with substance, addiction and mental illness," Friday said. "The Emergency Shelter staff stayed on the job the entire time caring for this vulnerable and fragile population here in Lexington as well. This staff should be considered as well."
"I would also suggest that maintenance technicians who work in housing also be considered," said Holly Wiedemann, president of AU Associates, which combines historic preservation with the development of affordable housing for low-income people. "They have had to work tirelessly, with no break whatsoever. Sinks still have to be unclogged, filters changed, plumbing repaired and properties maintained, since none of that hands on work can be 'called in'."
The final question on this month's poll was about a controversial proposal the Urban County Council could vote on soon to allow "auxiliary dwelling units" inside single-family homes or in existing outbuildings, such as garages. The proposal has been under review, and changed considerably, since it started circulating more than two years ago.
Advocates see so-called ADUs as an important solution for elder housing, affordable housing and making Lexington neighborhoods denser to avoid more suburban sprawl into the Bluegrass' world-class farmland and scenic countryside.
Opponents of ADUs fear the kind of abuses Lexington has seen in the past with college student rentals — and is beginning to see with Airbnbs and other short-term rentals that squeeze long-term residents out of some neighborhoods.
Others have pointed out that this proposal essentially returns Lexington to what single-family homeowners were able to do before the 1970s, when the city adopted much stricter zoning laws. Before then, it was common in many neighborhoods for rooms and apartments in private homes to be rented out to boarders and tenants.
Sixty-seven Power Poll members (67.7 percent) said they favor the current proposal to allow ADUs. Twenty members (20.2 percent) said they didn't favor the proposal. Twelve members (12.1 percent) had no opinion.
"I was initially in favor of ADU's," said Maury Sparrow, communications director for LexArts. "But the amendment removing new build opportunities was shortsighted, particularly if one looks at the history of ADU's across the nation and the fact that the ratio of new build to existing structures was extremely low. IMO, this was a case of a very loud minority being placated."
Power Poll Members: Do you have a friend or colleague who should be on Power Poll? Please invite them to join!
About Power Poll: Power Poll asks questions of the most powerful, influential people in U.S. cities. It is not a scientific survey. But because the people responding to the surveys comprise the leadership structure of their cities, the results afford a fascinating glimpse into the thoughts, opinions, and beliefs of those in a position to make change. Power Poll is distinctly nonpartisan.