Poll members agree with Biden's disaster relief for Kentucky, disagree with UK president's pay raise
They also think Sen. Rand Paul was hypocritical for seeking storm relief for Kentucky after opposing it elsewhere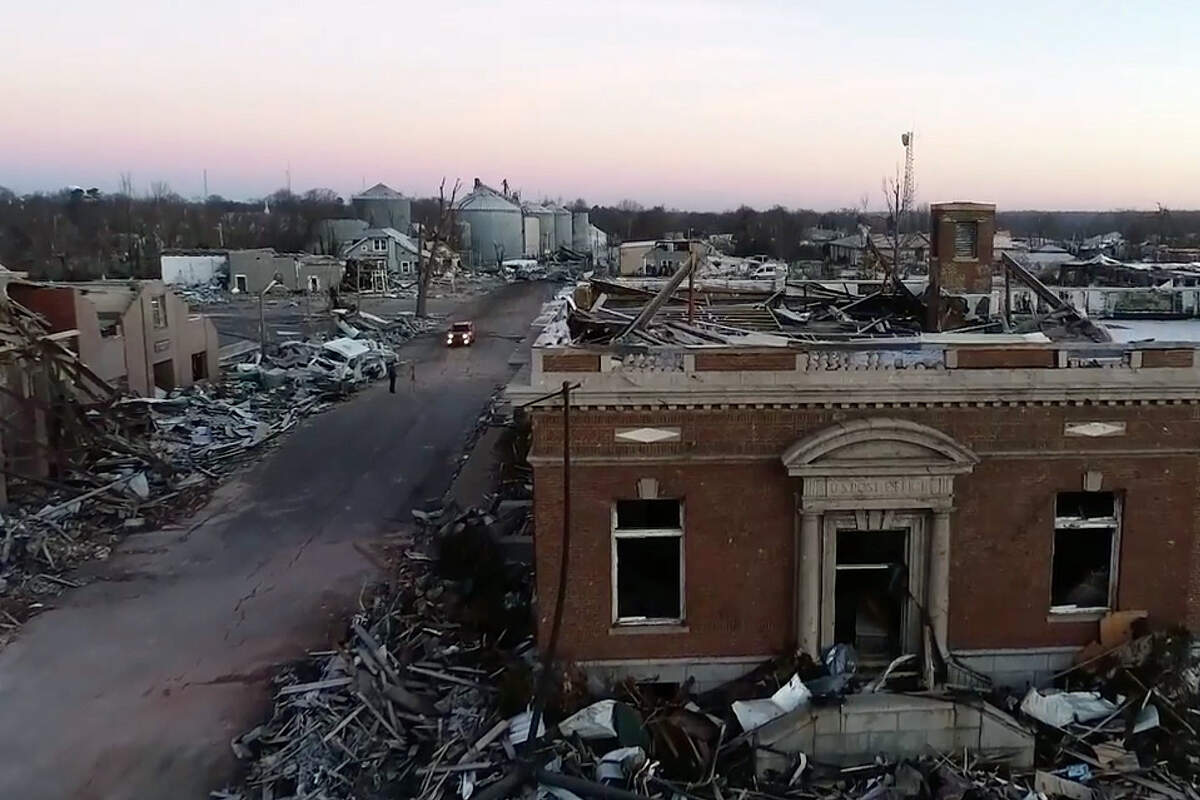 Most Lexington Power Poll members think President Joe Biden is providing the right amount of assistance to Kentucky's recent tornado victims. And they think U.S. Sen. Rand Paul is being hypocritical for seeking federal disaster relief for Kentucky while opposing it for other part of the country after severe storms.
Also, most poll members disagree with the University of Kentucky Board of Trustees' decision to give President Eli Capilouto a big pay raise even though he already is the nation's highest-compensated public university president.
Power Poll is not a scientific poll. But because it asks questions about current affairs to a large group of public officials, business executives and community leaders, it offers interesting insights into the thoughts and opinions of some of Central Kentucky's most influential people.
This month, 96 of the Lexington Power Poll's 167 active members, or 57 percent, voted. Poll members must vote regularly to stay active, and active members who vote get to see each poll's results before anyone else.
When Biden visited storm-damaged Western Kentucky on Dec. 15, he said the federal government would pay the full cost of eligible emergency work, hazard mitigation and other assistance for 30 days. His original disaster declaration days earlier had called for the Federal Emergency Management Agency to cover 75 percent of those costs.
Was covering the full cost for 30 days the right thing to do? Sixty-eight members (71 percent) thought so, while 23 members (24 percent) thought the federal government should do more. Only one member (1 percent) thought that was too much federal help. Four members (4 percent) had no opinion.
That sentiment may have been reflected in members' overwhelming view that Paul, Kentucky's junior senator from Bowling Green, one of the places hit by the tornadoes, was being hypocritical for quickly asking Biden for federal disaster relief. In the past few years, Paul has criticized and voted against relief for the Northeast, the Gulf Coast and Puerto Rico after they were devasted by hurricanes and other natural disasters.
Paul has always defended his opposition by saying disaster relief costs should be made up by cuts in other government spending, although he didn't cite that stipulation in asking Biden for aid for Kentucky. That prompted Paul's critics to accuse him of hypocrisy.
Eighty-seven poll members (91 percent) thought Paul was being hypocritical, while only three members (3 percent) did not think so. Six members (6 percent) had no opinion.
Paul likes to portray himself as a deficit hawk, but his position is inconsistent. For example, he voted for the 2017 federal tax cuts, which mostly benefitted high earners and corporations and is projected to add $1 trillion to $2 trillionto the federal deficit.
The third question in this month's poll was about the UK Board of Trustees' decision Dec. 14 to give the university's president a 24 percent pay raise, pushing his base salary next year to $1,035,646. Capilouto, who has been UK's top executive since 2011, also will get a retention payment of $125,000 on June 30, which will increase by $200,000 each year.
His current base salary is $838,334. Last year, Capilouto took a 10 percent pay cut, giving that money to a pandemic-related employee assistance fund.
Many faculty members were critical of Capilouto's raise, including the two faculty trustees who voted against it. "I mean no disrespect to our president, but the ever-increasing, widening gap in compensation between our executives and faculty and staff is sending a negative message," faculty Trustee Hollie Swanson said.
Lexington Herald-Leader opinion columnist Linda Blackford, who as a reporter covered higher education for many years, also was critical. She noted that Capilouto was already the nation's highest-compensated public university president. "This has happened over his decade-long tenure without UK being anywhere near the top of national academic rankings," she wrote.
Sixty-five Power Poll members (68 percent) disagreed with Capilouto's pay raise, while 21 members (22 percent) thought it was appropriate. Ten members (10 percent) had no opinion.
The only poll member comments made during the voting were from people defending Capilouto.
"I have been very impressed with Dr. Capilouto and his vision and leadership," said Headley Bell, managing partner of Mill Ridge Farm. "He has elevated UK and its role as a state university and I believe our state is fortunate to have him as president of UK."
Anne G. Donworth, director of development, marketing and communications for the Lexington Public Library, noted that Capilouto still makes less than some of UK's coaches and athletics administrators.
"While UK is not at the top of public university standings, we have made significant gains over the past few years under Dr. Capilouto's leadership," she said.
Power Poll Members: Do you have a friend or colleague who should be on Power Poll? Please invite them to join!
About Power Poll: Power Poll asks questions of the most powerful, influential people in U.S. cities. It is not a scientific survey. But because the people responding to the surveys comprise the leadership structure of their cities, the results afford a fascinating glimpse into the thoughts, opinions, and beliefs of those in a position to make change. Power Poll is distinctly nonpartisan.
Corporate Sponsor
We thank the following organizations for their support of Power Poll. Learn more about becoming a sponsor here.