Most Lexington poll members agree with Mitch McConnell, disagree with Andy Barr on infrastructure spending
They also disagree with the state attorney general's opposition to vaccine mandates, agree with governor's plan to raise State Trooper pay and have them wear body cameras.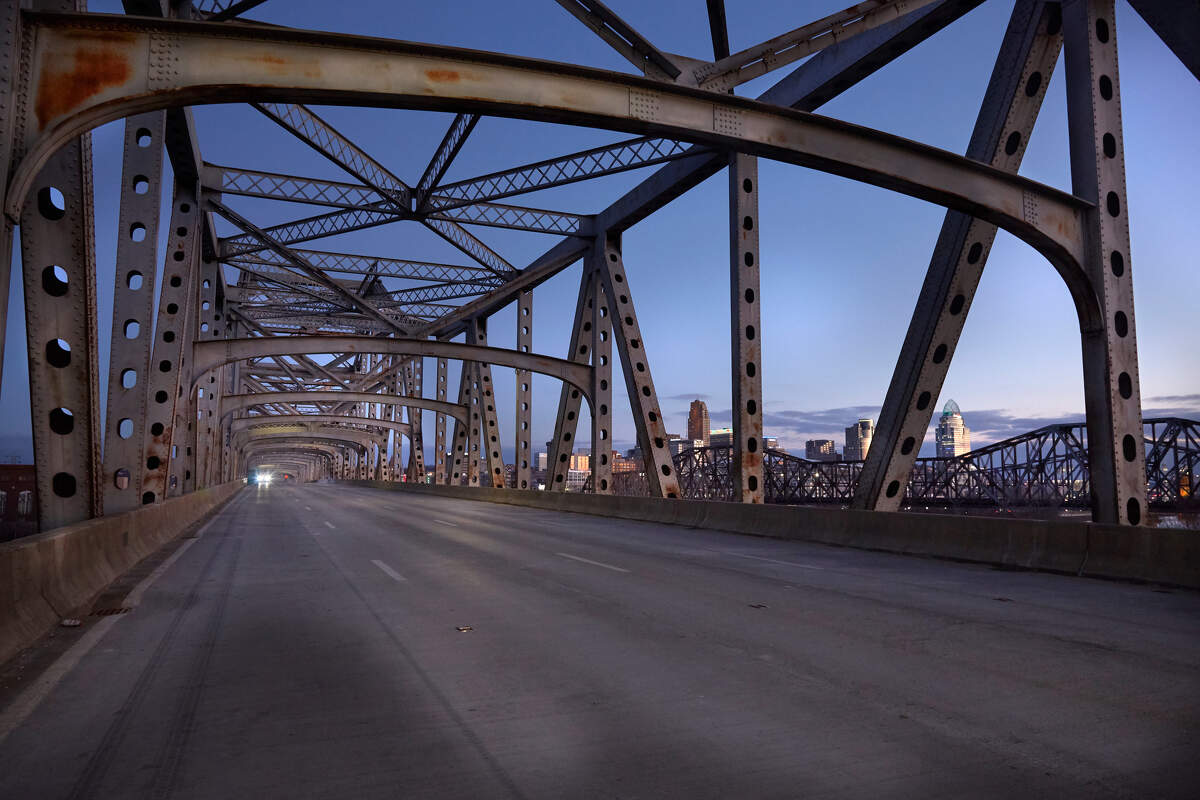 A big majority of Lexington Power Poll members agree with Senate Republican Leader Mitch McConnell that the new bipartisan infrastructure law approved by Congress and signed by President Joe Biden will be a "godsend" for Kentucky.
Only a few members took U.S. Rep. Andy Barr's view that this infrastructure investment is part of a "big government socialist agenda."
Meanwhile, most poll members disagree with state Attorney General Daniel Cameron's efforts to block Biden's vaccine mandates for workers in large companies and businesses that do work for the federal government.
But members overwhelmingly support Gov. Andy Beshear's proposal to significantly raise the starting pay for Kentucky State Police Troopers and dispatchers to remedy staffing shortages and to equip Troopers with body cameras for the first time.
Power Poll is not a scientific poll. But because it asks questions about current affairs to a large group of public officials, business executives and community leaders, it offers interesting insights into the thoughts and opinions of some of Central Kentucky's most influential people.
This month, 96 of the Lexington Power Poll's 172 active members, or 56 percent, voted. Poll members must vote regularly to stay active, and active members who vote get to see each poll's results a week before anyone else.
The biggest accomplishment of Biden's presidency so far is a $1 trillion infrastructure bill following prolonged negotiations with both Republicans and Democrats in Congress. The bill will bring about $4.6 billion to Kentucky for roads, bridges, broadband access, clean drinking water systems and other improvements.
McConnell was one of 19 Senate Republicans who voted for the infrastructure bill, which he called a "godsend" for Kentucky because of the state's serious infrastructure needs. But former President Donald Trump, who was unable to get his own infrastructure spending plan through Congress, has criticized the law and tried to make it a loyalty test among Republicans.
Sen. Rand Paul, a Kentucky Republican, voted against the bill, as did Barr and every Republican House member from Kentucky. Thirteen House Republicans defied Trump and voted for the bill.
When asked who was right on this issue, 87 Lexington Power Poll members (91 percent) agreed with McConnell, while only five members (5 percent) sided with Barr, who called it part of a "big government socialist agenda." Four members (4 percent) had no opinion.
The second question posed to poll members this month was their opinion about Cameron's decision to join some other Republican state attorneys general in opposing the Biden administration's COVID-19 vaccine or testing mandates for federal contractors and employees of companies with more than 100 workers. A federal appeals court has put those mandates on hold pending the Occupational Health and Safety Administration's appeal to the U.S. Supreme Court.
Seventy-eight Power Poll members (81 percent) disagreed with Cameron's stand on this issue, while only 16 members (17 percent) supported it. Two members (2 percent) had no opinion.
Federal courts have upheld vaccine mandates since at least 1905. But requiring the COVID-19 vaccine has become a personal freedom issue among many Republicans, even though the coronavirus pandemic has killed more than 750,000 Americans. These vaccine mandates are supported by roughly six in 10 Americans in recent public opinion polling, and studies show that vaccine mandates work.
The third question this month asked about Beshear's proposal that the General Assembly raise starting pay for State Troopers by $15,000 and Kentucky State Police dispatchers by $8,000 to fill persistent staff shortages. The Kentucky State Police now has 736 full-time sworn officers — 273 fewer than in 2006. Dispatchers have an annual turnover rate of nearly 23 percent.
The Democratic governor also asked the Republican-controlled House and Senate to appropriate $12.2 million so Troopers can be equipped with body cameras for the first time.
Power Poll members said they overwhelmingly agree with the governor's plan. It was favored by 84 members (88 percent) and opposed by only three members (3 percent). Nine members (9 percent) said they had no opinion.
Editor's note: This is the 24th monthly edition of the Lexington Power Poll — our second anniversary! — and the first month that not a single member left a comment before the poll closed. I would urge those members comfortable with sharing their opinions publicly to leave comments after each poll. I try to share excerpts from a sampling of the most interesting comments in each month's article. By their nature, multiple-choice opinion polls give a limited picture of what the respondents are thinking. Comments help provide nuance, context and depth. As always, thanks for participating in your Lexington Power Poll.
About Power Poll: Power Poll asks questions of the most powerful, influential people in U.S. cities. It is not a scientific survey. But because the people responding to the surveys comprise the leadership structure of their cities, the results afford a fascinating glimpse into the thoughts, opinions, and beliefs of those in a position to make change. Power Poll is distinctly nonpartisan.