February 12, 2021 11:00am
Serafin Power Poll: Low Ratings for State's Vaccine Distribution
Respondents say CPS teachers should be back in the classroom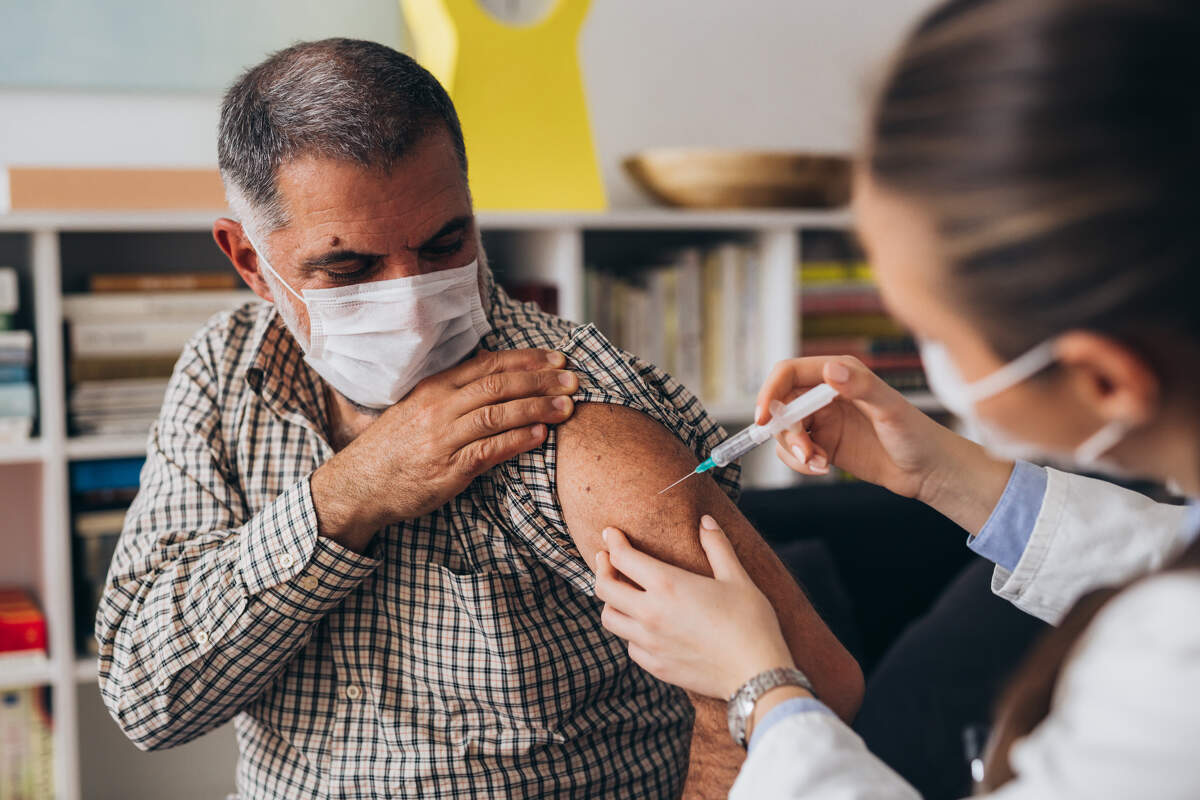 Yes, it's dark and cold (so, so cold), but the vaccine distribution process has started and – regardless of exactly how well you think it's going – it sure feels like somewhat of a light at the end of the tunnel.
If you've seen any news coverage of vaccine distribution in Illinois, you've probably heard the search for a vaccine appointment compared to The Hunger Games. People are reportedly spending hours huddled around their computers, checking various websites to try and secure appointments. We asked Serafin Power Pollers to evaluate the rate of vaccine distribution in the state on a scale from 1 (very poor) to 5 (excellent). More than 41.8% gave the process a 1 or 2, while about 31% were neutral. Nobody rated the distribution as 5 (excellent).
News broke on Wednesday that Chicago Public Schools and the Chicago Teachers Union came to an agreement on a framework to get teachers back in the classroom for in-person learning, narrowly avoiding a threatened strike. That appears to come as welcome news to Serafin Power Poll respondents, almost 80% of whom think teachers should be back in the classroom. Only 6.4% of respondents said teachers should stay remote, while 13.8% were undecided.
As we're facing a particularly vindictive cold snap that has made outdoor dining a non-starter, Chicago restaurants are once again allowed to serve diners indoors, with occupancy restrictions. With the CDC still reporting that COVID-positive people "were more likely to have reported dining at a restaurant" before they got sick, we asked Serafin Power Pollers how they felt about dining indoors. The majority (54.5%) said they would eat inside, with 34.5% foregoing indoor dining. Another 10.9% said they were undecided.
Follow Serafin on Twitter at @WeAreSerafin
Donald Trump's second impeachment trial began this week, after the Senate voted on the constitutionality of conducting an impeachment trial of a former president, a first in American history. We asked Serafin Power Pollers to tell us in their own words why they think former President Trump should or should not be convicted in his impeachment trial. Full, unedited responses are included below, but two camps emerged:
Those who believe that he is responsible for inciting insurrection and the attack on the Capitol, and that he must face repercussions
Those who believe it's wrong to impeach someone not currently in office and that Congress' time and efforts can be better spent elsewhere
With many people working remotely and stuck in a daze of Zoom meetings, we asked Serafin Power Pollers which of a few options they were most likely to do during a virtual meeting. Several respondents said they are most likely to give their full attention to virtual meetings, which means they may have a bit more willpower than many! The majority (51.6%) said they have scrolled social media during a virtual meeting, while more than 30% have eaten a meal. Only a few respondents have worn pajamas (10.8%) or watched TV (6.5%).
Thanks to all of those who took the time to provide their opinions this month. Stay warm, wear a mask – actually, wear two – and wash your hands.
A total of 573 Serafin Power Poll members were surveyed and the participation rate was 19.2%. The Serafin Power Poll is not a scientific poll, but rather a fascinating and non-partisan glimpse into the attitudes and opinions of the decision-makers and thought leaders in the Chicago region.
Full list of responses to Question 4:
convict
he must be punished for inciting insurrection
Responsible for insurrection
He incited an insurrection. Convict!
He is corrupt, a liar, and he lit the fuse to the insurrection. Sometimes pyromaniacs light fires that burn them.
It doesn't matter - he won't be impeached
I believe the evidence is overwhelming that he incited an angry mob to intimidate Congress in order to subvert the election results. He then watched with joy as he sought to personally benefit from the violence and intimidation. He did not exercise his duty to restore order or call off the mob.
Yes, so he cannot run for office in the future.
convicted
There have to be consequences for this kind of behavior
No
Yes
nothing.....he has been punished enough. Impeachment may turn him to a martyr
His words had repercussions .
Should be convicted to be accountable for clearly working against the constitution
Insurrection
Guilty
Dems made the mistake of going for the more sensational impeachment versus censure or other action that would be more universally supported.
We need to focus on fixing the problems facing us and truly unite, not focus on trying to tear down the past.
His lies nearly got people killed
Let's move on and await any criminal charges.
No comment
The evidence revealed to date strongly indicates he and his campaign and administration were involved in the planning
he is no longer the President--let's move on to the critical issues we face in this nation.
Must move on
He has to be hold accountable so that others don't try worse in the future.
He should be convicted of mob incitement and abdication of protecting the constitution
Yes he should. He incited insurrection
He is no longer in office, move on.
The voters voted him out of office; he's no longer the President so impeachment is not necessary.
Convicted
To keep him from ever running again!
He needs to be held accountable some way
Should not! He's gone, let's move on!
convict. He set the stage and encouraged the behavior that led to the riot and killings.
He is a criminal.
He should be convicted. In fact the articles of impeachment should have contained many more reasons. If his actions do not qualify as impeachable then one must ask..."then what does?"
Close the book and move on. No he should not.
He is guilty of the gravest act a president can take: trying to stay in power through insurrection rather than election
What Trump did was absolutely impeachable. The primary argument from the Republicans in the Senate is that it is unconstitutional to impeach him because he is out of office. Constitutional scholars disagree on that - although the majority say it is not unconstitutional. Because we live in era, when people put party before country though Trump will most probably not be impeached. Given that, we need to do something to put him through a real trial for the trial he put our country and democracy through. What about a new tv show in which Trump plays the part of the apprentice in every episode and is asked to actually do the things a President who understands that this is a democracy as opposed to an autocracy with a nonpartisan jury. Then, as he fails each test in each episode, the jurors could say "You are fired." just as the American electorate did on
So he cannot run again.
His words directly caused an unruly mob to storm the Capitol.
He's guilty.
He incited a riot, and should be convicted.
His words have consequences. And if this process is allowed to simply go away because he no longer is in the what's stopping further occupants from doing the exact same thing in the future. abus
Should so he can't run again
Send him to Elba. Banishment was good.
He should not be convicted. He is out of office so an impeachment no longer make sense. I'd like to see Congress get back to working for the people and tackling issues we care about.
He should not. Politicians like to talk about unity then anger 73million people with a political stunt that has no chance of accomplishing anything constructive.
Should not be impeached. He's out of office and Congress has more important things to do than make sure they look good on TV.
He incited a mob to march on the Capitol based on lies.
Bad behavior, but to pursue the man after he has left office only prolongs the partisan rancor and prevents us from finding common ground.
He incited an insurection that resulted in death. I call this sedition. He deserves to be impeached.
Because he directly incited a riot and because he abused the power of his position constantly.
should
It is a travesty snd a political witch-hunt
Based on the facts that everyone could see happening in real time, it seems clear that he had every intention of inciting the crowd and overthrowing a legitimate election.
No, it's a waste of time and money. This shits all the problems we have in this country
Because he knowingly and purposefully activated his supporters to forcefully take over the Capitol Building.
The behavior and words matter in our President so I think he should be held accountable and be impeached.
No. He is gone. Waste of energy.
I think the trial is a diversion from more pressing matters.
He should be convicted. Under his leadership, he literally incited a riot.
Because he did it.
He committed an impeachable offense in encouraging insurrection to disrupt a constitutional process and overturn a fair and legal election
I'll take a pass on this. I will say that I hope it is a meaningful and thoughtful process by all involved. This is our collective history.
Yes, so his actions will never happen again (and there will be a precedent).
Convict him so he can't run again
He has left office and the goal of having an impeachment is to remove the person from office. I rather they focus on more pressing issues
He instigated an armed insurrection that resulted in loss of life. He betrayed his oath of office and he betrayed the Constitution. There is no doubt in my mind he deserves to be convicted.
Adam Kinzinger said it best.
Not only impeached, but imprisoned. He incited an attack on the nation's capital and did nothing to discourage the insurrection as it was happening. Also, his inability to concede the election and his efforts to impede the transition of power was so un-American-(not impeachable, but just bad form).
Actions of insurrection that were a result of his actions as President should not be glossed over or ignored just because he is no longer in the position.
He incited insurrection beyond any reasonable doubt and thus should be convicted.
His words and actions caused the harm and death of innocent people. You can't yell fire in a crowded building.
HE asked people to fight like hell and go to the capital. That is what happened. Accountable is accountable
House conducted no investigation. No longer in office. No Supreme Court Justice.
Clear violation of constitutional oath and duties.
It's like shooting a dead man. Our govt should get to work on real issues.
With the basis of the impeachment being his language inciting the riot, then I believe you would have to apply the same interpretation to many in politics who use inciteful, hateful or inflammatory language. I do not believe he should be convicted.
Convicted because triggered the riot.
Evidence is overwhelming he should be convicted