Vaccinations for Police officers should be required, Palm Beach influencers say
As COVID-19 ravages law-enforcement ranks nationwide, a majority of Palm Beach County influencers say it's time to require vaccinations for police officers, a job that requires them to interact with the public and carries risk of infection spread. Officers who resist vaccines should be punished and even fired, a Palm Beach Power Poll majority says.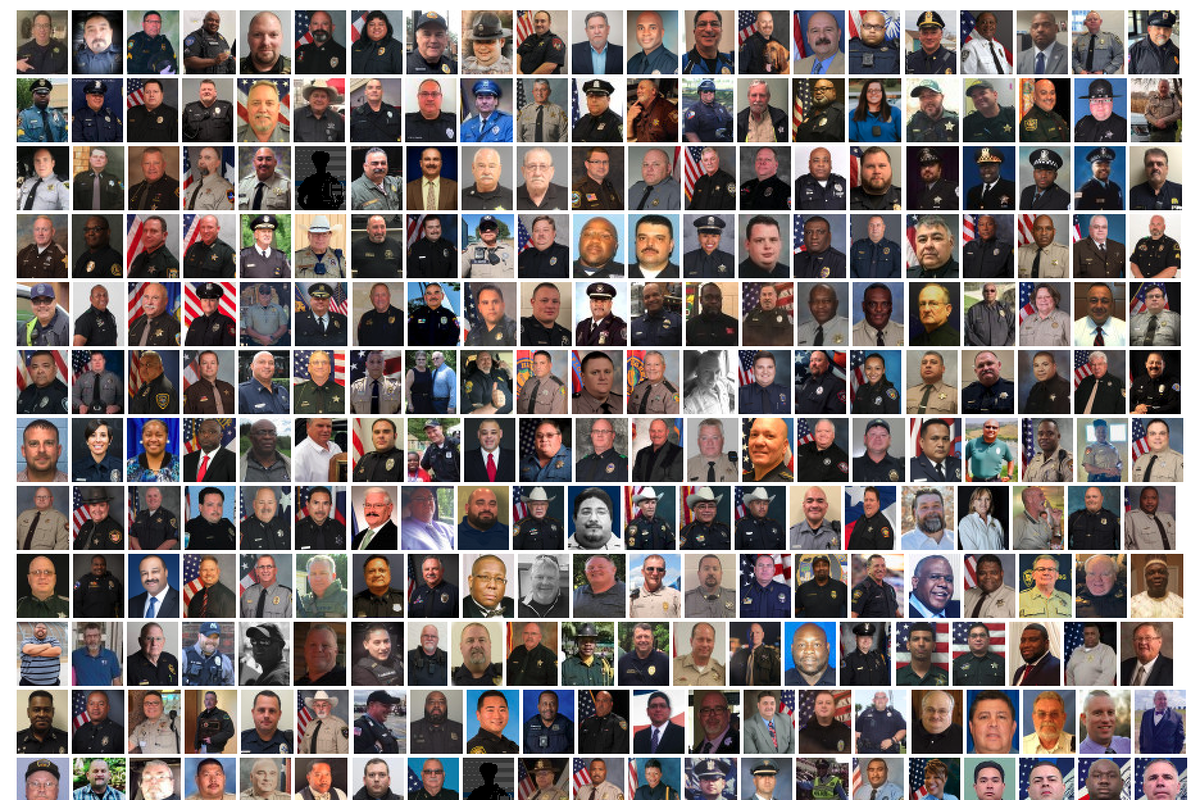 To measure COVID-19's impact on police officers across the United States, go no further than the national Officers Down Memorial Page.
A dizzying collage of portraits rolls across the screen, a somber visual of the nearly 500 officers, including 50 in Florida, killed by the deadly disease since the start of the pandemic.
"Getting vaccinated is just as important as wearing your vest and your seat belt,'' reads a message above the collage.
Community leaders surveyed by Palm Beach Power Poll agree, even as many officers nationwide continue to resist vaccines and police unions push back on vaccine mandates.
"It is well settled by the courts that our government has the right to protect the general citizenry from public health threats by mandating things like polio, measles and now Covid protection,'' said Jody Young, a political consultant based in Palm Beach County.
"Covid is now the leading cause of death for police officers. What happens when those we rely on to enforce the law start to pick and choose which rules and laws that will comply with?'' Young said.
Police officers regularly work with the public. But COVID-19 is ravaging their ranks, emerging as the biggest killer of law enforcement officers since the start of the pandemic, more than deaths caused by gunfire and car accidents, according to the Officers Down Memorial Page.
For this month's Palm Beach Power Poll, 305 influencers were asked if police officers should be required to be vaccinated and if those who refused should be disciplined.
Of the 83 who responded to poll questions, 67 percent agreed vaccinations should be a job requirement for police officers and 65 percent said police unions should have no say in vaccine mandates.
A smaller majority, 60 percent, support disciplinary action on officers who refuse to get vaccinated, including terminating them, a topic that prompted the most comments from Palm Beach Power Poll members.
"We have relied on police, fire, and medical personnel to be on the front lines ever since covid began. Now we want to fire them if they are not vaccinated?'' said Eric Hopkins, vice president of Hundley Farms in Loxahatchee.
"I chose to get the vaccine,'' he said, "but I would not want to see good people lose their jobs because they choose not to. We have a huge workforce problem now and firing more people is not the solution.''
Many officers are suspicious of the COVID-19 vaccines because, among other reasons, uncertainty over their long-term effects.
"I chose to be vaccinated. I wish all others did the same. But no one should have the right to force anyone to get a vaccine they don't have confidence in,'' Sid Dinerstein, former chairman of the Republican Party of Palm Beach County.
In Palm Beach County, seven law enforcement officers have died of COVID-19 —
Still, the police union has pushed back on Delray Beach's vaccine protocols because some officers believe President Biden is intentionally dragging out the pandemic, according to Boca Raton Magazine.
"All politics aside, get vaccinated,'' St. Petersburg Police Chief Anthony Holloway told FOX 13 after one of his unvaccinated officers, 52-year-old Michael Weiskopf, died in September from COVID-19.
"Mike could probably be here today if he was vaccinated," Holloway said. "I am telling the officers that are out there listening, deputies, do this, please. If you don't want to do it for yourself, do it for your family, your coworkers. You need to get vaccinated."
Many community leaders say police officers have a higher responsibility to get vaccinated because they regularly interact with the public and could unknowingly spread the virus.
"If (police officers) are not willing to get vaccinated at this time maybe they can be reassigned to areas of less exposure to the public,'' said Rolando Barrero, president of the Palm Beach County Democratic Hispanic Chapter.
"My primary concern,'' he said, "is reaching herd immunity to get past the devastation of the pandemic.''
About Power Poll: Power Poll asks questions of the most powerful, influential people in U.S. cities. It is not a scientific survey. But because the people responding to the surveys comprise the leadership structure of their cities, the results afford a fascinating glimpse into the thoughts, opinions, and beliefs of those in a position to make change. Power Poll is distinctly nonpartisan.