The Future of the Agricultural Reserve
Power Poll Palm Beach influencers say County commissioners should protect the Agricultural Reserve as voters intended and reject development plans that threaten to undermine one of the most fertile winter vegetable farming regions in the United States.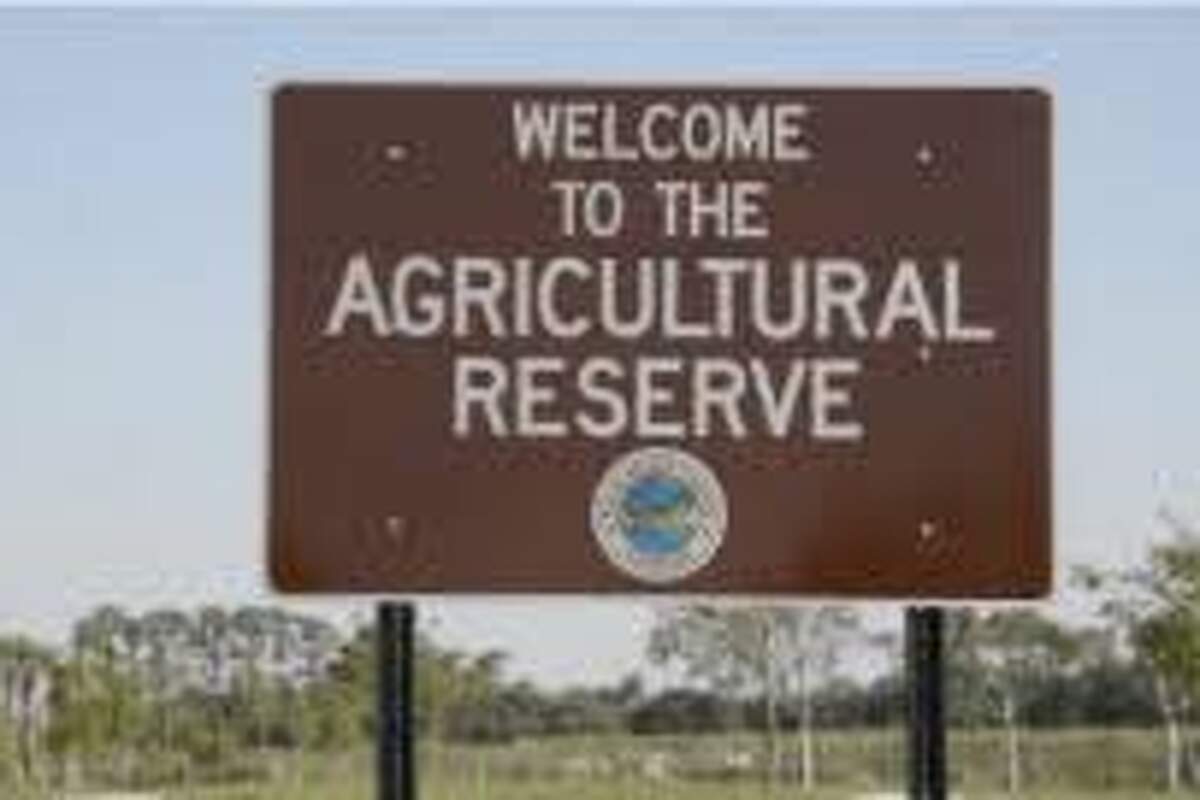 Palm Beach County commissioners should protect the Agricultural Reserve as voters intended and reject development plans that threaten to undermine one of the most fertile winter vegetable farming regions in the United States.
That's the consensus of a majority of Power Poll Palm Beach influencers who weighed in on the fate of the 22,000-acre reserve after county commissioners Feb. 2 agreed to consider a proposal that would allow GL Homes to exceed Ag Reserve development rules and build 1,250 mostly high-end homes on 653 acres of preserved land.
"The notion that we would allow development in an area that the taxpayers gave significant contributions to preserve is anathema to me,'' said former Congressman Mark Foley, a Republican.
"Once developers take a bite of that apple,'' he said, "there will be no stopping the next diminution of the reserve area being considered. Let's not take county taxpayers for a ride with this bait and switch.''
The GL Homes proposal comes with an enticing carrot. If the 1,250 homes are approved for development, GL Homes would give up its development rights on 1,600 acres in another part of the county outside the reserve in The Acreage, a move that would reduce the size of a huge development in an area with bad roads and no water and sewer lines.
But it's still a bad idea because it will undermine long-standing efforts since 1980 to preserve farming, according to 71 percent of the 78 influencers who participated in the February Power Poll.
"The proposed land swap is a sham. Give them a finger and they will want a hand. Give them a hand and they will want an arm,'' said community leader Ira J. Raab.
Since it was voters who decided in 1999 to invest $100 million to buy and preserve farms to reduce development in the Ag Reserve, should it be up to voters to have final say on development proposals like the GL Homes plan? That vote was closer, with 50 percent saying yes and 37 percent saying no.
"County Commissioners should stand their ground against such proposed development, without the need of a public vote on the subject,'' Raab said.
"When the voters approve a referendum and fund it with their money, it is a vote of trust for their government to keep their word,'' said County Commissioner Maria Sachs, a Palm Beach Powell Poll member, who voted against the GL Homes motion on Feb. 2.
"We do need housing and growth but smart growth based on existing infrastructure,'' she said. "Let's build the roads, fire stations, and schools first. This way we keep our paradise for our existing residents and ensure that we are prepared for new residents.''
Rejecting the GL Homes plan will not eliminate ongoing development pressure that has been changing Florida since the 1920s. The GL Homes plan comes at a time when the South Florida real estate market is hot, with new construction offering the promise of fatter tax bases and economic stimulus.
"Markets are markets and Palm Beach County is ON FIRE!!! The land values are too great to ignore,'' said Sid Dinerstein, former chairman of the Republican Party of Palm Beach County.
"One way or another development is coming. All of American history is a steady move to less farmland, less agricultural employment and more commercial and residential development. We are no exception,'' Dinerstein said. "Better our electeds should do a more thorough analysis of future agricultural/commercial/residential needs and update our long range zoning/development plans.''
But 53 percent of Palm Beach Power Poll influencers said trade-offs like the ones offered in the GL Homes plan are still not worth it, while 35 percent think it's a good idea.
"If we were to compromise environmentally sound backstops to invasive development every time land prices went up, Florida would be blacktop from one coast to the next,'' said West Palm Beach attorney Guy Icangelo.
"The consideration here is not one that should be analyzed by market forces alone, no matter how 'hot' the real estate market may be,'' he said. "This isn't a bottom line for/profit issue. It's a health issue. It's an environmental issue.''
The development being proposed is west of U.S. 441, close to the Loxahatchee Wildlife Refuge, raising concerns that it would harm animals and the environment by bringing lights, exotic plants, stormwater runoff and pesticides.
The county also faces a variety of issues — a lack of affordable housing, overseas competition facing farmers and the desires of many Ag Reserve farmers to cash in on their land — that could be resolved in part by easing up on development rules in the Ag Reserve.
But that doesn't mean the Ag Reserve has outlived its usefulness, 68 percent of Palm Beach Power Poll influencers said.
"We continually compromise farmland and environmentally sensitive lands. This isn't the first time and won't be the last,'' said Robert Watson, a distinguished professor of American history at Lynn University.
Some environmentalists say the GL Homes proposal is just the latest play by developers in a long-game strategy of waiting for a new generation of elected officials who share their vision.
"Home builders have been waiting for time to pass in the hopes that people would forget the intent of the bond referendum to preserve land in the Ag Reserve and looking to undermine the 60/40 80/20 develop/preserve rules in the Ag Reserve,'' said Erin Deady, an environmental lawyer.
"These land swaps have been proposed multiple times. They've been waiting to find the right time and right swap to do just that.''
The county commission's 4-3 vote on Feb. 2 only allowed county staff to work with GL Homes on a proposed text amendment to the county's long-range growth plan.
"Initiation is not commitment," Mayor Robert Weinroth said that day. "We are simply allowing the process to go forward to obtain more information.''
But many influencers were disappointed the county didn't just say no on Feb. 2, a move that would have killed the GL Homes proposal and sent a message to other developers wanting to exceed building rules in the Ag Reserve.
"Basically, this would break the Comprehensive Plan and insult the public will for conserving a place to grow food and provide other agricultural products,'' said Joanne Davis, former Palm Beach County representative for the environmental group 1000 Friends of Florida.
"I don't support it and neither does a majority of county residents. Commissioners should stay strong against fouling the Ag Reserve.''
About Power Poll: Power Poll asks questions of the most powerful, influential people in U.S. cities. It is not a scientific survey. But because the people responding to the surveys comprise the leadership structure of their cities, the results afford a fascinating glimpse into the thoughts, opinions, and beliefs of those in a position to make change. Power Poll is distinctly nonpartisan.