SunFest makes big changes for its 2023 event
Power Poll Palm Beach influencers are not happy about the sweeping changes made to the annual festival that will be held May 5-7 along the downtown West Palm Beach waterfront.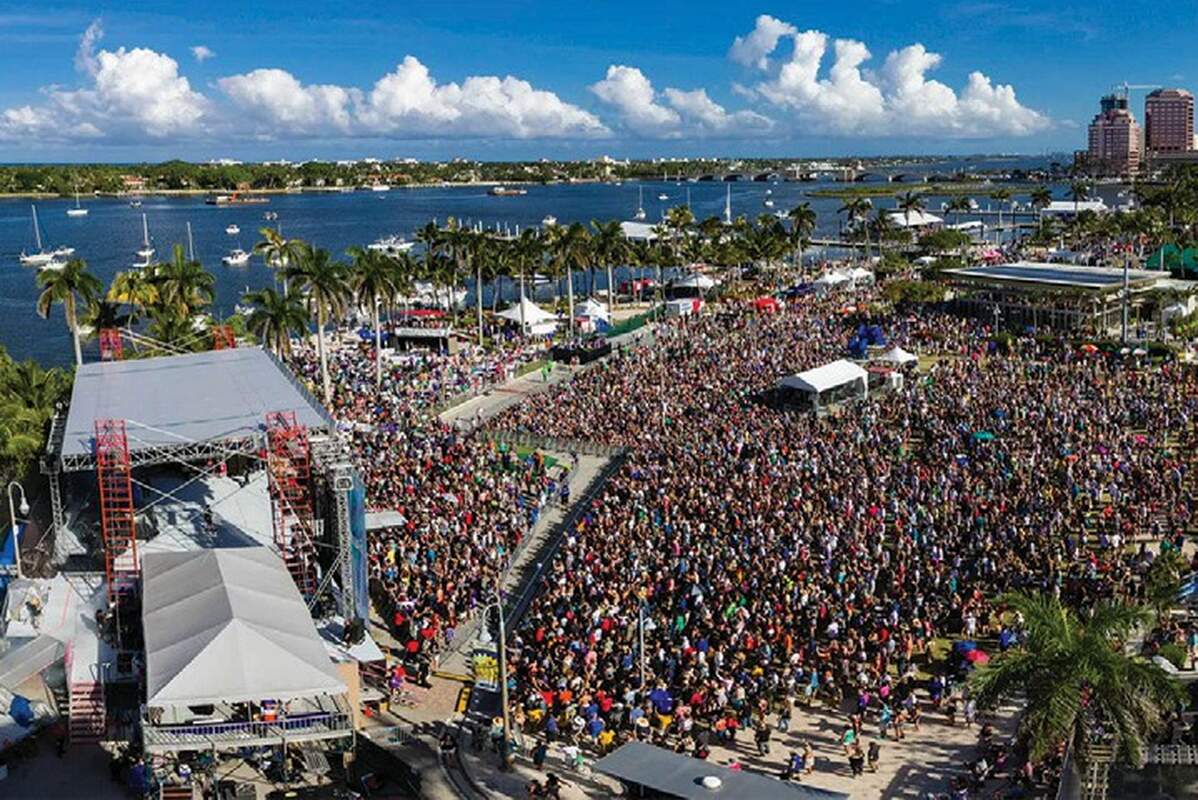 Big changes are coming to SunFest 2023, which will be held May 5-7 on the downtown West Palm Beach waterfront, and many Power Poll Palm Beach influencers aren't happy about them.
For the first time since the festival started in 1983, SunFest will focus exclusively on music performances and will not feature artist booths, which had been a festival staple. Also scratched from SunFest 2023: the festival-ending fireworks display and the 5K race.
And that's not all. This year's festival will be smaller and shorter, with performances held on two stages over three days instead of three stages over four days.
SunFest organizers are spending 15 percent more festival funds this year on music talent in response to "fan satisfaction ratings" from the 2022 show, executive director Paul Jamieson said in a statement earlier this year.
"We heard loud and clear that fans come to the waterfront to hear good music and reunite with old friends," Jamieson's statement said. "We believe the quality overall is improved and hope that our fans agree."
More than 60 percent of Power Poll Palm Beach influencers who responded to this month's survey expressed some level of disappointment with the changes.
Of those respondents, 24 percent said doing away with the art booths and fireworks was too drastic while another 39 percent preferred a broader festival with offerings beyond just music.
Thirty-seven percent expressed enthusiasm for the changes, saying they've always considered SunFest more of a music festival than an art festival, including 17 percent who said they won't miss the art booths or fireworks display.
The poll had a response rate of about 25 percent.
Despite the mixed reviews, nearly half of the influencers who responded said the changes won't affect their decision to go to SunFest. The musical acts will determine which days, if any, they will attend, those influencers said.
And 49 percent said music concerts always have been their favorite part of Sunfest over the years while another 24 percent cited the artist booths as their favorite part of the festival.
Thirty-one percent said they don't plan to attend because of the changes and 12 percent said they can't afford to attend because of the costs of tickets, parking and drinks.
"To promote progress and then cheapen what draws people is a big mistake. Offering less and less is not smart,'' said Jerald Feinstein, founder of Planet Startup.
Influencers were asked what they liked least about SunFest. The festival's crowds came in first with 41 percent, followed by 29 percent who don't like the costs of tickets, food and drinks.
Some influencers said it's time to re-think SunFest, including possibly expanding the festival boundaries beyond the confines of its current location along Flagler Drive between Banyan Boulevard and Lakeview Avenue.
"If it's just going to be a music festival, then I'm not sure it makes sense for the city to close down the entire waterfront,'' said Rick Rose, a Palm Beach historian and the proprietor of Palm Beach Vacation Rentals.
It might be time for SunFest to move to the South Florida Fairgrounds, 11 miles west of downtown West Palm Beach, said Timothy Hullihan of TFH Architectural Services. The fairgrounds hosts the annual South Florida Fair in January.
"It is now a music festival in a city that has matured beyond Sunfest's original purpose, no longer offering something for everyone,'' Hullihan said. "The accommodations made by city residents to host the event far exceed its benefits to the broader population.''
SunFest organizers left open the possibility, but did not guarantee, that the art booths and fireworks display might return in future years.
"As a multi-year member of the Sunfest Art Committee, I was very disappointed in the cancellation of the booths and exhibits and always hosted fireworks parties for the amazing finale,'' said former Congressman Mark Foley.
"I am sure Covid greatly affected operations and the cash balance sheet to change the event so dramatically,'' he said.
Rose suggested expanding the festival across the city, including the convention center and The Square (formerly CityPlace), and maybe funding the festival through private and public sponsorships, which could make it possible to do away with the entrance fee. (This year, a one-day pass purchased at the gate will cost $100; the same ticket cost $70 to $90 if purchased during discount promotions earlier this year.)
"The art booths were on Clematis Street some years ago. Seems like that is where they should go, which might cut down on the crowds by spreading it around,'' said former West Palm Beach city commissioner David Smith.
Smith said he "never did like the cow-pen approach to dealing with the crowds. We have plenty of creative people in the area that could contribute to rethinking the program.''
If Power Poll influencers had to choose just one outdoor festival to attend each year in Palm Beach County, their top destination was the annual Lake Worth Beach Street Painting Festival, with 21 percent. SunFest came in at a close second at 20 percent. The ArtisGras arts festival in Palm Beach Gardens and South Florida Fair came in third at 17 percent.
Despite their criticisms, most influencers who offered comments expressed an interest in making changes that will allow SunFest to thrive and appeal to people of all ages and artistic tastes.
"I agree that Sunfest is probably in need of a revamp to retain relevancy, although I'd be disappointed to see it leave our downtown,'' Rose said. "The event might be in transition and we (the city) should work with the organizers to improve it for the future,'' he said.
Power Poll Members: Do you have a friend or colleague who should be on Power Poll? Please invite them to join!
About Power Poll: Power Poll asks questions of the most powerful, influential people in U.S. cities. It is not a scientific survey. But because the people responding to the surveys comprise the leadership structure of their cities, the results afford a fascinating glimpse into the thoughts, opinions, and beliefs of those in a position to make change. Power Poll is distinctly nonpartisan.
Corporate Sponsor
We thank the following organizations for their support of Power Poll. Learn more about becoming a sponsor here.