Pedestrian bridge at convention center is best option for crossing Okeechobee Boulevard, Palm Beach Power Poll shows
Palm Beach County influencers side with tourism leaders who want to build a pedestrian bridge at the Palm Beach County Convention Center across Okeechobee Boulevard in downtown West Palm Beach.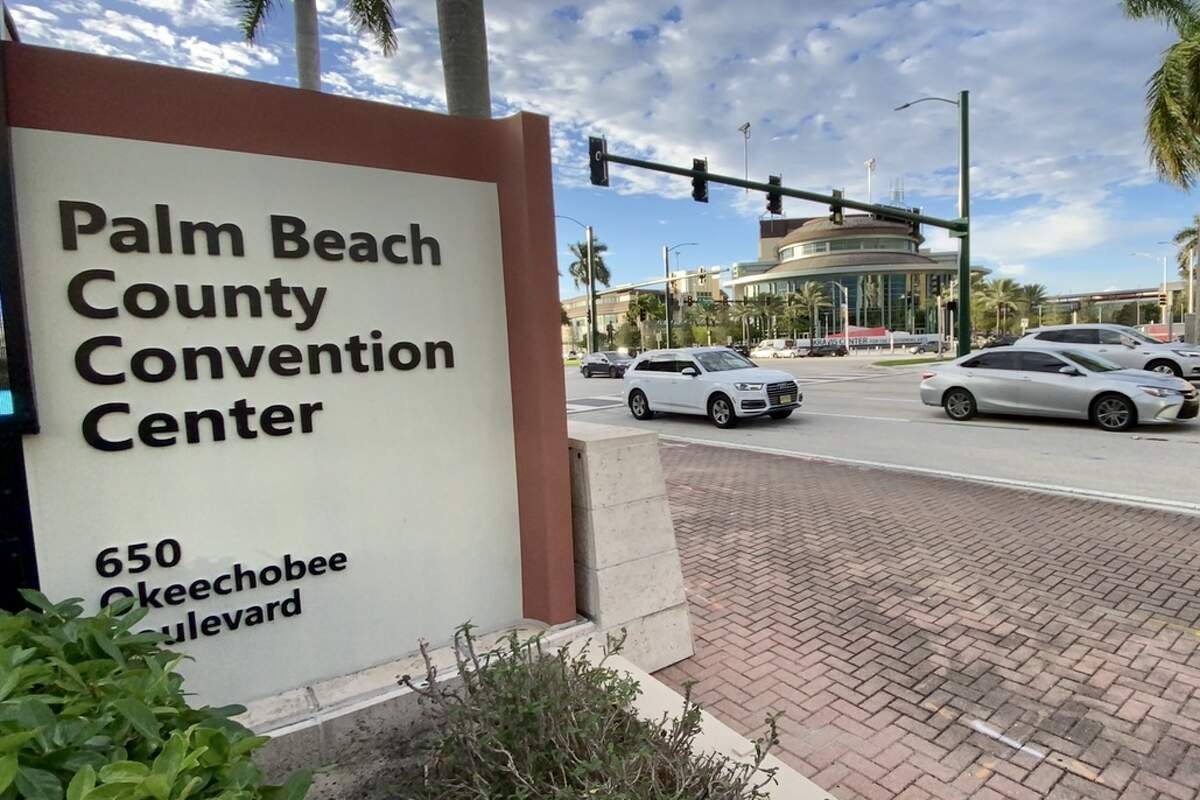 Palm Beach County tourism leaders want to revive a controversial plan to build a pedestrian bridge at the Palm Beach County Convention Center across Okeechobee Boulevard in downtown West Palm Beach.
The idea has long been fought and criticized by city leaders and some urban planning experts who say it will be an eyesore that most people won't use. But a vast majority of Palm Beach Power Poll influencers agree that a footbridge is the best solution for protecting pedestrians who want to cross the busy eight-lane road.
"The convention center's location near downtown is vital to maintaining the attractability of the area,'' said Palm Beach Gardens councilman Mark Marciano.
"A pedestrian bridge is critical for safety, enhancing mobility and maintaining traffic flow through the areas. And building a pedestrian bridge will have the least impact (on) the current traffic congestion in the area. It may not be ideal but it will serve the purpose. It can be designed to be visually attractive, too.''
The poll had a response rate of about 35 percent, and 79 percent supported a pedestrian bridge.
Nearly 30 percent agreed — and more than 70 percent disagreed — that the best way to help pedestrians cross safely is by improving Okeechobee Boulevard with traffic-calming measures and adjusted traffic lights.
"A pedestrian bridge will only take away from the beauty of approaching our city center. Traffic calming with narrow auto lanes, wider pedestrian and bicycle lanes and lots of shade trees is the way to go,'' said Rick Gonzalez, president and founder, REG Architects. "As someone who drives, bicycles and walks on Okeechobee very frequently,'' he said, "this is the only way to go. Examples abound from Paris, to Barcelona to Washington DC.''
The idea of a pedestrian bridge has been debated since the convention center opened in 2004. But it never reached a consensus from the various stakeholders. The state owns the boulevard. The county operates the traffic lights. The city and Related Cos. own parts of the median.
"A pedestrian bridge is a band-aid, and not a tangible solution, which is why it's been discussed for years, yet never practically pursued,'' said Joseph R Russo, a West Palm Beach tech entrepreneur.
Tourism leaders renewed the call for a bridge during a TDC meeting on Dec. 9. Less than a week later, a 4-year-old boy was injured when he was struck by a hit-and-run driver speeding down the boulevard near the convention center as a traffic light was changing color.
Police concluded the driver was not at fault. But the accident left many to wonder if it may have been avoided if the boy and his family had the option of a pedestrian bridge.
Nearly 40,700 vehicles a day, an average of about one every few seconds, pass the convention center's north entrance at Rosemary Avenue, according to a 2020 convention center expansion study, "far outpacing convention district intersections in markets such as Nashville, (TN), San Jose, (CA), and Tampa, (FL).''
And with more office towers and projects being planned and built downtown, the result will be more cars and more people on and along the boulevard.
"This has been an on-going problem for years. A solution is needed now before more people are injured crossing this major road,'' said Patrick J. Franklin, president of the Urban League of Palm Beach County.
Tourism leaders don't want an ordinary bridge, like those connecting parking garages to hospitals and courthouses. They envision a bridge that would double as a bold work of art offering a signature at the gateway to downtown.
"A 'green' bridge with art and lovely areas to sit and enjoy the energy of downtown would be both well received and innovative,'' said Steve Mathison, chairman of the PGA Corridor Association in Palm Beach Gardens.
"We need to invite visitors and locals to an enjoyable experience much as Palm Beach Gardens has made the PGA Boulevard "overpass bridge" a destination and focal point,'' he said, referring to artwork along PGA as the road elevates over Alternate A1A just east of Interstate 95.
When asked about specific proposals to help pedestrians cross safely, 46 percent favored just a bridge. Only 14 percent supported traffic calming as the only solution while 8 percent supported the idea of a tunnel or underpass. Twenty-eight percent supported either a bridge or tunnel along with traffic-calming measures.
"A traffic tunnel similar to the one in Fort Lauderdale needs to be part of the conversation, even if it's a longer term plan,'' said former West Palm Beach city commissioner Kimberly Mitchell. "Pedestrian safety and enjoyment needs to rule the day here, not cars.''
Despite the safety issues, 69 percent said they are glad the convention center is downtown rather than in the suburbs or closer to the airport as some officials had suggested in debates before it was built.
"It is a bit late to be planning pedestrian bridge overpasses as it should have been part of the master plan to integrate all the properties with a required contribution to constructing interconnected walkways connecting all developments,'' said former Congressman Mark Foley.
Russo was blunt in his assessment of the conditions pedestrians around the convention center must deal with when crossing the boulevard. "It's unsafe, and we failed at planning,'' he said.
"The most reasonable solution is also the most costly. An underpass for vehicles with an elevated park and pedestrian plaza, aligned with similar projects in cities like Dallas and Atlanta,'' he said.
"We have to throw out the playbook on this one and think boldly.''
Power Poll Members: Do you have a friend or colleague who should be on Power Poll? Please invite them to join!
About Power Poll: Power Poll asks questions of the most powerful, influential people in U.S. cities. It is not a scientific survey. But because the people responding to the surveys comprise the leadership structure of their cities, the results afford a fascinating glimpse into the thoughts, opinions, and beliefs of those in a position to make change. Power Poll is distinctly nonpartisan.
Corporate Sponsor
We thank the following organizations for their support of Power Poll. Learn more about becoming a sponsor here.