Local influencers favor phase 2 reopening, mail voting
The monthly Palm Beach Post Power Poll asked about Phase 2 and mail-in voting
A majority of prominent Palm Beach County influencers who responded to a Palm Beach Post poll this month say they favor moving the county into the next phase of lifting coronavirus restrictions on businesses and public places.
The Post's monthly Palm Beach County Power Poll surveyed 327 politicos, educators, lawyers and others, receiving responses from 108 of them, 62 of whom — 58% — support entering Phase 2 of Gov. Ron DeSantis' reopening plan.
That is a reversal from July, when 54% said the county should wait for the virus' spread to slow. Back then, the number of new infections nearly tripled statewide and more than doubled in Palm Beach County. From Aug. 1 through Friday, Florida's caseload grew 128%, and the county's, 123%.
Presenting sponsor
A FIGHTER TO BELIEVE IN. A COMMISSIONER WE CAN COUNT ON.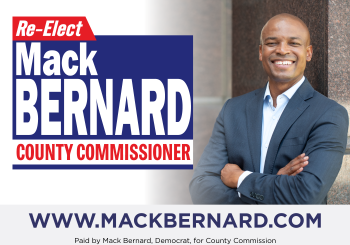 ENDORSED BY THE PALM BEACH POST: "No one on the county commission has more emphatically ensured that all residents are considered than Bernard… And as county mayor in 2019, Bernard displayed keen leadership skills when Hurricane Dorian threatened our shores after devastating the Bahamas." -July 26, 2020
Palm Beach County Commissioner Mack Bernard was first elected in November 2016. He currently represents District 7 and is the immediate past mayor of the county. Mack serves as Chair of the COVID-19 Ad Hoc Committee and as Policy Leader on the Finance & Tax Policy Committee with the Florida Association of Counties. He's also a member of Leadership Florida.
Mack is making our community BETTER. STRONGER. UNITED.
A leader in protecting the health, safety, and welfare of our community during any crisis
Creating more local jobs and economic opportunities for all residents
Supporting our small businesses to recover, grow, and thrive
Improving public safety and law enforcement-community relations
Working with school officials to ensure students are learning safely and productively
Increasing the availability of affordable housing while addressing homelessness
Keeping taxes low and saving taxpayer dollars
Making government work smarter with greater accountability and transparency
Mack has a long record of public service for our community. In 2008, Mack served as a Delray Beach City Commissioner and Deputy Vice-Mayor. In this role Mack worked with the community to increase affordable housing options, improve public safety, and create jobs.
In 2009, Mack Bernard was elected to the Florida House of Representatives where he served on numerous committees and passed bills that created jobs, protected women and children, and supported public education. In the Legislature, Mack served as the President of the Palm Beach County Caucus of Black Elected Officials and was recognized for his work advocating for Florida's small businesses.
Mack has lived in Palm Beach County for over 30 years. He is a product of Palm Beach County's public schools, where he was a member of the JROTC and a high-school championship wrestler. He graduated with honors from Florida State University, earning a Bachelor of Science in Political Science and Criminal Justice, and a Master of Laws in Taxation and Juris Doctor from the University of Florida. Mack and his wife, Shawn, are raising their beautiful three daughters in Boynton Beach.
RE-ELECT MACK BERNARD FOR COUNTY COMMISSION, DISTRICT 7
Early Voting Monday, October 19th - Sunday, November 1st, from 7am to 7pm
Election Day Tuesday, November 3rd. Polls are open 7am to 7pm
Paid by Mack Bernard, Democrat, for County Commission
Thirty-six pro-reopen respondents said "we need clear guidance on what to do and consistent monitoring of businesses to make sure they are following the rules."
Another 17 agreed that "we've seen the numbers go down; let's enter Phase 2," and nine said that "as soon as we see the numbers start to increase, pull it back."
"The people of Palm Beach have for the most part followed CDC regulations," said former state Sen. Maria Sachs, who is running for County Commission. "It's time now to slowly open certain businesses who have consistently demonstrated commitment to maintaining a safe environment for their employees and patrons."
Still, 46 respondents, or 43%, said it's still too soon to reopen places covered under Phase 2, such as tattoo and tanning parlors, gyms, retail stores, or playgrounds.
Among the cautious crowd: two council members from Palm Beach Gardens and one from Boca Raton.
"The lower we can get our numbers going into that period, the lower our spike will be and the fewer the number of people who will die," Gardens council member and pharmacist Rachelle Litt said. "While as an elected official I understand that our businesses need the help now to survive, keeping our number of cases and deaths down is the most important factor to me as a healthcare professional."
"Given that cases increased in the early summer once we (started) opening up the economy, I think it's critical that we continue to show we can maintain a low positivity rate before we enter into Phase 2," Gardens council member Mark Marciano said.
"We should move to Phase 2 when we see an extended period of declining cases/deaths and positivity rate under 5 percent," Boca Raton council member Monica Mayotte said.
Health experts, including the World Health Organization, recommend that a state's share of coronavirus tests coming back positive should be 5% or lower for at least 14 days before reopening.
Neither Florida's or Palm Beach County's positivity rate has yet to reach that benchmark. Florida's 14-day rate dipped below 7% for the first time Thursday, and Palm beach County's reached 5.4%.
Big support for mail voting
The Post's poll also asked for opinions on voting by mail in the midst of the pandemic. And 63 respondents, or 58%, said they plan to mail their ballots in the November election.
"Now is the time to request a mail-in ballot and return it as soon as possible," Urban League of Palm Beach County President Patrick Franklin said. "Please participate and make your voice heard loud and clear."
"The goal for the November election should be to ensure that the most people can vote in a way that works best for them, whether that is by mail, in-person during early voting, or in-person on Election Day," Wellington Vice Mayor Michael Napoleone said. "Those ballots then need to be timely received and accurately tabulated in a reasonable time - not necessarily by midnight on Election Day."
Ways to relieve stress from these trying times
The Post's survey also asked how respondents alleviate stress, with 52 of them saying they exercise; 26 saying they meditate, read or spend quiet time on a relaxing hobby; 23 saying they go on a scenic walk or drive; and seven saying they go for a swim.
"Going for nightly walks as a family gives us a chance to catch up on the day and feel a little bit of normalcy," said School Board member Erica Whitfield. "The one blessing of the pandemic has been time together. Also it gives us an opportunity to see neighbors and hear how everyone is doing. Walking is such a good reset for the mind."
"I usually take a power walk in the morning.," said attorney Peter S. Sachs of Sachs Sax Caplan P.L. "There's much less traffic these days so you can hear and see the birds, squirrels and other animals. Every once in a while you may see another human being jogging, on a bike or in a golf cart. There's typically plenty of social distance so you don't need to put on your mask. It's a perfect stress reliever for me."
Power Poll Members: Do you have a friend or colleague who should be on Power Poll? Please invite them to join!
About Power Poll: Power Poll asks questions of the most powerful, influential people in U.S. cities. It is not a scientific survey. But because the people responding to the surveys comprise the leadership structure of their cities, the results afford a fascinating glimpse into the thoughts, opinions, and beliefs of those in a position to make change. Power Poll is distinctly nonpartisan.