Light-rail transit proposal sparks lively debate among Power Poll leaders
A proposal for a ground-level light rail transit system connecting downtown West Palm Beach to State Road 7 and Wellington sparked a lively debate among Power Poll Palm Beach influencers this month.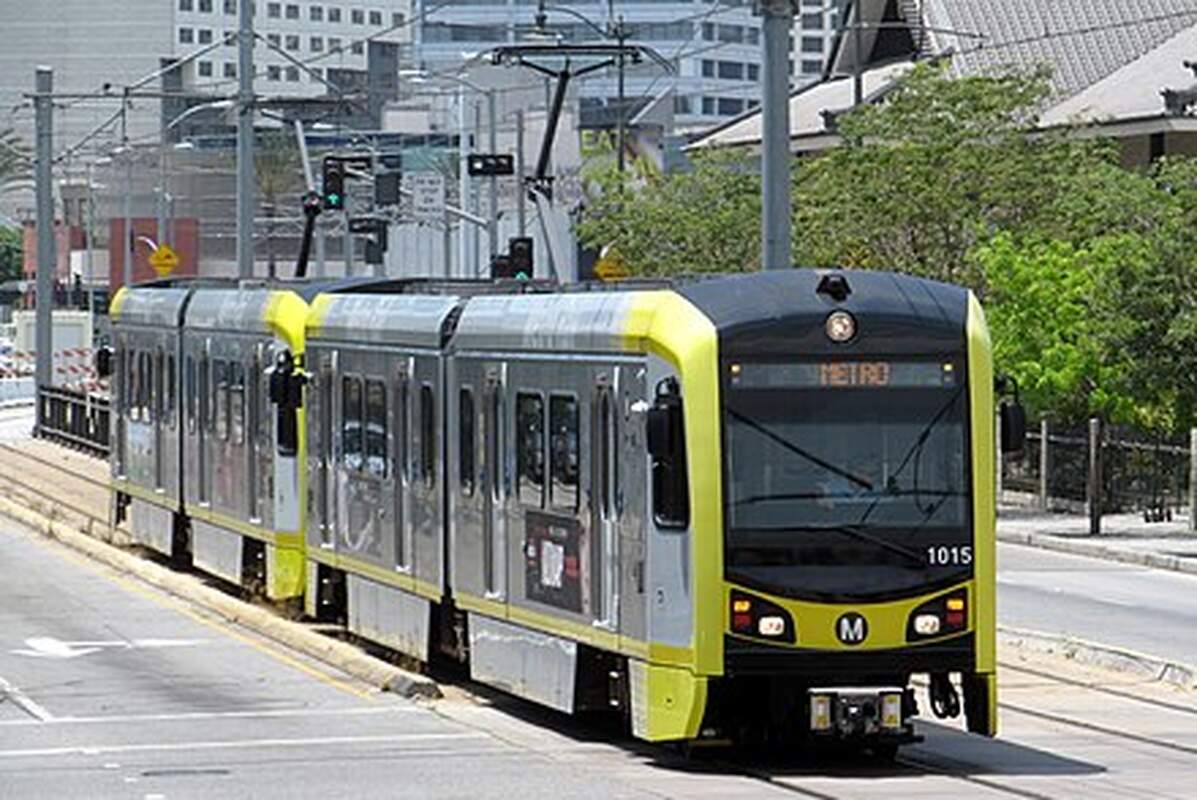 A proposal for a ground-level light rail transit system connecting downtown West Palm Beach to State Road 7 and Wellington sparked a lively debate among Power Poll Palm Beach influencers this month.
Of those who participated in our January survey, a solid majority — 75 percent — think the LRT is a good idea for dealing with traffic congestion in central Palm Beach County's busiest east-west corridor in the coming decades.
But only 41 percent said they'd actually use the light rail system if it's ever built along the proposed 13.5-mile route down the center of Okeechobee Boulevard. And 30 percent said they wouldn't use the LRT.
The survey had a response rate of nearly 21 percent, and 77 percent of the participants said they use their car to travel the corridor now. Another 20 percent said they rarely drive that corridor. None of those surveyed said they use Palm Tran buses to travel that route.
The Palm Beach Transportation Planning Agency endorsed the LRT proposal late last year after staff and consultants received input from stakeholders and residents about seven options for the corridor, including rapid bus transit and an elevated LRT.
Regardless of whether ground-level light trail transit is the answer, influencers agreed the time has come to consider transportation options other than more roads and more cars.
"Widening highways and building more roads doesn't fix traffic on congested roadways. It is like loosening your belt to feel like you lost weight,'' said Palm Beach Gardens Mayor Chelsea Reed, who chairs the TPA's governing board. "We need to plan to move people, not cars.''
But Wellington Mayor Anne Gerwig questioned whether the agency's study accurately gauged what the community thinks about the proposal, noting she didn't hear about the plan until she read about it in a newspaper article.
Gerwig, who wasn't the only Power Poll influencer who questioned the thoroughness of the study, said she's against the idea of using the Mall at Wellington Green as the light rail line's western terminus.
"Maybe with more information I could be convinced of a benefit, but on first glance it appears to make Wellington the parking lot for the downtown,'' she said. "If the project is successful in aiding downtown traffic it should not be at the expense of Wellington.''
Preliminary cost estimates range from $500 million to $800 million, money that will come from state and federal grants, a dedicated surtax or other voter-approved funding sources.
"South Florida is notorious for our lack of public transportation use,'' Gerwig said, "so hopefully this will not be an enormous waste of tax dollars.'' The proposal is still in the conceptual planning stages.
The next step is for the Florida Department of Transportation to study the idea and determine if it's feasible — a move many influencers welcome.
"The time has come to get to work on providing high-quality mobility options like light rail,'' said Raphael Clemente, executive director, West Palm Beach Downtown Development Authority.
"Light rail as proposed by the TPA is essential for the future of Palm Beach County,'' he said. "Transit is a high-capacity, convenient, and safe transportation alternative that many people will choose over their personal vehicles.''
Some people will not. Thirty percent of this month's Power Poll participants said they'll continue using their cars if the LRT is built. But some influencers think more people will embrace the system once it's up and running.
"Henry Ford is credited with saying, 'If I asked people what they wanted, they would have asked for faster horses.' It's time to think differently,'' said Wellington Vice Mayor Michael Napoleone. "Light rail is an option worth exploring.''
Among the seven options TPA staff considered, the road-level LRT line was the most popular among Power Poll influencers, at 47 percent. The next most popular option, 27 percent, was an elevated LRT line, which would be even more expensive.
"An elevated light rail transit would deliver the shortest transit times and have the least impact on existing traffic, especially pedestrian traffic,'' said Jim Kovalsky, a computer consultant and rail transportation advocate. "The region needs multiple east-west connectors like this to allow people to reach the existing north-south transportation lines,'' he said.
The third-most popular option for Power Poll influencers, at 11 percent, was to do nothing and keep the existing transportation options on Okeechobee Boulevard — cars and buses. Fourth was a dedicated Bus Rapid Transit line down the center of Okeechobee Boulevard, at 7 percent.
"The challenge with the adoption of public transportation in Florida is that most of our area is not walkable, especially in the year-round heat,'' Napoleone said. "We Floridians love our cars and their air conditioning.''
Rolando Chang Barrerro, president of the Democratic Hispanic Caucus of Palm Beach County, said he enjoyed the benefits of using light-rail systems in other towns, including Metrorail in Miami, the "L" in Chicago and the Bay Area Rapid Transit system in San Francisco.
"The long term economic impact of having such systems is a win,'' he said. "Most people will go through an adjustment phase, but eventually will prefer to use it.''
A light-rail line would be a welcome service, just like Brightline is to north-south commuters, said Jan Cairnes, CEO of Hanley Foundation.
"I have been traveling back and forth to and from Miami on the Brightline and the experience has been wonderful! I really dislike driving in heavy traffic and I think a light rail would provide quicker and safer commutes for those traveling east to west,'' she said. "The challenge is how to get to your destination from the train. It has to be easy and cost effective or people will be nervous about making a change.''
Palm Beach County's LRT proposal is not new.
Years ago, planners originally considered it for Southern Boulevard, an east-west corridor 2 miles south of Okeechobee Boulevard, said former Palm Beach County Commissioner Melissa McKinlay, who was a TPA board member at the time of some of those discussions.
"But the FDOT told us the zoning along Southern simply wasn't residentially dense enough to sustain a light rail, so the conversation moved north to Okeechobee Boulevard,'' she said.
The Okeechobee Boulevard proposal initially called for the route to turn south at State Road 7 and then swing west on Southern Boulevard — north of the Mall at Wellington Green – where it could to Lake Okeechobee and serve economically-challenged residents of the Glades towns on Lake Okeechobee.
"I prefer that option,'' said McKinlay, whose district includes those western communities.
So does Palm Beach Gardens Vice Mayor Mayor Rachelle Litt, who said people living in the western communities "need the access the most as many of the residents do not have cars and rely on a long bus trip to access vital services, including medical services in Wellington.''
If the idea is shared again in public meetings, Jerald Feinstein, founder of Planet Startup, said he hopes the TPA and its consultants do a better job of seeking input from as many residents and stakeholders as possible.
"Light rail is a complex issue, and none of the people I've spoken with have either not heard of the initiative or were never asked to comment,'' said Feinstein.
Influencers agreed on one overriding (no pun intended) issue: Traffic in Palm Beach County is bad and will only get worse.
"I heard of a couple last weekend (who) took almost four hours to drive from their home in Wellington to the South Florida Fair,'' said Greg Rice of Hulett Environmental Services.
"With all the traffic and congestion in the western communities of a county this large, we need to design and build 21st century transportation options for not only central Palm Beach County but for northern and southern Palm Beach County as well. Where's the money going to come from? I don't know, but we need to be realistic when doing it.''
Power Poll Members: Do you have a friend or colleague who should be on Power Poll? Please invite them to join!
About Power Poll: Power Poll asks questions of the most powerful, influential people in U.S. cities. It is not a scientific survey. But because the people responding to the surveys comprise the leadership structure of their cities, the results afford a fascinating glimpse into the thoughts, opinions, and beliefs of those in a position to make change. Power Poll is distinctly nonpartisan.