Tuning into the Midterm Elections
Tim Ryan and Mike DeWine continue to hold leads among Poll members, while Greg Landsman is favored over U.S. Rep. Steve Chabot in Ohio's 1st District.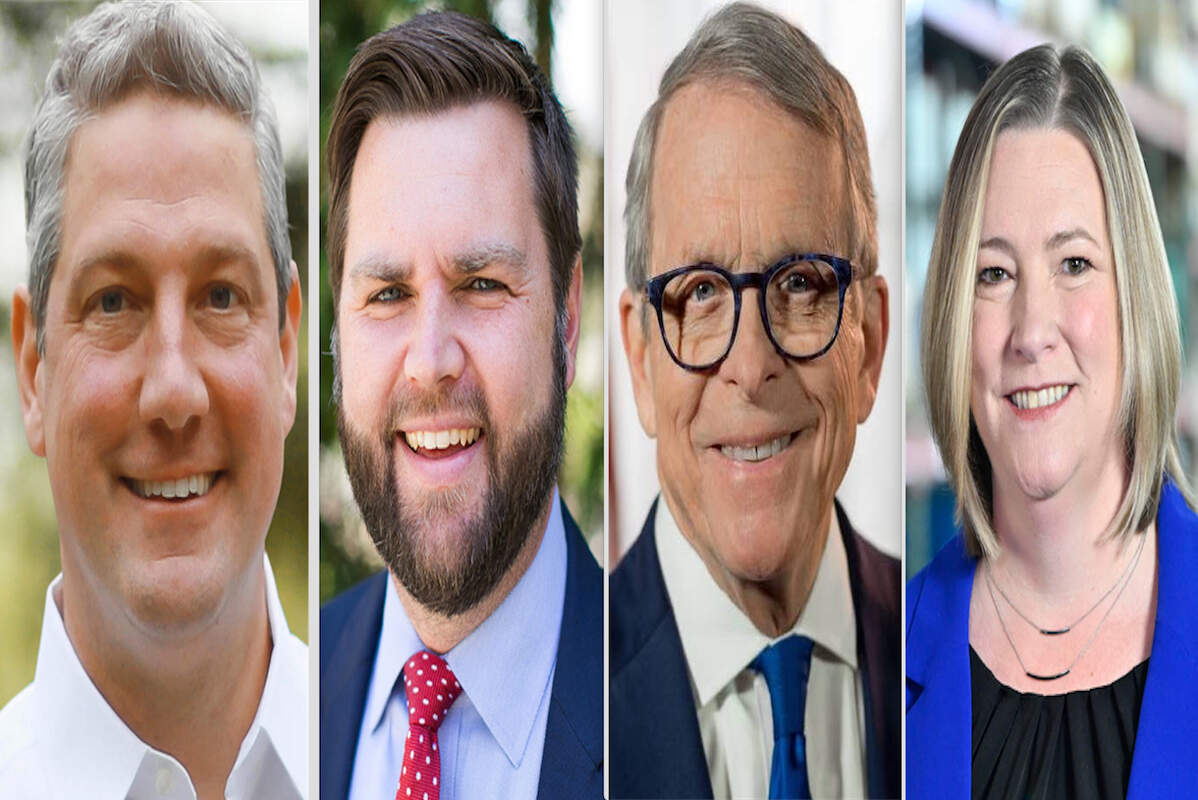 Results of the October edition of Cincinnati's Power Poll are out, in which we ask for opinions about five area races coming up in the 2022 midterm elections. We had asked Power Poll members back in June about the two most significant contests (Tim Ryan vs. J.D. Vance for U.S. Senator from Ohio and incumbent Mike DeWine vs. Nan Whaley for Ohio Governor) as a way to gauge interest in each candidate just after the primaries and as a benchmark for measuring change in support as Election Day approaches. Four months later, the favorites haven't changed among Power Poll members, although the margins have. The October poll also asked about three other elections with smaller footprints among our membership: the Congressional races in Ohio's 1st District and Kentucky's 4th District and Rand Paul's re-election bid for the U.S. Senate.
Election Day is Tuesday, November 8. Polls in Ohio are open 6:30 a.m.-7:30 p.m., polls in Kentucky are open 6 a.m.-6 p.m., and polls in Indiana are open 6 a.m.-6 p.m.
Let's get into the five questions posed in this month's Power Poll Cincinnati and check out the results.
When we asked Power Poll members in June who they'd support for the open U.S. Senate seat in Ohio, J.D. Vance had all of the momentum. He'd just beaten experienced politicians in the Republican primary, thanks in large measure to Donald Trump's endorsement, and the man he hoped to replace, respected GOP Senator Rob Portman, jumped on his bandwagon. So I was a bit surprised when Democratic Rep. Tim Ryan prevailed in the June Power Poll 59%-23%. Surely, I thought, Vance would use the rest of the summer to define his character and explain his governing priorities and, in a solidly red state, reclaim that momentum. But he didn't. And don't call me Shirley.
And now, less than a month from Election Day, Ryan has actually increased his margin over Vance among Power Poll members. As the 15% of June voters who declared themselves "undecided" came around to choosing, Ryan has a 38-point lead in our October poll, up two percentage points.
We all know that Southwestern Ohio is one of a handful of blue islands in a solidly Republican state, so let's not extrapolate these numbers to suggest that Tim Ryan will waltz into the U.S. Senate. But the fact that, after four months of a high-profile head-to-head campaign, he's maintained and even increased his favorable position among Power Poll members means something unusual is happening in this race. More unusual even than Vance's benefactor, Trump, joking that J.D. kissed his ass a lot in order to get his primary endorsement. A tight, too-close-to-call race is not what any of us anticipated in the spring.
Tim Ryan's campaign website is here.
J.D. Vance's campaign website is here.
There honestly isn't a lot going on with this race, as Mike DeWine has all of the weight of incumbency in his favor and is trying to pretend that he's running unopposed. "Nan who? Have her call my people. I'll get back to her after Christmas." Still, unlike the Senate race, the margin between DeWine and Nan Whaley has tightened from our June poll. Our members are currently favoring DeWine 46%-43%, while the Governor held an 11-point lead in June.
Per my comment above about living on a blue island in Cincinnati, with DeWine remaining ahead of Whaley here as we approach Election Day, that seems a harbinger of a fairly easy victory on November 8.
Mike DeWine's campaign website is here.
Nan Whaley's campaign website is here.
Among the five races discussed in the October Power Poll, the battle for Steve Chabot's Congressional seat may have the highest national profile. Or it did until Tim Ryan made the Senate race against J.D. Vance interesting. The current Democratic majorities in both the Senate and House of Representatives are razor thin, so the few truly competitive elections this year are receiving lots of attention and lots of outside money.
Thanks to redistricting, Chabot's 1st District now includes the entire city of Cincinnati; in previous elections, his district had just west-side city neighborhoods and all of western Hamilton County. Howard Wilkinson at WVXU writes that in 2020 the precincts making up the new 1st District voted for Joe Biden by 8.5 percentage points over Trump and in 2016 the precincts making up the former 1st District voted for Trump by 3 points over Clinton. In other words, the 1st District now leans Democratic, which gives Cincinnati City Councilman Greg Landsman a better shot against Chabot than previous Dem challengers like Kate Schroder, Aftab Pureval, and John Cranley. As Wilkinson also points out, Chabot outperformed Trump in the district in both 2016 and 2020 and has weathered all sorts of challengers over a 30-year Congressional career, so he's used to pulling out victories in what seem to be tight races on paper.
Power Poll members back Landsman in this race by 33 percentage points, with no earlier data points to compare against. That margin does, in fact, look good on paper.
Greg Landsman's campaign website is here.
Steve Chabot's campaign website is here.
For the sake of inclusion and variety, I added two Kentucky races to this month's Power Poll in which the incumbent Republicans are overwhelming favorites. Unfortunately, as I feared, the "turnout" for these races among poll members has been pretty low. Almost 80% of Power Poll members say they can't vote in Kentucky's 4th Congressional District, so we're left with 21% of members offering an opinion — and they like Democratic challenger Matthew Lehman over incumbent Rep. Thomas Massie.
Matthew Lehman's campaign website is here.
Thomas Massie's campaign website is here.
Likewise, almost 80% of Power Poll members say they can't vote for Kentucky's U.S. Senate seat, leaving a small number of opinions that show support for former State Rep. Charles Booker against incumbent Senator Rand Paul.
Charles Booker's campaign website is here.
Rand Paul's campaign website is here.
Again, Election Day is Tuesday, November 8. Sign up to be a poll worker if you have time!
About Power Poll: Power Poll asks questions of the most powerful, influential people in U.S. cities. It is not a scientific survey. But because the people responding to the surveys comprise the leadership structure of their cities, the results afford a fascinating glimpse into the thoughts, opinions, and beliefs of those in a position to make change. Power Poll is distinctly nonpartisan.