Warren Maintains Her Position As the Expected Winner
Mirroring national trends, Buttigieg showing some interesting mojo as well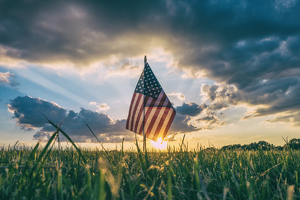 Elizabeth Warren maintains her clear lead in the expectations game in the latest New Hampshire Political Poll, with 45% of respondents saying they predict she will place first in the Feb. 11 New Hampshire Democratic Primary.
Few surprises there. She's next door. Well organized. Has an answer for everything. Is polling increasingly well everywhere.
Way down towards the single digits, however, fascinating nuggets begin to glimmer: "Mayor Pete" Buttigieg nearly tripled his showing, with 11% predicting he will place first in the primary. Further down in the questioning, when Power Poll members were asked whom they saw as placing second and third, Buttigieg rocked those as well, with 24% predicting he would place second and 19% third. Both were clear upticks from the last New Hampshire survey.
Meanwhile, as to the other two frontrunners—Joe Biden and Bernie Sanders—let it be said that Sanders appears to have regained the ground he lost in the last Power Poll following his heart surgery. 18% predicted he would place first. As for Biden, his woes continue. He lost even more ground in these results, with only 13% of respondents thinking he will win. By comparison, he was at over 30% in July.
Finally, we also asked the Power Poll members, who are by nature close to the contest, to state whom they think has the best ground-game in the state. The winners were Warren, Sanders, and Buttigieg, who respectively received 55%, 16%, and 9% of the votes.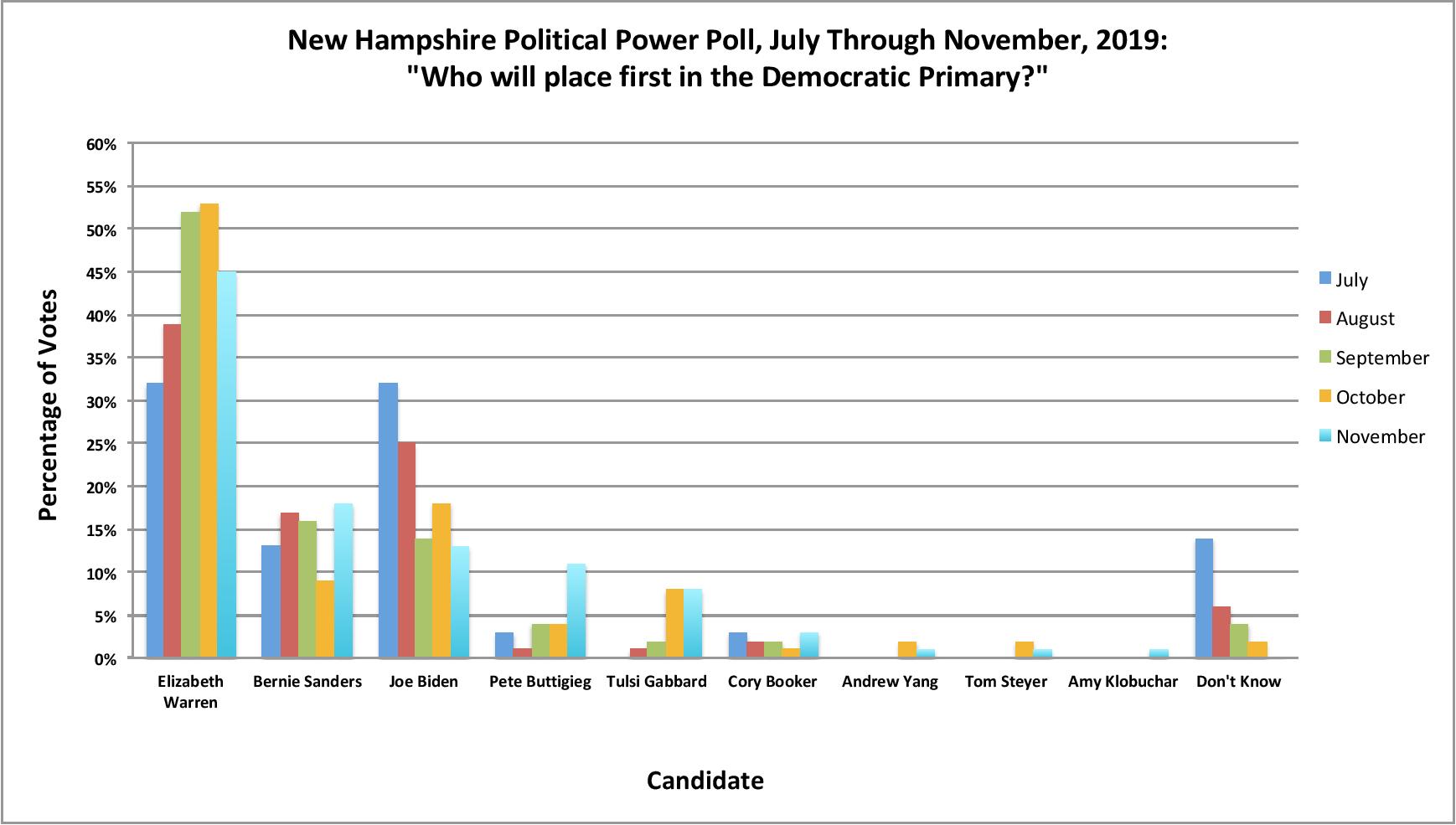 ABOUT THE POWER POLL
As we have said before, the Power Poll is not a scientific poll. Rather, the members of the New Hampshire Political Power Poll represent a cross-section of the state's most powerful political players. They represent both Republican and Democratic officeholders, party activists of both stripes, and prominent political consultants and reporters engaged in the process. For a look at the list of members, click here.
Meanwhile, the total number of those surveyed was 808, with 80 individuals responding, for a response rate of 9.9%. The poll commenced Monday and concluded Thursday.
MORE ABOUT THE RESULTS
Here are all the results. If a candidate is not listed, that means that particular candidate received no votes in that question.
Question #1: The New Hampshire primary will be held Feb. 11. Looking into your crystal ball, who do you think will place first among the Democrats?
Elizabeth Warren: 45%
Bernie Sanders: 18%
Joe Biden: 13%
Pete Buttigieg: 11%
Tulsi Gabbard: 8%
Cory Booker: 3%
Amy Klobuchar: 1%
Tom Steyer: 1%
Andrew Yang: 1%
Don't Know: 0%
Question #2: Who will place second?
Elizabeth Warren: 33%
Pete Buttigieg: 24%
Bernie Sanders: 19%
Joe Biden: 14%
Cory Booker: 3%
Andrew Yang 3%
Tulsi Gabbard: 1%
Kamala Harris: 1%
Amy Klobuchar: 1%
Don't Know: 3%
Question #3: Who will place third?
Bernie Sanders: 26%
Joe Biden: 25%
Pete Buttigieg: 19%
Elizabeth Warren: 11%
Andrew Yang: 5%
Cory Booker: 4%
Tulsi Gabbard: 3%
Michael Bennet: 1%
Marianne Williamson: 1%
Don't Know: 5%
Question #4: Which candidate has the best on-the-ground campaign organization?
Elizabeth Warren: 55%
Bernie Sanders: 16%
Pete Buttigieg: 9%
Tulsi Gabbard: 6%
Cory Booker: 5%
Joe Biden: 3%
Andrew Yang: 3%
Wayne Messam: 1%
Don't Know: 3%