Women's rights in Kentucky: Several steps back and a grim time ahead
Power Poll members expect more setbacks for privacy and healthcare access for people seeking pregnancy care.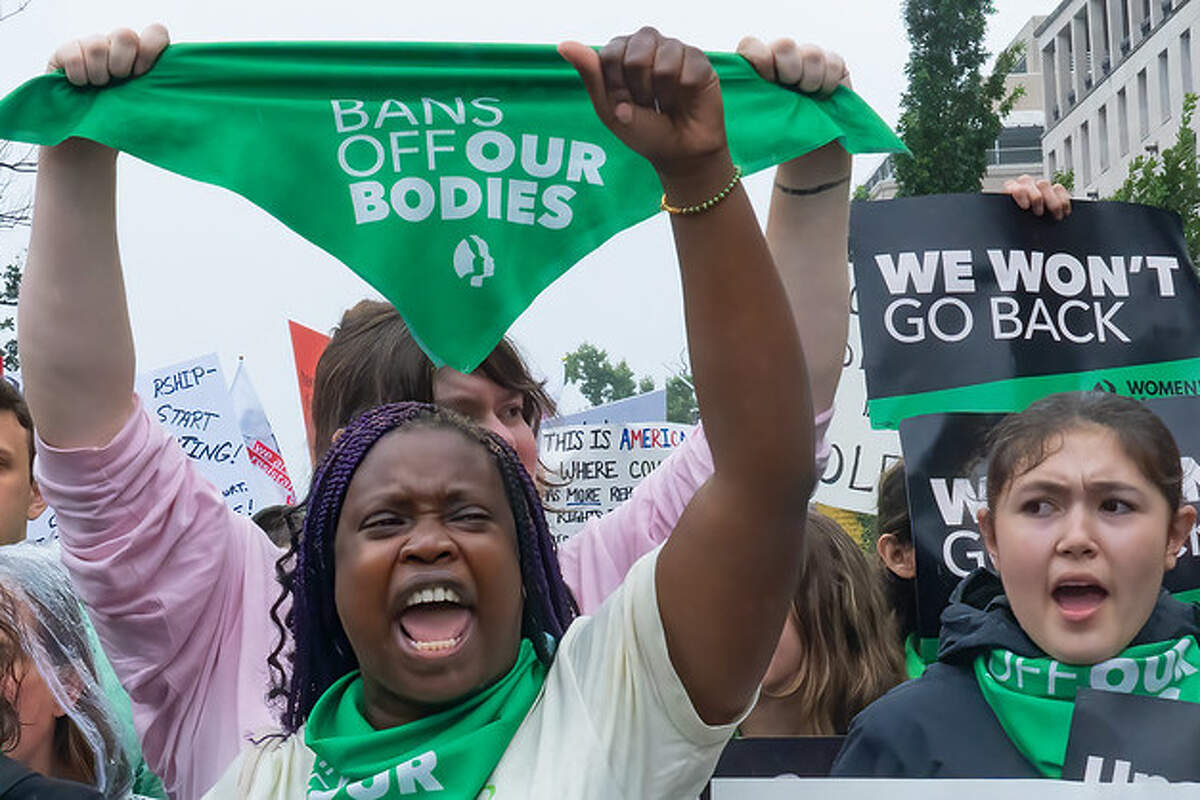 Congress passed the Equal Rights Amendment in 1972. It was then up to 38 states to ratify the amendment to the Constitution. Virginia did so in 2020, but the amendment has never been certified by the archivist of the U.S. and published in the National Register. Supporters say the ERA is now the 28th amendment, but the situation gets messy fast. Three states have petitioned to withdraw their approval and some legal experts say there is a time limit for the entire process.
The whole process reflects the many barriers to women's full equality under the law in America. Power Poll Louisville members see multiple factors at work in this equation with 46% choosing that reason for the stagnation of women's rights.
No one identified "Women's attitudes" as one of the barriers to equality. However, plenty of women vote, on a regular basis, for legislators who oppose equal pay and access to healthcare. White women in particular make this choice. In fact, President Donald Trump won more votes in 2020 from White women than he did in 2016: 47% in his first presidential run and 53% in his second. In both elections, Black women voted overwhelmingly for the Democratic candidate for president: 98% for Hillary Clinton and 95% for Joe Biden.
The second most common answer to this question was "The influence of religion on politics and the law." The demographics of the pro-life movement, based on an analysis by Pew Research, reinforces this idea. According to a report about views on abortion, White evangelical Protestants are the only religious group to believe abortion should be illegal in all or most cases at 74%. Majorities of White Protestants, Black Protestants and Catholics all believe abortion should be legal in most cases. Among people who don't follow a particular religion, 84% believe abortion should be legal in all or most cases.
Power Poll community members in Louisville predict more restrictions on access to healthcare. This is already happening on the national level. None of the Republicans representing Kentucky in the House voted for the Right to Contraception Act, a bill proposed and passed by Democrats. The act will "protect a person's ability to access contraceptives and to engage in contraception, and to protect a healthcare provider's ability to provide contraceptives, contraception, and information related to contraception."
Democrats are acting to protect one of the healthcare services that reduces the risk of unplanned pregnancies: birth control. In the Dobbs ruling, Justice Clarence Thomas called out the 1965 decision that established access to contraceptives: Griswold v. Connecticut. Estelle Griswold, the executive director of the Planned Parenthood League of Connecticut, was arrested and fined for providing "illegal birth control." She sued to overturn the 1879 law that threatened both the users and the providers of birth control with jail time and fines. The Supreme Court overturned this law and ruled that the "right to privacy," was fundamental and substantive.
Justice William Douglas wrote the decision and said that the Bill of Right's specific guarantees create a general "right to privacy" that cannot be unduly infringed. That is the very idea that Thomas and other conservatives judges are aiming to reverse; so much for precedent.
Women's health advocates have long said that one of the goals of the pro-life movement is to ban contraceptives. Kentucky's abortion ban has the potential to limit in vitro fertilization also.
The ban states that "unborn human being" covers "the entire embryonic and fetal stages of the unborn child from fertilization to full gestation and childbirth." The ban does not specifically cover embryos preserved in a fertility clinic, but doctors are concerned about how this ban could be interpreted and expanded. Kentucky Sen. Whitney Westerfield is in favor of banning abortion but sees no reason to limit IVF, according to an interview with WFPL. Westerfield told health reporter Jess Clark that he and his wife "adopted" four embryos from other couples, one of which survived the process and grew to become his youngest child. He said that's what he wants for all extra embryos.
Kentuckians will vote this fall on an amendment to the state constitution that explicitly bans any right to the medical procedure.
Power Poll members are optimistic that men who abuse their authority are more likely to be held accountable for their behavior. Forty-seven percent think this is the case while 27% disagree.
A Louisville woman is suing a fertility doctor who is alleged to have used his sperm during a fertility treatment in teh 1970s instead of a donor. Two laywers are calling on a third to resign after Facebook messages revealed a Commonwealth attorney promised legal favors to a defendant in exchange for nude pictures.
It's definitely progress to see men hold other men to account for their behavior. It's also good to see a woman go to court decades after a breach of trust occured. Many women never report sexual assault or harassment due to the well-founded fear that they won't be believed. These cultural shifts are take time to accomplish, but a Vox article identified nine long-term impacts of the #MeToo movement that show change is happening, including more protections for workers at the state level and bans on nondisclosure agreements that cover sexual harassment. The biggest shift the article by Anna North is a cultural one about how people perceive power: "... to show Americans and people around the world how widespread sexual harassment, assault, and other misconduct really are. As more and more survivors spoke out, they learned they were not alone. And people who had never had cause to think about sexual harassment before suddenly saw how much it had affected their coworkers, children, parents, and friends. All this has helped to change how many Americans think not just about sexual misconduct but also about gender and power."
Better health care for women and babies as well as paid family leave are the best ways to support new parents struggling with a new infant. Baby boxes are a nice idea but not the most effective way to help parents, according to Power Poll Louisville member.
Aleece Smith, Director of Inclusion and Sector Strategies at KentuckianaWorks, said the best answer to the question is "all of the above."
"We can't make assumptions about why parents are struggling, maybe having paid parental leave alleviates the struggles, maybe a parent just realizes that retaining custody is a terrible idea given the circumstances, maybe more psychological support is what is needed," Smith said in a comment on the article. "The list of remedies parents might need is endless."
During a recent episode of In Conversation on WFPL, Dr. Edward Miller a maternal-fetal medicine physician at the University of Louisville, described how insurance coverage for pregnancy has shifted over the last few decades to focus almost exclusively on the baby.
"What we see over and over again is that the system separating the health of the mom and the baby: there's maternal and there's fetal," he said. "If you look at history, we place a greater emphasis on the fetal (health) than the mom."
Five hundred and fifty public health experts and reproductive health researchers warned the Supreme Court that banning abortion would put more women's lives at risk: "…women living in states with the most restrictive abortion policies — and thus the least abortion access — were found to be more likely to die while pregnant or shortly thereafter than women living in states with less restrictive abortion policies, regardless of state-to-state differences in poverty, race/ethnicity, and education."
In fact, women in Kentucky die during or soon after a pregnancy more often than the rest of the country. The Centers for Disease Control and Prevention found that between 2018 and 2020, Kentucky's rate was almost 40 deaths per 100,000 live births--double the nationwide rate. A recent story from WFPL's Aprile Rickert highlighted one of the big problems: many counties in the state have no OB/GYN. One doctor interviewed for the story said "The post-Roe situation, and the issues we have with maternal mortality, and the issues that we have with access to care in rural areas of the United States […] are all coming together in a way that is going to make our situation when we are trying to fight a battle against maternal mortality 1,000 times worse."
Photo by Victoria Pickering via flickr
Power Poll Members: Do you have a friend or colleague who should be on Power Poll? Please invite them to join!
About Power Poll: Power Poll asks questions of the most powerful, influential people in U.S. cities. It is not a scientific survey. But because the people responding to the surveys comprise the leadership structure of their cities, the results afford a fascinating glimpse into the thoughts, opinions, and beliefs of those in a position to make change. Power Poll is distinctly nonpartisan.
Corporate Sponsor
We thank the following organizations for their support of Power Poll. Learn more about becoming a sponsor here.