September 23, 2022 8:00am
Unions in Louisville: Members see many reasons why workers are taking action
Power Poll members see a better than usual chance for success for employees leading unionization drives.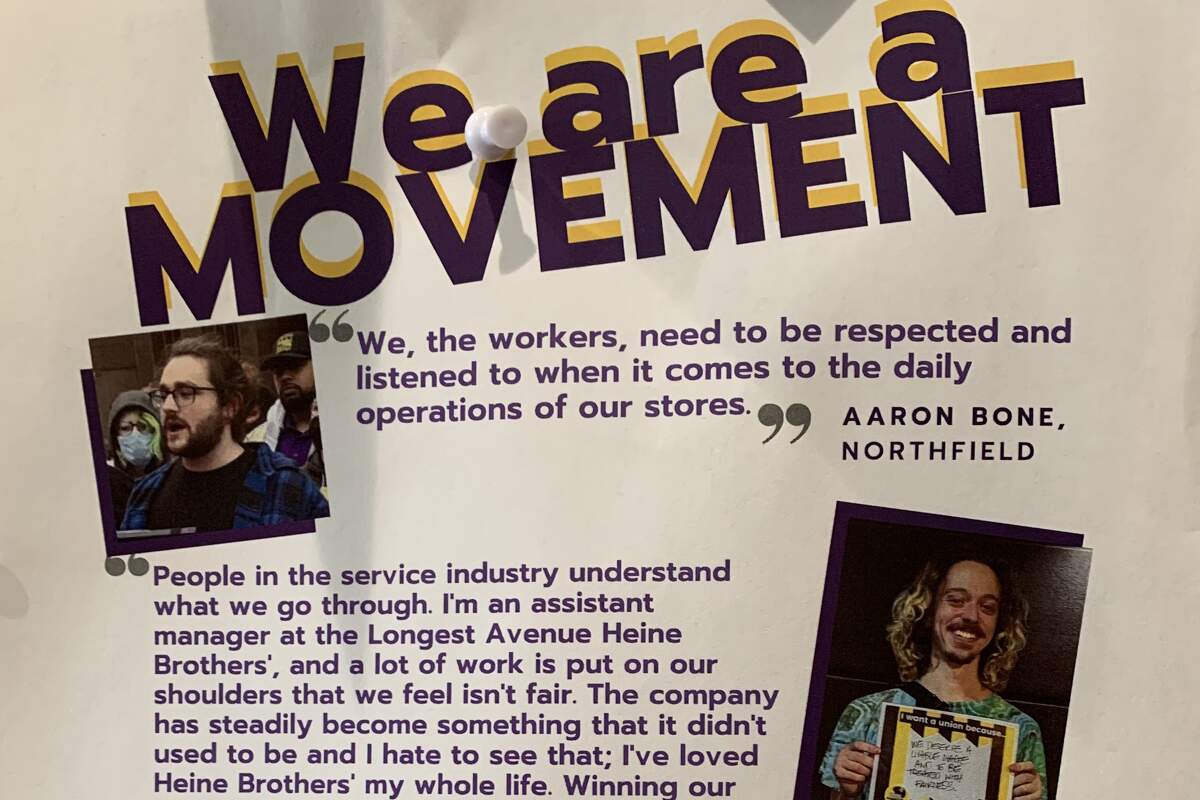 It's been a good year for organized labor in the U.S. and Louisville is part of that trend. Coffee shop workers at Heine Brothers' Coffee voted to unionize recently and journalists at The Courier-Journal announced they voted to do the same. These local efforts reflect a nationwide trend across several industries as workers join forces to demand better wages and working conditions.
The Littler Workplace Policy Institute released a new report on the state of worker and management relations earlier this month, "WPI Labor Day Report." The fourth annual report analyzed the gap between the unemployment rate, the changing nature of work and policy trends. Unionizing efforts are up sharply this year:
"As was reported by the NLRB in July of this year, "during the first nine months of Fiscal Year 2022 (October 1–June 30), representation petitions filed at the NLRB have increased 58%—up to 1,892 from 1,197 during the first three quarters of FY2021. By May 25, FY2022 petitions exceeded the total number of petitions filed in all of FY 2021. At the same time, unfair labor practice charges have increased 16%—from 11,082 to 12,819."
The analysts predict that the U.S. may be on the cusp of the most "pro-union eras in modern history." Democrats may soon have a majority on the National Labor Relations Board which could lead to significant changes in labor policy. This is part of the motivation behind unionizing efforts this year, according to the report.
Power Poll Louisville readers are mostly in favor of labor unions and think frustration with working conditions, the disparity between worker and executive pay, and inadequate benefits are driving people to form unions at higher rates than usual. Sixty-one percent of respondents selected one of those three answers. A recent study of the top 300 companies in the U.S. found that CEOs make an average of $10.6 million while the average worker makes $23,968. The report also found that two-thirds of low wage corporations that cut worker pay in 2021 also spent billions of dollars in stock buybacks. Businesses often use this tactic to increase CEO pay instead of putting profits back into other parts of the company.
Twenty-five percent of Power Poll Louisville respondents see the unionization efforts in a more negative light and being driven by unrealistic expectations on the part of workers.
Helen Deines, a retired professor and social activist, sees the drive to unionize as a crucial response to the gig economy.
"As large corporations have cut benefits, classified employees as 'independent contractors,' and ended pensions, workers see the writing on the wall," she said. "Regrettably, small local businesses such as Heine Brothers become equated with Starbucks. The lesson for us all is to ensure participation for workers in the conversation with bosses in establishing fair working conditions and compensation packages."
A trend toward success
Power Poll Louisville readers see the chances of workers winning a vote to form a union as somewhat more likely at this point in time with 61% selecting that answer. Eighteen percent of respondents said these union drivers were somewhat or very unlikely to succeed with only 8% indicating that the chances were very likely.
Vox found that unions are winning the vote more often this year as well with 76% win rate, which represents one of the highest win rates over the last 20 years.
Strikes are up also with 78,000 people joining a picket line in the first half of 2022 as compared to 26,500 in the first half of 2021. Analysts think that the stressful and risky working conditions during the pandemic are motivating workers to negotiate better working conditions.
Patronizing unionized businesses
A recent Gallup poll found that approval rates for unions are at their highest levels since 1965. Seventy-one percent of Americans think unions are a force for good, up from a low of 48% in 2009. Only a few Power Poll readers would change their spending habits if workers at a business decided to form a union. Forty-eight percent said it makes no difference and 31% said they would be more likely to patronize a company with a unionized workforce. Only 17% would be less likely to spend money at businesses with unionized workers.
David James, Councilman District 6 at Metro Council, said he supports the men and women in labor unions 100%.
"Unions are the backbone of our great country and unions created the middle class of America," he said.
As Helen reminds us, "Never forget who brought us an end to child labor and the gift of the weekend: U.S. Labor unions!"
Power Poll Members: Do you have a friend or colleague who should be on Power Poll? Please invite them to join!
About Power Poll: Power Poll asks questions of the most powerful, influential people in U.S. cities. It is not a scientific survey. But because the people responding to the surveys comprise the leadership structure of their cities, the results afford a fascinating glimpse into the thoughts, opinions, and beliefs of those in a position to make change. Power Poll is distinctly nonpartisan.
Corporate Sponsor
We thank the following organizations for their support of Power Poll. Learn more about becoming a sponsor here.