The governor and the Kentucky General Assembly
Covid-19 measures, an impeachment committee ... and guns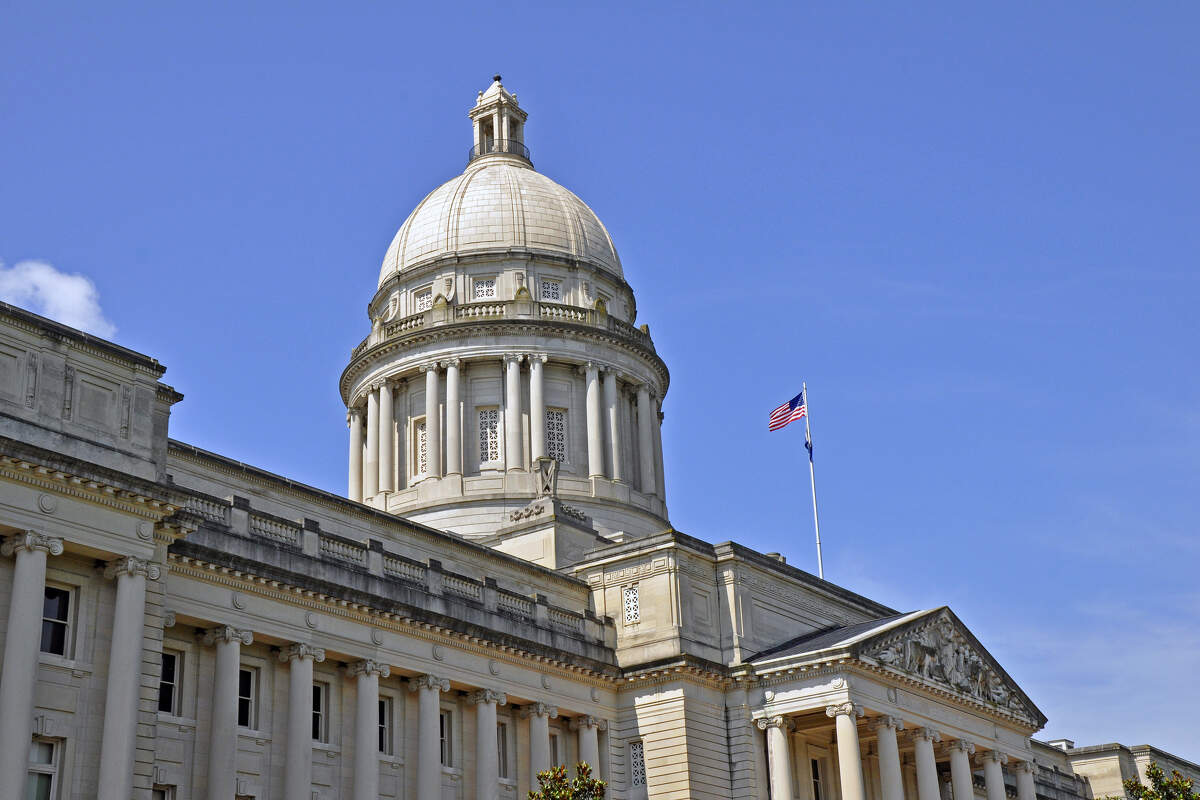 Washington, D.C., isn't the only capital city with talk of impeachment and armed citizens.
Hello, Frankfort.
Kentucky's General Assembly began its latest session shortly after the turn of the new year, with Republicans safely and securely in the (super)majority of both chambers. Not so with the governor's mansion, where Democrat Andy Beshear spent his first year in that executive branch office dealing with the Covid-19 pandemic.
Toward that end, Beshear issued guidelines affecting areas ranging from school attendance, to church services, to "non-essential" business closings, to mask wearing in shared, public spaces— applauded as necessary life-saving measures by many Kentuckians, attacked by others as tyrannical infringements on personal freedoms.
Republicans in the legislature were critical of the governor and his actions from the beginning of the pandemic, and that criticism bloomed this year into bills to clip a governor's wings regarding emergency management. Last year, the Kentucky Supreme Court unanimously supported a number of Beshear's emergency Covid-19 measures, and the governor has vetoed three bills passed this session that would limit such gubernatorial powers in such circumstances.
Additionally, last February, gun-toting Kentuckians entered the Capitol to demonstrate their support for Second Amendment rights and their opposition to proposed gun reform legislation. Armed protesters showed up again in the spring when they gathered outside the Governor's Mansion and hung Beshear in effigy. Kentucky law allows citizens to carry guns in the Capitol and on its grounds. But the images were more than disturbing — at the same time guns were acceptable in the building umbrellas were not — and rang bells when armed rioters stormed the U.S. Capitol on Jan. 6, and after earlier images of armed protesters at other state capitals/capitols were widely shared. Just how good an idea is it to allow guns inside seats of government? (The accompanying photo is a Getty Image taken inside the Kentucky Capitol last February.)
So we had a lot to talk about in the January 2021 Power Poll.
This time, Tom Eblen, the Power Poll editor for Lexington, Ky., and I decided to ask the same Kentucky-centric questions regarding the governor, the General Assembly and Covid; and guns at the Capitol, of our members. Tom came up with the questions this time, and they couldn't be improved upon so I shared him with you, too, this month.
The headline on the outcome of this month's polling:
A vast majority of Louisville and Lexington respondents — maybe we can call them a supermajority, too — does not support the legislators' efforts to curtail the governor's ability to act in emergencies.
Most also do not support the formation of a committee to study Beshear's impeachment.
And guns? Only 10 voters in both sets of voters said citizens should be allowed to carry firearms in the Capitol and on its grounds. An asterisk should be attached to one of the votes, given the voter's reasoning, included in the comments section below.
The General Assembly might want to take a good look at these questions and answers from Louisville and Lexington as they move forward when they reconvene. The world — including Kentucky — might have changed a little since the insurrection of Jan. 6 and since they started filing and passing their bills.
Here are the details of the poll. In Louisville, 45 percent of the 131 queried answered. In Lexington, 61 percent of the 181 questioned sent answers.
Based on a handful of citizen complaints about Gov. Andy Beshear's executive orders to reduce the spread of COVID-19, Republican legislators have formed a committee to study impeachment of Beshear. Do you support this move?
Louisville
Yes — 8.5 percent
No — 89.8 percent
Not sure — 1.7 percent
Lexington
Yes — 4.8 percent
No — 93.3 percent
Not sure — 1.9 percent
Republican legislators are fast-tracking proposed laws that would limit a Kentucky governor's ability to take actions in response to COVID-19 or future emergencies beyond 30 days. Do you support these efforts?
Louisville
Yes — 11.9 percent
No — 81.4 percent
Not sure — 6.8 percent
Lexington
Yes — 12.5 percent
No — 80.8 percent
Not sure — 6.7 percent
Kentucky law and regulations allow citizens to carry firearms inside the state Capitol building and on its grounds. Should this practice continue to be permitted?
Louisville
Yes — 8.5 percent
No — 88.1 percent
Not sure — 3.4 percent
Lexington
Yes — 4.8 percent
No — 93.3 percent
Not sure — 1.9 percent
One more thing: The National Governors Association has selected Beshear to co-chair its Economic Recovery and Revitalization task force with Republican Gov. Henry McMaster of South Carolina.
As The Courier Journal reported: " ... Beshear has been the primary architect of the commonwealth's statewide approach to the coronavirus since it hit the U.S. in March 2020.
"Wednesday's announcement about the task force comes as he is in the midst of a clash with the state's Republican-run legislature over his handling of the pandemic."
A prophet without honor in his own commonwealth? Stay tuned.
Your takes on these issues:
— Marsha Weinstein: "It is outrageous that there is an effort by Republicans to stop the governor from protecting Kentucky citizens from dying!"
— Hannah Drake: "Gov. Beshear is trying to save lives in a time we have never seen before. It is as if Kentucky is building the car as we are driving it. We may not always get it right but we are learning as we go. What is the acceptable number of people to die that would please the Kentucky GOP? We are in a crisis. We don't have time to play political games. Lives literally are hanging in the balance."
— Tina Ward-Pugh: "Of course I don't support weapons and firearms in the Capitol. But I replied 'yes' because if it is OK to allow them in our workplaces, it should be allowed in theirs."
— Linda Duncan: "I am disappointed our legislature can't think of better ways to help Kentuckians through a pandemic than to waste time challenging the governor's efforts to slow the spread of this vicious virus."
Until next time. Wear your mask, wash your hands, use your hand sanitizer and practice social distancing. Be well.
About Power Poll: Power Poll asks questions of the most powerful, influential people in U.S. cities. It is not a scientific survey. But because the people responding to the surveys comprise the leadership structure of their cities, the results afford a fascinating glimpse into the thoughts, opinions, and beliefs of those in a position to make change. Power Poll is distinctly nonpartisan.