The Former Governor's Pardons
Former Gov. Matt Bevin made headlines with hundreds of last-minute pardons, some for violent criminals, on his way out of office. Here's what you think about that.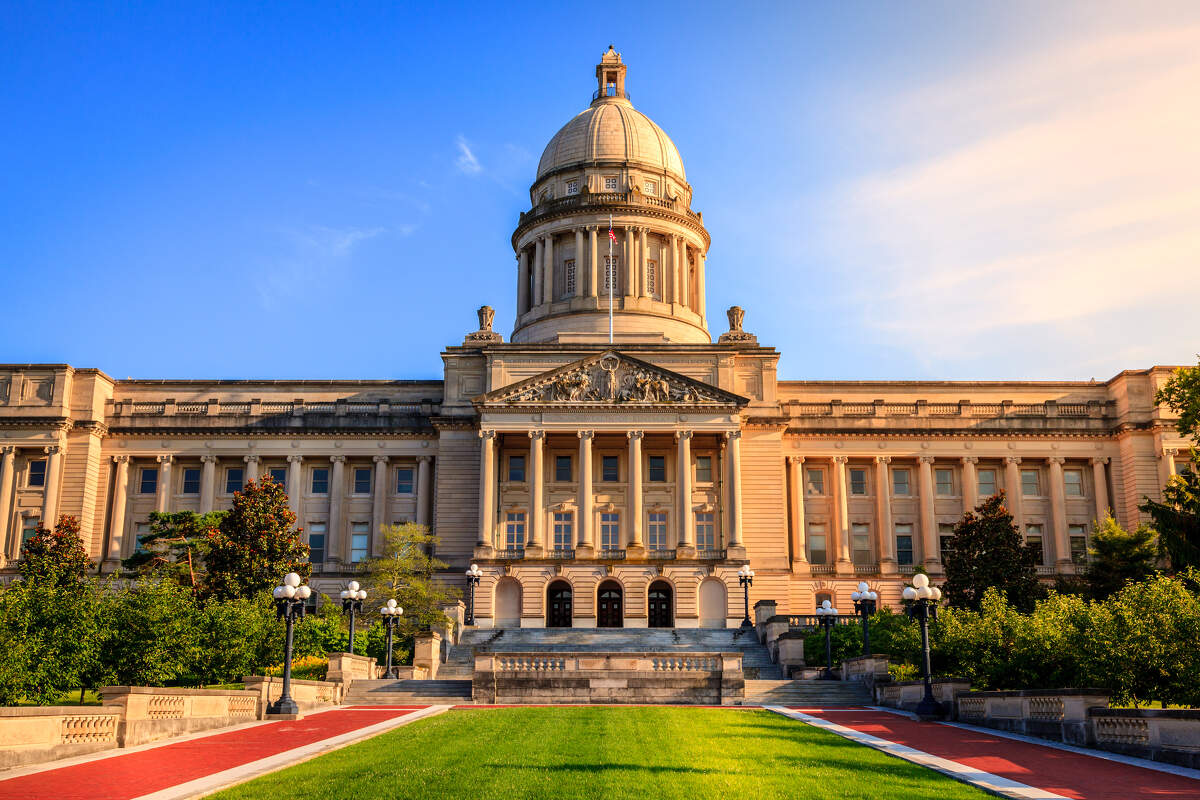 A Southern governor is embroiled in controversy having to do with pardons, including for convicted killers, he issued toward the end of his term in office.
You think this has happened only to Kentucky and Matt Bevin, recently ousted by voters? We didn't even know about all this when Democrat Andy Beshear bested the Republican incumbent by about 5,000 votes.
Forty years before Bevin left his pardon mark on his way out the commonwealth's governor's office earlier this month, a guy named Ray Blanton, Democratic governor of Tennessee, caused enough of a stink to inspire a song, a movie and a prison sentence, not to mention being shoved out of office a few days early to prevent him from issuing more pardons.
"Pardon me, Ray," went the "Chattanooga Choo-Choo" parody by The Gitch Your Own Band back in the day, "are you the cat who signs the pardons? Since you're an old friend of mine, put your name on the line ... "
"Marie," a big-screen film starring Sissy Spacek, was about the pardon and parole official responsible for the federal investigations into Blanton and Co., and co-starred Fred Thompson as himself; before he became famous as a U.S. senator, presidential candidate and "Law & Order" DA, he was the woman's attorney in real life.
As for Blanton, he served 22 months in federal prison after being indicted for mail fraud, conspiracy and extortion for selling liquor licenses. He died in 1996 after failing in a political comeback. According to his Wikipedia entry, though, Blanton placed in the Top 10 of RealClearPolitics' list of most corrupt politicians of all time.
These are still early days when it comes to Bevin's 11th-hour pardons of hundreds of convicted criminals, so it's too soon to tell if his spree will spin off into multimedia platforms as the Blanton saga did. But the sordid nature of some of the crimes committed by some of those pardoned already has earned Bevin ire, slings and arrows (including friendly fire from fellow Republicans), plus threats of investigations and one real investigation already. He's been out of office only since Dec. 10.
The Courier Journal in Louisville has been doing great work in looking into the pardons and publishing its reporters' findings. The latest can be found at this link:
https://www.courier-journal.com/story/news/politics/ky-governor/2019/12/18/bevin-pardons-murderers-and-child-rapists-among-most-controversial/2686266001/
Two headlines in the ongoing series of stories capture some of the passionate response to one of the pardons: "Bevin pardons include convicted killer whose brother hosted campaign fundraiser for him" and "'Matt Bevin can rot in hell': Family of murder victim reacts to pardon of donor's relative." The newspaper also covered the donor family's attorney saying the family had done nothing wrong.
As negative as some reactions to some of the pardons have been, it also is worth noting that sometimes executive clemency is the only remaining rectification for an unjust verdict or punishment.
Still, Kentucky and Bevin have made national headlines with the pardons because A) Bevin made the hundreds of pardons with a bang on his way out, and B) state law allows him, or whoever is governor, to pardon.
A nifty site operated by the Restoration of Rights Project offers a resource comparing pardon laws and practices among the 50 states, most recently updated this month: http://ccresourcecenter.org/state-restoration-profiles/50-state-comparisoncharacteristics-of-pardon-authorities/
Under "type of administration," Kentucky's listing reads: "Governor decides, parole board may be consulted. Ky. Const. § 77. Governor may also restore rights of citizenship, office. Id. §§ 145, 150. Governor reports to legislature reasons for each grant. Id. § 77."
Under "type of process," Kentucky's listing reads: "No public hearing. Pardon applications sent directly to the governor with reasons for seeking relief and letters of recommendation. Simplified ROR (restoration of rights) process administered by DOC. Ky. Rev. Stat. Ann. § 439 et seq."
Reading through the rest of the states, some list independent boards named by governors that make pardon decisions; others include the governor and others, sometimes cabinet members, who decide; still others require the governor to consult and/or report pardons to other entities.
It's worth a read for citizens and/or officials who are piqued by Bevin's actions. Lawmakers and others who think the former governor overstepped, or overreached, might find answers and remedies in this list.
As for Power Pollers, yep, in the wake of the controversy, we asked you what you thought of former Gov. Bevin's pardons. Twenty-two percent of you answered (thanks for taking time out of your holiday hustle and bustle), and here are your responses:
— You were evenly split about whether Kentucky's governors should have the freedom to pardon whomever they want: 42 percent said yes, 44 percent said no. Fourteen percent said "I don't know."
— 59 percent said the General Assembly should change Kentucky's law outlining what the governor can and cannot do, regarding pardons; 25 percent said no; 15 percent said "I don't know."
— A whopping 73 percent said you support a formal investigation into Bevin's last-minute pardons. Twenty-two percent said no, and 5 percent said "I don't know."
— 58 percent said the nature of some of the pardons for violent crime shakes your confidence in Kentucky's justice system; 39 percent said it doesn't; 3 percent said "I don't know."
— 56 percent said adding too many restrictions to a governor's freedom to pardon would not shake your confidence in Kentucky's justice system; 31 percent said it would; 14 percent said "I don't know."
Incidentally, 40 years after "Pardon Me, Ray," Tennessee's "type of administration," per RRP, reads, "Governor has the power to pardon. Tenn. Const. art. III, § 6. Governor advised by the parole board. Tenn. Code Ann. § 40-28-104. Must report grants and reasons to legislature "when requested." Tenn. Code Ann. §§ 40-27-101, 107."
Tennessee's "type of process" reads, "Public hearing and notice to prosecutor is required. Board must send names of those it is recommending and those it is not to legislative committees. Governor must notify AG and DA before grant is made public; they notify victim. Tenn. Code Ann. § 40-27-110."
See you next month.
About Power Poll: Power Poll asks questions of the most powerful, influential people in U.S. cities. It is not a scientific survey. But because the people responding to the surveys comprise the leadership structure of their cities, the results afford a fascinating glimpse into the thoughts, opinions, and beliefs of those in a position to make change. Power Poll is distinctly nonpartisan.