Legal cannabis in Kentucky
What Power Poll members think about legalized medical marijuana in Kentucky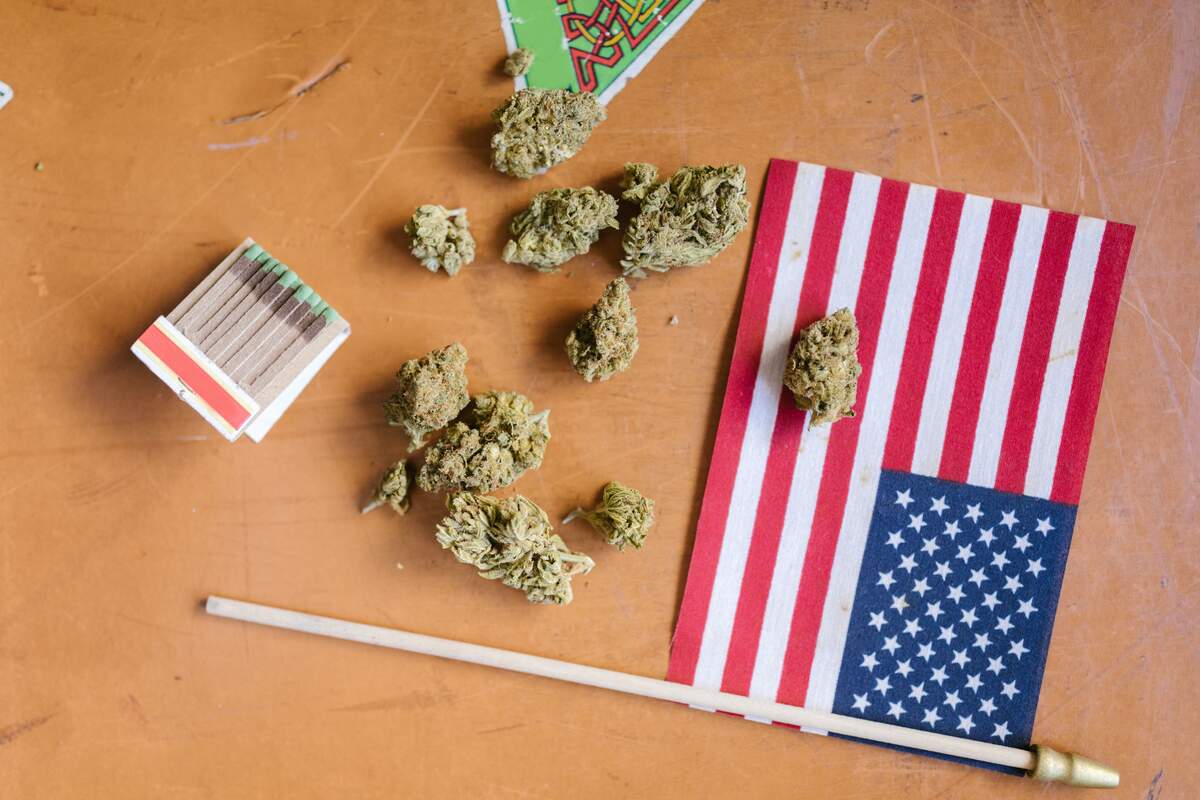 A little history
The current legalization of marijuana and its derivatives is not a new topic, though it's only been in recent years that laws began to change.
In 1619, the Virginia Assembly passed legislation requiring every farmer to grow hemp. The plant was allowed to be exchanged as legal tender in Pennsylvania, Virginia and Maryland, according to Frontline's Marijuana Timeline. But in the early 20th Century, Mexican immigrants began to pour into the United States, and they introduced recreational use of cannabis to American culture. Anti-drug campaigners warned of the "Marijuana Menace," attributing terrible crimes to the drug and its users.
In the 1930s, the Federal Bureau of Narcotics strongly encouraged state governments to adopt the Uniform State Narcotic Act, and by 1937, 35 states had.
In the 1960s, cannabis use became more popular among the white middle class with the rise of the counterculture. Reports commissioned by Presidents Kennedy and Johnson found that marijuana use did not induce violence nor lead to use of heavier drugs. But the Reagan administration enacted stricter laws with mandatory sentences for drug use and distribution.
In 1996, California became the first state to allow for medical marijuana to help treat several conditions for which cannabis can help or alleviate symptoms, and several states followed suit.
In 2012, Colorado and Washington became the first states to legalize cannabis for recreational use, and several others have followed. As of now, 37 states allow medical marijuana, and 21 states have made recreational use legal. Ten states have decriminalized it.
Kentucky, Indiana and Tennessee have managed to keep cannabis illegal until now. On Nov. 15, Gov. Andy Beshear signed an executive order allowing medical cannabis. That law will go into effect on Jan. 1, 2023.
A lawyer and perennial candidate for governor Gatewood Galbraith campaigned for legal cannabis in Kentucky for many years, arguing that people had the right to privacy in their own homes, which included cannabis use.
Beshear's executive order
Beshear created the Team Kentucky Medical Cannabis Advisory Committee in June after bipartisan efforts to pass a law stalled in the Kentucky Senate, the Courier Journal reported. "Polling suggests 90% of Kentucky adults support legalizing medical cannabis. Our team traveled the state to talk directly to Kentuckians, and they found our people do indeed overwhelmingly support it," Beshear said in a news release. "I appreciate the work of those who participated, and I am taking this information into consideration as I analyze what steps I can take to legalize medical cannabis for those suffering from chronic, debilitating medical conditions."
The committee reviewed 3,539 comments submitted online, with 98.6% of those supporting medical marijuana's legalization while just 1.4% opposed it, the Courier Journal said.
"Our nation is dealing with a critical crisis from the overuse of addictive opioids. The people we heard from are looking for pain relief that allows them to live useful, productive lives," said Ray Perry, co-chair of the committee and secretary of the Public Protection Cabinet in the release. "We heard about family trauma stemming from unresolved pain and addictive painkillers. We also heard the frustration that politics deprives them of legal access to an efficacious treatment available to an overwhelming majority of Americans."
The open-ended question
Our final question garnered lots of responses: How do you think legalizing cannabis and medical marijuana would affect Kentucky? Why?
There were 63 written anonymous answers to this question. While many touted the benefit of raising tax revenue in the state, some did not like the idea and said there are better ways to raise revenue.
Some of the answers (unedited for spelling and grammar):
Its impact would be a negative influence on young people and a slippery slope towards a gateway to other drug abuse.
TERRIBLE IDEA
Leads to other drugs being tried
Same as other states. It's a non-event
Provide access to treatment for those that are helped by this; provide more tax revenue for something that has been sold illegally for years.
I am in favor of legalization with regulation and taxation. What we have now is a black market that we cannot even pretend to control and no financial benefit to offset costs for recovery programming and management.
Recognizing reality and the value to many of the medical marijuana.
It will first allow law enforcement to focus on real crime.
I think it would transform a market that is currently illegal and possibly run by organized crime into a market that is legitimate, this taking away the competitive advantage in the surrounding states that have already made cannabis legal. In addition, it would allow the police to focus on violent and deadly crimes and significantly reduce the number of people in prisons.
For medical purposes - I think the benefits outweigh the cons and give people much needed relief from discomfort. I don't see a lot of negative impact here so long as it is responsibly prescribed.
Agriculturally, Kentucky is prime location for growing hemp and marijuana. This could be a huge economic, boom for the state for both are farmers and tax revenue collected from sales.
help with the opioid crisis and generate some much needed revenue for Kentucky.
increase tax dollars and stop criminalization of weed. Also decreases organized crime much like the repeal of prohibition
Would keep KY in line with practices accepted by other state. The potential to collect state tax fees from what is well known as the largest cash crop in the state could very benefit us.
Bring a bunch of pot heads
Reduce opioid dependency and imprisonment rates for cannabis related drug offenses.
Why NOT should be the question. I also live in Maine where recreational pot is legal and I do not see people slurring speech or acting silly at the grocery or on the streets. Like prohibition the war on drugs has long been lost... time to move on!
It might make the commonwealth more attractive for in-migration.
It would remove the stigma of using these natural products for healing benefits for those suffering from ailments such as arthritis (my mother), Crohn's disease (my brother and son) and help many people with inflammation sleep peacefully at night.
The legalization of medical Marijuana seems to be a reasonable first step in determining the best direction for Kentucky. To me the issue ultimately must be considered through the lens of medical research to protect those vulnerable to addiction at the forefront of our political decision making.
I think marijuana use among teenagers will rise as it has in the other states. As will the negative side effects of teenage marijuana use — school suspensions, car accidents, but to mention the long term I'll effects it has on their brain development.
Legalizing cannabis for medical reasons is fine, but not for recreational use. I wouldn't support the use of other drugs for recreational use, either…
It would be a much needed revenue source for Kentucky and potentially drive economic growth in a state with regions of extreme poverty.
Generate revenue, reduce crime and racial disparities in justice system, lower prison expenditures.
Prohibition has been a failure
I think legalizing cannabis and medical marijuana would be good for Kentucky's economy. I do not think that decision would have an adverse affect on the health of Kentucky ctizens
Increased tax revenue, health benefits of some of these
It will normalize drug use in a state with a serious drug problem. Marijuana does impact the brain chemicals of teenagers.
Legalizing medical Marijuana is fine. Legalizing cannabis overall seems a step too far given Kentucky's addiction struggles. However, given our obsession with bourbon, I make no claim to logic.
Negative impact on hiring certain jobs
It will make us less bright, more lethargic, and less social. Fact not speculation.
It would decrease arrests and legalization with taxation will add revenue
More visits to hospital emergency rooms by kids experiencing drug-induced psychosis. Sounds like a great idea!
Good taxable and help those who are ill cope by offering a proven supplement for pain and illnesses.
We are not healthy individuals as a whole and maybe medical marijuana will help individuals overcome pain pill additions.
It would add needed tax revenue to the state — same as alcohol but with less harm.
Fortunately, there are other states that have already implemented these choices, from which we can learn and assess projected impacts to Kentucky.
Should see an initial flurry of revenue. Then settle down. Depends h ow law is written. KY residents only?
It's life affecting and addictive for people- moderation is up to individuals but I know too many people that have to have it every day
Kentucky has thousands of people with cancer due to still high rates of smokin
It would give us an economic replacement for tobacco - revenue for Kentuckians if we grow and for government services if we tax
Power Poll Members: Do you have a friend or colleague who should be on Power Poll? Please invite them to join!
About Power Poll: Power Poll asks questions of the most powerful, influential people in U.S. cities. It is not a scientific survey. But because the people responding to the surveys comprise the leadership structure of their cities, the results afford a fascinating glimpse into the thoughts, opinions, and beliefs of those in a position to make change. Power Poll is distinctly nonpartisan.