Kentucky Governor's Race (early poll)
Will Gov. Andy Beshear fend off challenger Daniel Cameron? Louisvillians say yes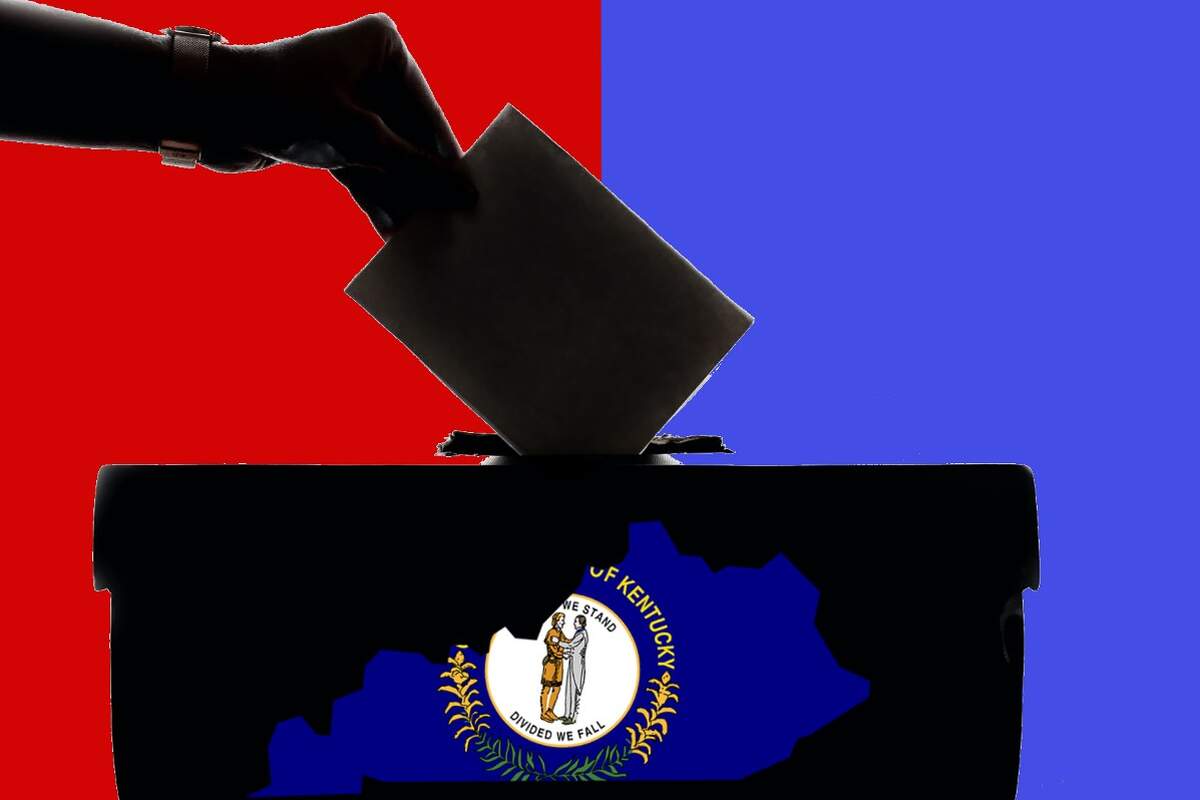 Illustration: Lisa Hornung | Images: Kjrstie/Pixabay and Element5 Digital/Unsplash

It's another election year for Kentucky voters, and Kentucky's governor's race is definitely one to watch. While Kentucky has a long history of Democrats for governors, in the past 20 years, the state has moved further to the right.
When Gov. Andy Beshear narrowly beat Matt Bevin in 2019, it seemed like a Democratic miracle. But Bevin was extremely unpopular throughout the state, having made the fatal mistake of attacking teachers. But winning over Bevin was one thing. Keeping the office in a very red state is quite another.
Kentucky is politically dark red
In presidential elections, Kentucky has only given its electoral votes to a Democrat four times since 1956 (Bill Clinton x2, Lyndon Johnson and Jimmy Carter). But interestingly, the breakdown of political party members is pretty close. According to the State Board of Elections, as of May 2023, there were 1.53 million Democrats and 1.59 million Republicans registered to vote. That's about 60,000 more Republicans than Democrats. There are 143,820 independents, and 183,805 listed as "other."
But we all know that not everyone votes the way they're registered, and independents tend to think, well, independently. So, the outcome of this election is still anybody's guess.
Andrew Stanton of Newsweek said, that Cameron is "seen as a rising star in GOP politics and made history as the first Black candidate to become a major party's nominee in a Kentucky gubernatorial race." But Beshear "is a popular governor who narrowly defeated former Governor Matt Bevin in 2019."
Some are predicting that Kentucky is a test case for the coming presidential election. Eric Bradner of CNN said that Kentucky's race will "test whether a Democratic incumbent can survive in a deep-red state where his party's voter registration advantage has been erased in recent years and the political environment is increasingly dominated by national themes."
The polls might give us some insight into how this is going … or not. FiveThirtyEight.com shows it as a toss-up. All six polls on the site show Beshear winning, even the one sponsored by Cameron. But before the Dems get too excited, look at the margins — they're extremely close! The latest one by Cygnal in May shows them both at 47 percent.
What do Power Poll members think?
There are a lot of factors at play, and it will be an interesting race to watch. While it's a bit too early to call it, we decided to ask what you think. Most of our members are from the Louisville area, which skews Democratic. But Louisville is not a monolith. There are plenty Republicans in the area, too.
We asked, who do you predict will be Kentucky's next governor? Eighty-one percent said Gov. Andy Beshear, and 19 percent said Attorney General Daniel Cameron. This time we didn't allow you to waffle with an "I don't know" option. We made you choose, and you leaned heavily toward Beshear. Interesting.
We asked if you are already sick of the campaign ads? Fifty-two percent said yes, and 48 percent said no (who are these people?). This writer was sick of them when the first one appeared.
Now we want to know your vote: 78 percent said Beshear, and 22 percent said Cameron. What's interesting here is that 3 percent of you said Beshear will win, but you will vote for Cameron. (We'd love to hear from you about this!)
Here we asked if you think Beshear can win again: 83 percent said yes, while 17 percent said no. Just a slight uptick for Beshear from question 1.
For question 5, we asked, why do you think Beshear will win, or why do you think Cameron will win? Here are your answers:
I don't know who will win for certain, but if a full/fair investigation of Beshears's tenure is done, Cameron will win 3 to 2.
Beshaer is the best candidate
Because he has been a great Governor who cares about the people.
The Governors heavy handedness during the pandemic is long forgotten and he has does a very good with the economy and navigating a Republican controlled House and Senate.
High approval rating
Gov Beshesr's record for economic development is excellent. He has proven he stands for all people regardless of party. He presents a positive message.
Just don't think Cameron can win enough people over to his style of leadership and message. His alignment with former president is not very
Beshear has done a great job regardless of party
Governor Beshear put the health and welfare above all else during the pandemic.
I think Cameron has too much baggage from the Brionna Taylor incident, and his stance on abortion
He is the better choice.
Gov. Beshear's Office has a strong track record of caring about all Kentuckians. His leadership has gotten us through very challenging times. His compassion for others is authentic. I believe that, regardless of politics, the majority of Kentuckians recognize that and appreciate the consistency a second term with Gov. Beshear will provide.
It will be a toss-up and every vote will matter, but I think the majority of voters will reward Beshear for his steady hand during the many crises he has faced.
I'm registered as a Democrat, but I am voting Cameron. We need change in KY and the Democrats have been very disappointing.
Beshear is by far the better candidate and more qualified to be Gov.
Beshear has done an amazing job, Cameron has not shown any leadership or actual policy proposals.
I think Beshear will win because he has done an excellent job as Governor and he works well with the Republicans.
If Besher wins again he would have overshot promises to the teachers union again and the belived him again if not cameron will win. As much as people disliked Bevin 4 years ago is was still a close race.
Beshear has done an excellent job. You know what you get with a vote for Beshear.
I thing Gov. Beshear has shown he cares about all Kentuckians and will fight for what's right. He's taken progressive positions on many issues while still exposing Christian morals that appeal to the right.
Beahear's tyrannical lockdowns and unconstitutional power grab won't be forgotten by the voters.
Beshear is a centrist and has done an excellent job in his first term. We already have a supermajority in the legislative branch. We need balance to serve the needs of all Kentuckians, not just a select and favored group. Andy will give voice to everyone and Daniel will not. That's bad on a moral level but it will also impact economic development negatively.
Beshear has done a great job and from his appearances during the height of COVID to handling of the crazy legislature has shown credibility. Unlike Cameron (a DeSantis wannabe), he is qualified to continue leading the state.
Beshear is out of step with majority of voters
Beshear will carry the metropolitan areas and a lot of Kentuckians will simply not vote for a Black person, regardless of party. I also think Beshear has handled a lot of crisis (floods, tornados) well and had good approval for those reasons.
Beshear is a very moderate Democrat, and independents like me prefer divided government with a moderate to offset the extreme right-wing GOP.
Excellent leadership through Covid and natural disasters within the Commonwealth.
I think Cameron's message appeals to more voters in the state.
Beshear has delivered for the people of Kentucky. He is kind and personable and is highly regarded in this state. And I really hope I'm right and he wins!
Covid. Beshear was awful with Covid response.
He did a good job during Covid
Beshear has possitioned himself as a leader in rough times, has compassion and values Kentuckians
Smarter, more reasonable, more flexible and better qualified
Beshear has done a great job thus far, as did his father. KY also has recently voted re: abortion issues. I think this will help Beshear as a common sense leader.
Cameron is a man with strong values and integrity, which I think has broad appeal despite political affiliation.
He has done a good job and Cameron is too extreme.
His record on economic development and his handling of the tornados in the west and floods in the east earn him another term.
The Governor has done a fantastic job leading our state!
People are tired of Beshears liberal agenda.
Because Cameron has a lot of history that many of both parties are not happy about.
Cameron- character and courage
Breshear wins the kindness and personal concern factor, as well as honoring personal freedoms!
Bashear
Beshear is broadly popular and there are still significant numbers of the Republican base who will not vote for a black candidate.
This is a Republican state. When Beshear weighs in on big issues such as abortion, trans issues, major appointments, he is speaking opposite of how the rest of the state feels.
The race was very close last time. Cameron will win by a close margin.
I believe it will be a very tight race. Because of that, it will get even more nasty with campaign advertising.
Beshear has done a wonderful job over the past four years, and in all the polls, he ranks as one of the best governors!
I'll be ready to move out of state if Cameron wins
Believe Beshear will win due to the handling of both the tornado and floods, along with job creation.
Beshear has demonstrated good leadership by navigating us through a global pandemic, defending human rights, and re-building KY's economy.
Good reputation in the state and his handling of COVID.
Andy will win on his record. We don't need a change. I'm registered Independent.
Governor Andy Beshear... he has a proven record of working with the people of Kentucky - he leads with dignity and compassion, has grown the economy, brought new business to the state and his focus is on what we as Kentuckians can accomplish when working together. .
He's a middle of the road governor in a state where people value that.
Job well done
Bashear -people from a broad spectrum trust his ledership. However, Cameron speaks to the heart of Red majority.
Beshear is the far better candidate. He is more qualified and more competent. Importantly, he is truthful and has far more integrity - qualities Cameron woefully lack…
Power Poll Members: Do you have a friend or colleague who should be on Power Poll? Please invite them to join!
About Power Poll: Power Poll asks questions of the most powerful, influential people in U.S. cities. It is not a scientific survey. But because the people responding to the surveys comprise the leadership structure of their cities, the results afford a fascinating glimpse into the thoughts, opinions, and beliefs of those in a position to make change. Power Poll is distinctly nonpartisan.
Corporate Sponsor
We thank the following organizations for their support of Power Poll. Learn more about becoming a sponsor here.