November Power Poll results: An unpopular reconvened legislative session
The holidays are here, but the political season doesn't let up -- especially on the heels of the longest legislative session in Idaho history.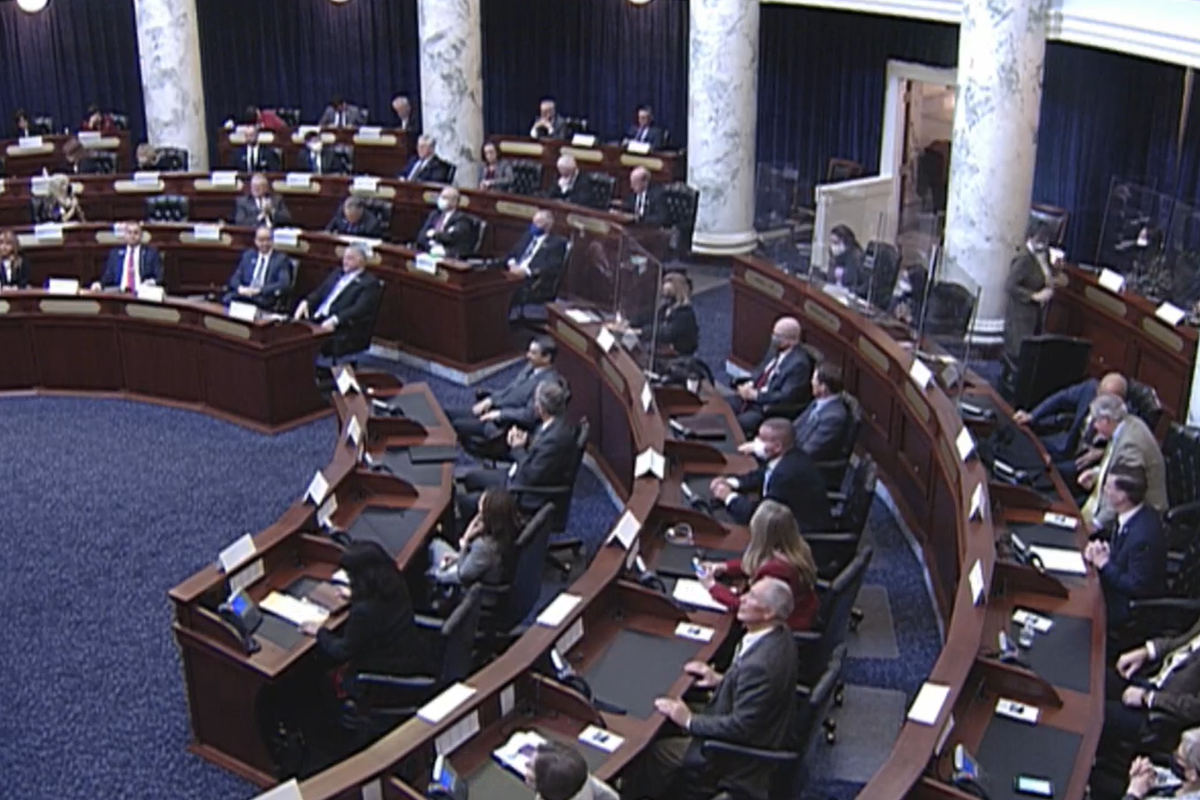 The holidays are here, but the political season doesn't let up -- especially on the heels of the longest legislative session in Idaho history.
This month, we asked respondents about the reconvened legislative session, as well as whether supply chain issues have affected their holiday shopping plans.
Power Poll is a nonpartisan survey organization that partners with newsrooms and journalists across the country to gauge opinions on issues affecting their communities. The poll is not a scientific surgey; Rather, it measures opinions from Treasure Valley community leaders.
In mid-November, the Idaho Legislature reconvened to consider more than 30 bills on vaccine mandates, the government's role in public health mitigation, and other pandemic-related issues. Ultimately, after three days and hours of public testimony, the Legislature passed just a strongly worded letter asking Congress to oppose vaccine mandates. The resolution isn't legally binding.
Many of the proposed bills didn't receive hearings after some committee chairs in both the House and Senate declined to put them on their agendas for the week. House Health and Welfare Committee Chairman Rep. Fred Wood, R-Burley, refused to hold a committee meeting at all, saying he fundamentally disagreed with all the bills that were assigned to his committee. Though the House passed a handful of bills, the Senate State Affairs Committee heard just a few of them, and sent none to the floor. No other Senate committee met.
Power Poll asked respondents what they thought of the three-day reconvened session. Just five percent said they agreed with lawmakers' actions. Another 20 percent said they wished lawmakers had acted more strongly on vaccine mandates. The majority, 75 percent, said the Legislature shouldn't have reconvened to consider COVID-related legislation at all.
In addition to COVID legislation, House members also voted to adopt a committee report from the Ethics and Rules Committee. The committee recommended censuring Rep. Priscilla Giddings, R-White Bird, as well as removing her from a committee assignment. Giddings will remain in the legislature and keep her post on the Joint Finance and Appropriations Committee.
The censure recommendation came after an August ethics hearing, during which the committee investigated complaints that Giddings had used her social media and constituent newsletter to link to a blog post that contained personal, identifying information about a 19-year-old intern who had accused former Rep. Aaron von Ehlinger of rape. Von Ehlinger has been charged with rape in Ada County, and has pleaded not guilty; He says he had sexual relations with the intern, but maintains it was consensual.
Throughout the August hearing and the November floor debate on whether to adopt the committee report, Giddings was defiant, saying she did nothing wrong by linking to the blog post with the information. Ultimately, just 19 House members, including Giddings, voted not to adopt the report. Forty nine representatives, including the majority of the House Republican caucus and every member of majority and minority leadership, voted to censure her.
Giddings is running for the Republican nomination for lieutenant governor in the 2022 election, as is House Speaker Scott Bedke, R-Oakley.
We asked Power Poll participants if they agreed with the House's actions. Of those who responded, 39 percent said yes, while two percent said the House shoud have voted down the committee's recommendations. A majority, 59 percent, said the House should have acted more strongly.
Supply chain issues aren't the most exciting thing to talk about during the holiday season. But the difficulties in getting products from the logjam at ports to stores where consumers can buy them has made international headlines. While those kinks are easing, consumers may still have problems finding items, especially those that rely on microchips, like gaming consoles.
We asked Treasure Valley Power Poll members if supply chain problems have affected their holiday shopping plans. Good news for the economy, and for Santa -- Two thirds, or 66 percent, said no. One in three said yes.