February Power Poll: Emissions testing, bond elections, and primaries
Strong opposition to moving up deadlines for primary election party affiliation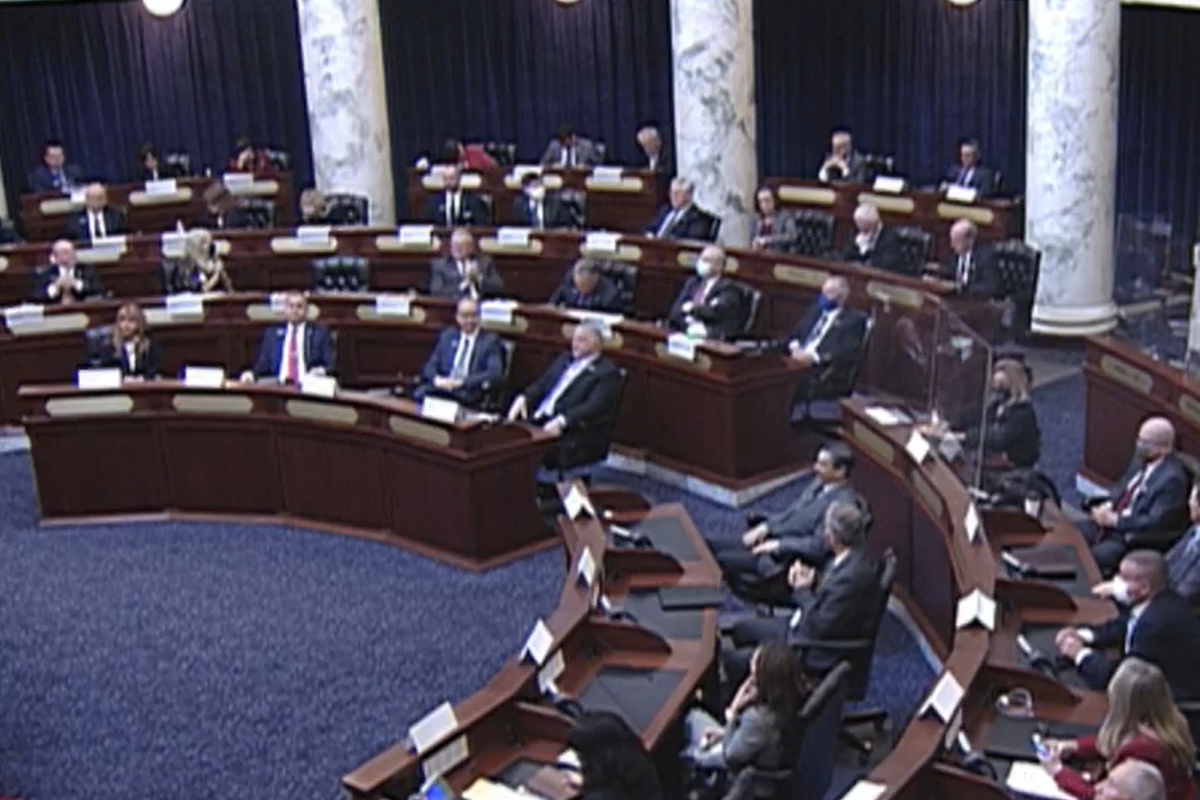 Power Poll respondents feel strongly about allowing unaffiliated voters to join political parties the day of primary elections, but have mixed feelings on testing their vehicles for pollutants.
This month, we asked Power Poll participants about emissions testing, primary elections, and bonds.
---
Currently, just two Idaho counties require emissions testing: Both of those counties, Ada and Canyon, are in the Treasure Valley.
Senate Transportation Committee chairwoman Lori Den Hartog, D-Meridian, is sponsoring a bill to set the stage for ending testing requirements. The bill would end those requirements in summer of 2023, but would allow other areas of the state to set their own standards if they deem air pollutant levels too high.
Den Hartog told the Transportation Committee the proposal was largely inspired by a high compliance from vehicles in Ada and Canyon Counties. Newer vehicles have lower emissions, she said, and high emission vehicles that triggered EPA regulations years ago are mostly off the road.
If the legislation passes, it doesn't mean Idaho wouldn't have any regulations. The bill would require the Idaho Department of Environmental Quality to review air quality every year. If those levels hit 85 percent or higher of federal air pollutant levels for certain particulates, such as nitrogen dioxide or sulfur dioxide, it could trigger other regulatory measures.
Den Hartog's proposal drew mixed responses from Treasure Valley Power Poll members. Forty three percent said they support the elimination of the requirement, while 38 percent said they don't. Another 20 percent said they weren't sure.
"As for emissions testing, with so many vehicles passing, it might be appropriate to suspend testing, but the statutory mechanism for testing should be left in place in case testing needs to resume at some point," said Sen. Grant Burgoyne, D-Boise.
With a high-profile primary election fast approaching, the public's attention is turning toward the upcoming May primary.
The Legislature is no exception. One proposal would drastically alter who is able to pick candidates in the primary election.
Currently, unaffiliated Idaho voters are able to affiliate with a party up to the May primary election day, including affiliating at the polls. Early in the 2022 session, Rep. Caroline Nilsson Troy, R-Genessee, introduced a bill to put a March deadline on unaffiliated voters switching to affiliate with a party before the May 2022 primary.
Troy withdrew her support from the bill shortly after introducing it at the beginning of the session in January, but Rep. Doug Okuniewicz, R-Hayden, stepped in as the sponsor.
During floor debate, Okuniewicz pointed out that affiliated voters in other parties have a March deadline to switch allegiances before the May primary. This bill would stop the state from treating unaffiliated voters differently, he said.
But opponents said Idaho's 300,000-plus unaffiliated voters don't always know which primary they might want to participate in, or fully understand the rules for closed primaries.
Of those who responded to the Power Poll survey, an overwhelming 85 percent said they did not support the proposal to move up the affiliation deadline. Just 15 percent said they supported it, and no one said they weren't sure how they felt.
The House has passed legislation to put an 11-month pause on taxing districts that wish to re-run a failed bond request. The bill now goes to the Senate.
School districts across the state have opposed the bill, pointing to districts' reliance on bonds for new facilities, as well as the high threshhold to pass the funding approval. In Idaho, bonds, which add to a taxing district's debt, must get a two-thirds majority to pass; Supplemental levies, paid for with additional taxes, need 50 percent.
"Historically, this school districts who send a repeat request to voters received over 50 percent support but need to go again to reach the 2/3 majority bar," said Boise School District Board of Trustees member Nancy Gregory. "This is the only way districts can fund replacing aging buildings or build new buildings to meet the demands of growth. Making bonds requests to voters is never lightly considered. It is the result of careful study and long range planning."
Seventy three percent of Power Poll respondents said they did not support the proposal, while 23 percent said they did support it. Just five percent said they weren't sure how they felt.
About Power Poll: Power Poll asks questions of the most powerful, influential people in U.S. cities. It is not a scientific survey. But because the people responding to the surveys comprise the leadership structure of their cities, the results afford a fascinating glimpse into the thoughts, opinions, and beliefs of those in a position to make change. Power Poll is distinctly nonpartisan.