Atlanta Streetcar, meet the BeltLine
Is the Streetcar the answer to transit on the BeltLine? Power Poll says....maybe.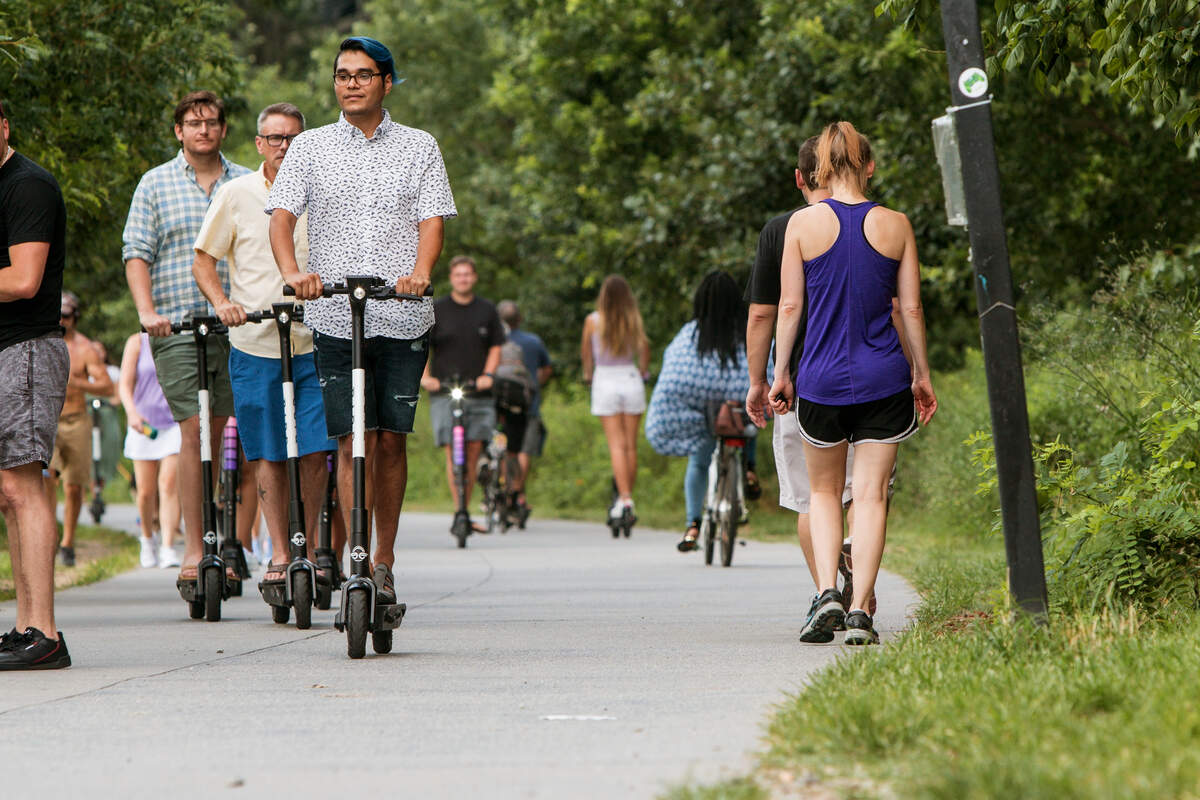 Large chunks of the BeltLine have been designated officially "complete" for a while now, at least according to the BeltLine's construction page. And to walk (or jog, bike, or e-scoot) along those segments, they sure look finished. Behold the modernist homes, cookie-cutter apartment buildings, bike shops, inscrutable public art, over-priced pizza, twee boutiques, and nannies pushing babies in Maclaren strollers. One thing is missing, though, and that's transit. I say "missing" because public transportation has been part of the BeltLine's DNA since urban planner Ryan Gravel dreamed up the idea for a 22-mile loop around the city for his master's thesis back in 1999. Transit, in fact, was the sine qua non of the whole project. As Gravel wrote: "The BeltLine can leverage public investment in light rail transit to achieve public goals like urban redevelopment, attracting both new residents and new jobs to the city." Of course, you could argue that those "public goals" have been accomplished just fine already. (See million-dollar homes, pizza, Ponce City Market, etc.)
But to Gravel—and to those who bought into the totality of his vision—the BeltLine would also be a kind of leveler, a way to connect disparate and economically and racially segregated neighborhoods by actually enabling residents of them to travel from one to the other, as well as to connect with heavy rail at MARTA stations. Those connections would be made by transit, such as light rail. "If there was no transit planned for the Beltline, there would be no Beltline at all," he wrote earlier this week on his website. "We built the trail first because it is cheaper, but transit was always an essential part of the plan and was critical to getting community support and funding."
Ten years (to the month) since the first portion opened, there's still no transit, and Gravel's brainchild has, like Frankenstein's monster, turned into something he couldn't control. In 2016, Gravel resigned from the BeltLine Partnership's board of directors, claiming city and BeltLine officials weren't doing enough to address issues of housing affordability along the path, portions of which even then had already become wildly popular residential and recreational destinations.
But wait. Transit on the BeltLine is not dead. Turns out that the oft-maligned Atlanta Streetcar may be the BeltLine's most realistic shot at a transit component, at least anytime between now and the next time Georgia Tech wins a national football championship. Last month, MARTA, which operates the Streetcar, updated the public on its plans to extend a spur from the Streetcar's current 2.7-mile loop to connect with the BeltLine's Eastside trail, where it would run alongside the trail to Ponce City Market. Perhaps not surprisingly, given it's taken over a decade for any concrete transit plans to emerge and people's memories are short, the plans were not welcomed by all the would-be neighbors who live on or near the affected part of the BeltLine. Part of the problem, undoubtedly, is the Streetcar itself, which has been called a boondoggle; it cost $100 million when it debuted in 2014 and, as of last December, was tallying just a few hundred passengers a day. And it appears Power Poll respondents are not among those few.
As you can see above, a whopping 96 percent of respondents have ridden the Streetcar just five times or less since it started lumbering through downtown eight years ago, and a full 70 percent have ridden the thing precisely zero times. At the risk of jumping to conclusions, MARTA may have a marketing challenge on its hands as it maps out extending the Streetcar to the BeltLine. If it happens (and MARTA says the line could be operational by 2027), 57% of respondents said they might or they definitely would take a ride along the new route. (Forty-two percent said it wasn't for them.)
Which raises the question: What do we think of the idea to extend the Streetcar to the BeltLine? On this point, respondents were a bit more sanguine: Just over half either strongly or somewhat support the idea. But notably, almost one in three are against the idea, at least somewhat opposed. One question we didn't ask, however, was if there's a better option along the BeltLine on which to introduce some form of transit. As Paul Bolster of Support Housing LLC commented, "Transit on the Beltline needs to go to areas where there are slim transportation options. Start in the south where there is land for new affordable housing, not where development is booming."
Which leads to the most important question yet: Do we want transit on the BeltLine at all, as Ryan Gravel initially imagined it in the waning days of the 20th century? We asked Power Poll respondents if they want to see some form of public transportation along the entire length of the BeltLine at some point. They were divided, with 41 percent saying yes, and 30 percent saying no. Interestingly, an additional 15 percent of respondents are in favor of transit, as long as it's not in the form of a bus.
About Power Poll: Power Poll asks questions of the most powerful, influential people in U.S. cities. It is not a scientific survey. But because the people responding to the surveys comprise the leadership structure of their cities, the results afford a fascinating glimpse into the thoughts, opinions, and beliefs of those in a position to make change. Power Poll is distinctly nonpartisan.