Oakland Expresses Optimism About Policing Reforms, COVID Reopening
Civic leaders think George Floyd killing may be catalyst for change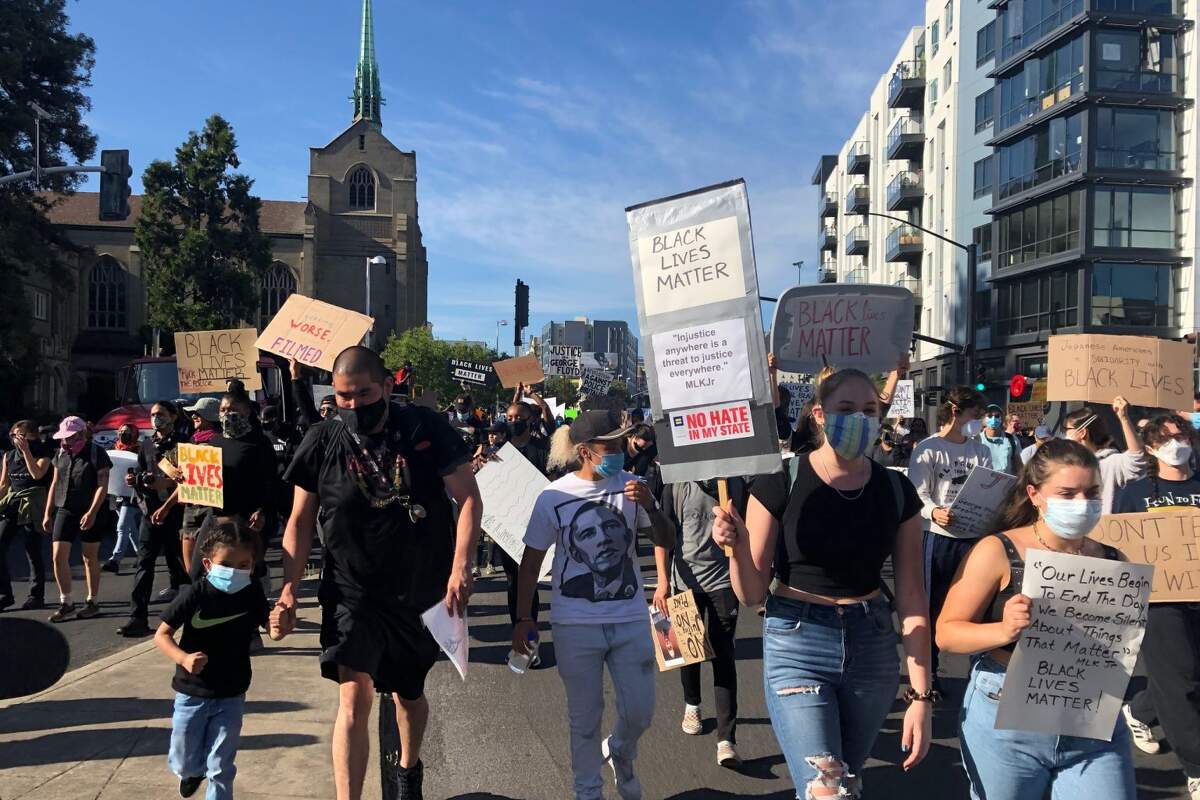 As Americans assess some of the nation's most tumultuous weeks, Oakland residents are cautiously optimistic about the possibility of police reform and guardedly hopeful as COVID-19 restrictions ease.
According to a new Oakland Power Poll released June 12, residents are overwhelmingly optimistic that the protests in the wake of the George Floyd slaying will lead to policing reforms.
The Oakland Power Poll, part of a nationwide survey that asks leaders in several communities to give their opinions on important local issues, surveyed nearly 300 residents June 8-11, with a 10.07 percent response. Among the findings:
Some 38 percent predicted solid police reforms, 52 percent were hopeful and no one expected the movement's current strength to wane.
More than 80 percent reported not receiving unfair treatment from Oakland police, while 14 percent said they had.
Half said that Alameda County is easing COVID-19 restrictions at the right pace, 3 percent wanted faster openings and a third favored more caution.
About 31 percent favored the city's curfew, while the same number said it wasn't necessary. Another 24 percent said the restrictions should have happened earlier, while 14 percent did not have an opinion.
Nearly two-thirds of respondents attended a protest or engaged politically on social media in the aftermath of the Floyd killing.
The poll results come as protests continue across the nation, and the president's backlash against them is growing. In addition, coronavirus deaths passed the 113,000 mark and the director of the Harvard Global Health Institute warned that U.S. deaths – at a rate of 800-1,000 per day – could exceed 200,000 by September.
The survey is a snapshot of how we're walking a fine line with both a tragic legacy of American racism and the deadly grasp of a pandemic. How we emerge from both will be a telling episode of our nation's ability to overcome two very different but equally dangerous adversaries.
And, despite a healthy degree of optimism, residents have a general sense that it's too early to predict either outcome.
A case in point is the curfews. While many saw the restrictions as helping to tamp down the looters who followed in the wake of legitimate protesters, the orders – among the most widespread in recent history – outraged many in the community.
"I am surprised that law enforcement don't realize how tone deaf it is to impose curfews when black people and other people are challenging police killings, violence and brutality," said Zach Norris, the executive director of the Ella Baker Center for Human Rights. "Curfew laws, like vagrancy statutes of the past … as well as other police practices limiting the movement of black people in cities like Richmond and San Leandro are part of a long history of racial injustice."
Since the curfew was lifted, Oakland's protests have been numerous – and nonviolent.
In a letter to the public on June 10, interim Police Chief Susan Manheimer wrote that officers used smoke, gas and other non-lethal methods over four days of demonstrations "during unlawful assemblies … to stem assaults on officers."
Manheimer said about 200 businesses were looted or vandalized, nearly 140 fires were set and many shootings took place, including the killing of a federal agent outside the Ronald V. Dellums Federal Building. More than 30 emergency personnel were injured.
The chief said her department is reviewing its use of tear gas and other tactics, including a ban on the carotid chokehold.
Oakland is also in the process of making changes to its Police Commission, with amendments possibly going before voters in the fall.
Whether the convergence of the pandemic and the protests results in an increase in coronavirus cases is a different matter.
Alameda County allowed childcare services and camps to reopen this week, plus "social bubbles" to permit gathering of up to 12 people. Next steps could include increasing the size of social bubbles, some religious services plus outdoor retail, dining, museums and pools.
Several states are reporting an increase in new cases that may be tied to the easing of public health restrictions. Alameda County has seen spikes in daily cases as well toward the end of May. It's too early to tell whether numbers will jump because of protests.
"Coronavirus cases (started) trending upward rapidly in Texas, Utah and Arizona around May 27," tweeted Oakland resident Larry Levitt, the Kaiser Family Foundation's executive vice president for health policy. "It would (be) hard to tie that to protests."
Allen Matthews is an Oakland native and veteran Bay Area journalist. Email: oakland@powerpoll.com
---
Methodology: The survey reached 287 community leaders, with a response rate of 10.45 percent. To view the list of Oakland Power Poll members, click here.
About Power Poll: Power Poll asks questions of the most powerful, influential people in U.S. cities. It is not a scientific survey. But because the people responding to the surveys comprise the leadership structure of their cities, the results afford a fascinating glimpse into the thoughts, opinions, and beliefs of those in a position to make change. Power Poll is distinctly nonpartisan.